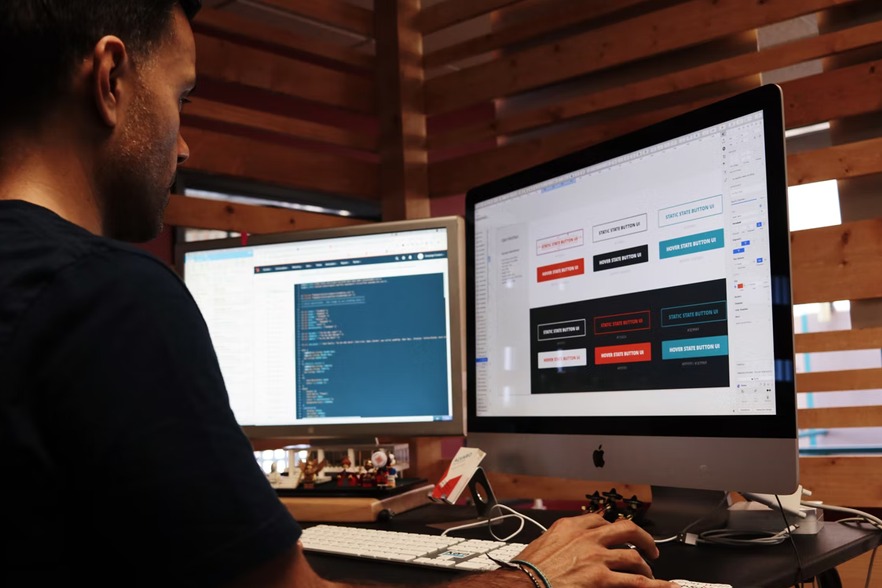 Launching new business websites or revamping a current one comes with its own challenges. The design you choose has to appeal to a general audience – I am sure you will agree that the best website design is one that ensures a great user experience.  UX then is a combination of a website that gets the user's attention, design elements that improve navigation and conversion, optimizing webpage load speeds, and easy integration with third-party functionality.
The starting point though is an appealing website and the good news is that businesses need not design a website from scratch. Many site-building platforms are available that allow for a no-code or even low-code customization. The question though is that with so many website templates available, how do you choose the best for your business website and how do you make sure it looks unique.
The 5 critical elements your chosen website design template must have
It is easy to get confused when looking for website inspiration ideas with all the choices available. However, there are some critical elements that must be met by your design agency or your in-house team when selecting the best website design that fits your requirement. And here, the focus is only on design not on any other functionality.
1. Header design: First impressions hold the most importance. What your website visitor first sees is your website header image with the headline and subheadline – these 3 will lay down their expectations. Make sure, the design you choose is closest to what will appeal to your audience.
For instance, Itech India, for our own website, wanted to make a strong positioning statement with a call-to-action.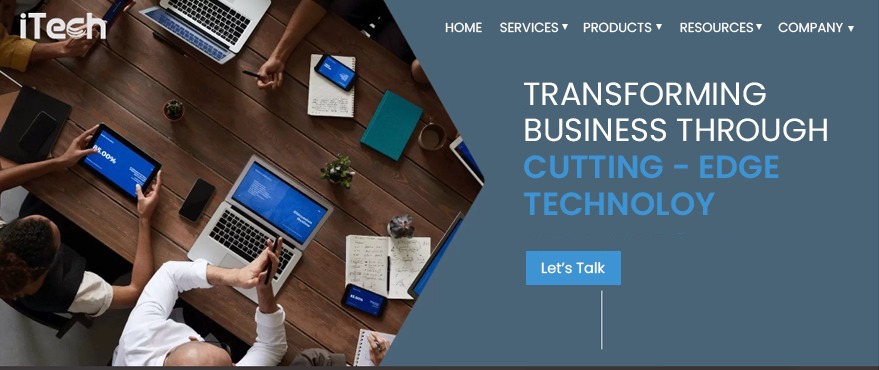 2. Suitable content areas: Content plays the biggest part in your website and visuals need to support it. The best website design must have good display areas for content about your product and services. At the same time, the content display should not be complicated.
Knowing the content you want to put on your website should be the first step before choosing a template or design that presents it in the best way.
Your website design must tell a story so be selective on the template you choose.
3. Web template management: You will be buying the template so make sure that it fits your budget but more importantly the web template should give you the flexibility to make changes to the design through the source code (Html, CSS, etc) as well as no-code drag and drop features. It must be possible to tweak the theme, font, format and layout to make your business website design unique.
4. Responsive or Mobile-first design: This is absolutely critical data – where will you get the majority of your website traffic? If 60% and over is on a mobile device, then choose a website template that is designed for mobile display and then adapt it to the larger screen of a desktop. Most business-to-customer sites B2C sites will need to have a mobile-first design. On the other hand, B2B websites should be designed for the desktop first (responsive design) i.e for larger screens that can adjust the layout for smaller mobile device screens.
5. Choose a theme that is SEO friendly: Not all website design themes are SEO friendly. Many site-owners start to think about SEO only after the site is developed – big mistake alert! A website that is not optimized for search engines is like a roadside motel hidden away in a thicket of trees – no one will find it. This means that SEO starts at the point of selecting a website design template. The design must pass the quality standards that search engines like Google have set. One way to select an SEO-friendly template is to check if valid code markup has been used. You can check for errors using the W3C markup validator.
 Where to find your website inspiration sources 
There are two routes when it comes to web design examples and themes.
If you are planning to build using an existing template such as from Hubspot or WordPress.
If you want to find website inspiration for design ideas to build your own customized website.
Either way, here are the sources to check out
Template Monster for WordPress themes 
TemplateMonster marketplace has over 3000 WordPress themes that cover every business niche. The good part is that the marketplace has good search filters that help you find what you want quickly. Once you have drilled down by category or used the special filters, you can select the themes that suit you  and get a live demo to see the fully functional site. In the preview, you can see how it would look on mobile and desktop and add the theme to your cart.
The themes are provided by third-party vendors and TemplateMonster is only the platform. For this reason, the themes can vary in quality.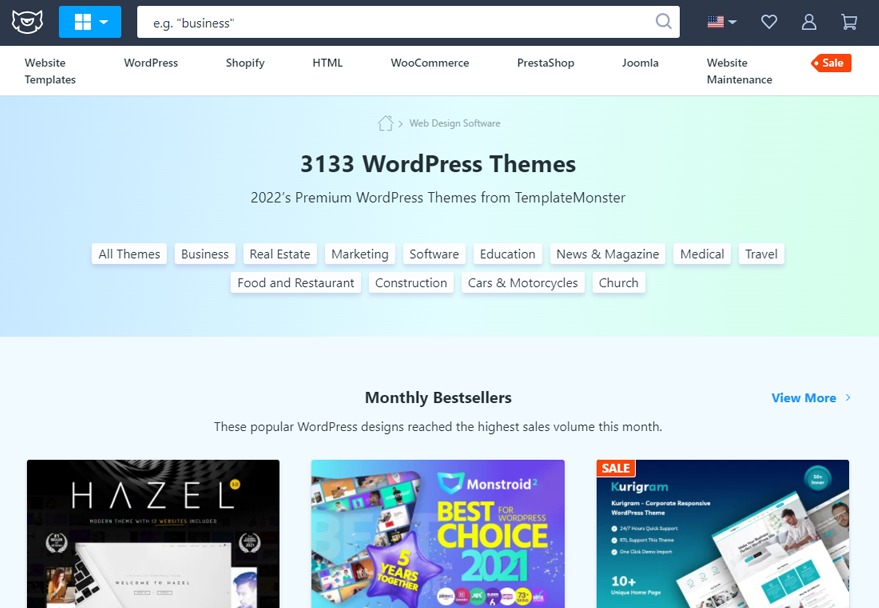 HubSpot's Asset Marketplace 
It is powered by developers who add beautiful, easy to use themes, templates and modules. Some templates may be free but are most are subscription-based. Once you purchase from the HubSpot Asset Marketplace, you get access to the CMS. HubSpot ensures that all templates that are added must meet with 'compliance, design and code quality requirements'- as stated on the HubSpot website. This means that you are assured of quality and SEO standards when you choose a HubSpot Template. To access the website templates, you can create a free HubSpot account and then search for 'Files and Templates' under the Marketing menu.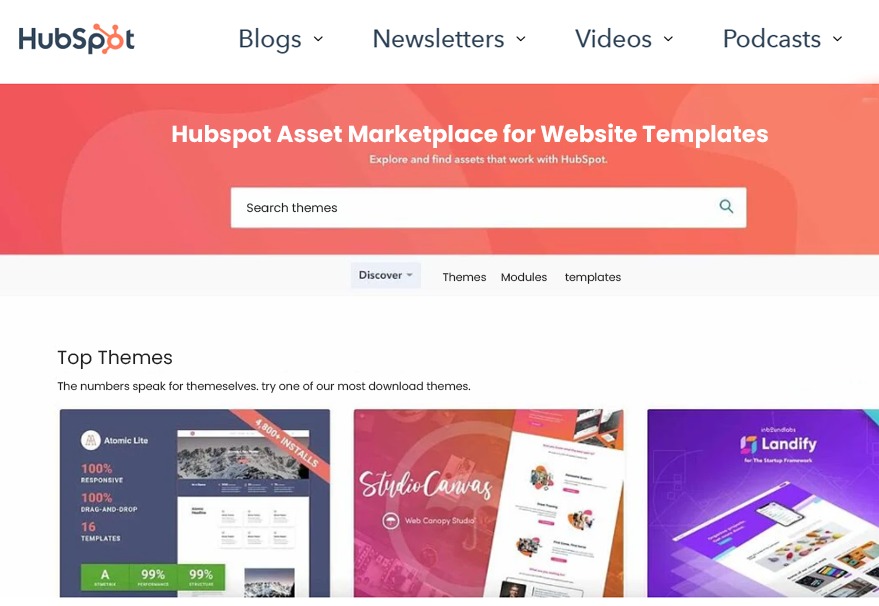 Behance's web design discover page 
Behance is part of the Adobe group of companies. It has a very active creative community and is one of the best sources to find website design ideas when you are building your own site. Behance's web design discover page has a number of community-created filters that make sure that you can find the best. One of the helpful filter options is 'by location' and it is useful to understand the different techniques and trends that designers in different locations use.
Pttrns for mobile web design
This is a subscription-based site (99 USD for a lifetime membership) where you can access more than 7000 curated mobile design patterns. What's more, you can also get advice from designers from all over the world. This is also most helpful if as a design agency, you are developing a site for a client based in another country. Developers get a heads up on the best practices from other designers who want to discuss design. Pttrns has a free trial if you want to know more about what you get.
Dribble for illustrations to website design 
Dribble has194,649 inspirational designs, illustrations, and graphic elements. This makes it a fantastic place to browse designs of individual designers, teams and companies from all over the world. This is why Dribble is listed here among the best sources to get website inspiration ideas.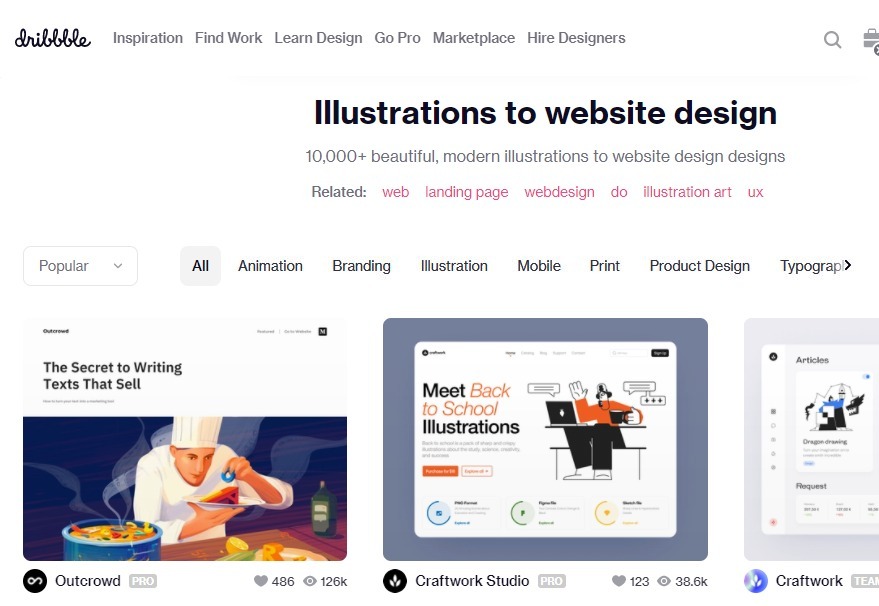 Finally, there is a lot of work that goes into designing a website. It might look like a massive undertaking with the potential for many mistakes to crop up. This is the reason why many businesses prefer to outsource website design and development. You get access to experts who can break down the complexity and advise you on cutting-edge design trends. Talk to our experts at ITech to know more.