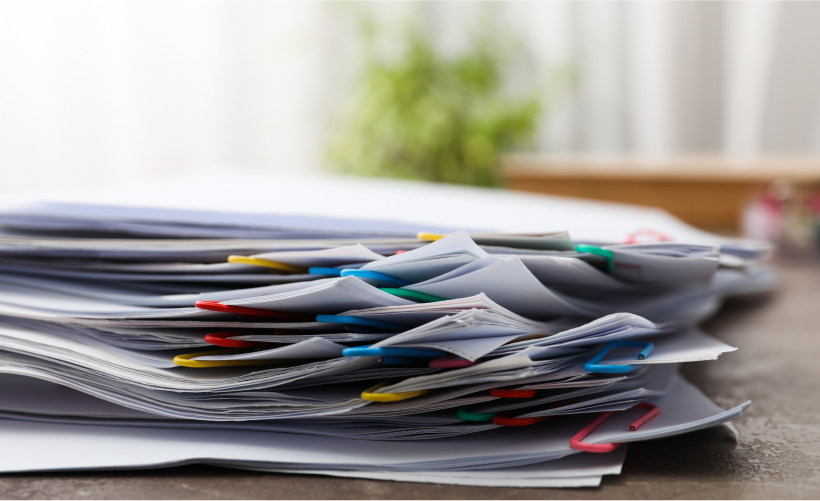 The admissions process at top colleges in India can be time-consuming and, if not well organized, may lead to adverse consequences. Handling student documents during admissions requires the utmost care, especially regarding privacy and data security. Currently, many institutions rely on manual methods, which can lead to a slow and error-prone process.
However, adopting an online solution can transform an institution's operations and greatly improve workflow efficiency. Let's explore a few challenges of manually managing admission documents and highlight the advantages of using an online admission portal for efficiently handling a large influx of students during the admission phase.
Manual Student Document Management Procedure
Typically, a "college admission document list" is provided to students as they begin the admission process. This checklist encompasses various sensitive documents such as academic certificates, community certifications, birth records, proof of selected quotas, and photographs.
Upon admission, selected students are required to submit the specified documents as per the checklist, following the usual sequence of document handling.
The college staff initially collects the paperwork physically, proceeding to verify each document. The verification process involves confirming the submission of all required documents and validating the authenticity of the submitted materials. Subsequently, the documents find their place in the institution's archives.
However, the manual handling of these documents for a large group of students presents several challenges. These challenges not only pose a threat to the institution's operational efficiency but also affect the initial experience of students and their parents with the institution. This calls for a more streamlined and efficient approach.
Challenges in Handling High Volume of Documents

Handling physical documents carries a significant security risk. The possibility of document loss, theft, or damage is a critical issue, especially when managing sensitive student information. Institutions must prioritize security to protect the privacy and integrity of these documents.



Traditional manual processes lack a traceable record of personnel involved throughout the workflow. This deficiency complicates the assignment of responsibilities, particularly in unforeseen situations. Gaps in the document handling process can hinder accountability and oversight.



The manual verification of numerous documents is prone to human error. Data inaccuracies and document misplacement are significant concerns. Even a single error in data entry can lead to long-term complications and difficulties for both students and administrative staff.



Traditional document handling, involving review, verification, and storage, is inherently time-consuming. The prolonged admissions process can create a negative first impression for prospective students and their families. Efficiency is paramount, and time is of the essence in today's fast-paced academic world.



Retrieving specific documents from physical storage can be a logistical challenge. The time-consuming nature of this process leads to delays when responding to inquiries and accessing essential information. Inefficient document retrieval can disrupt communication and frustrate students and their families.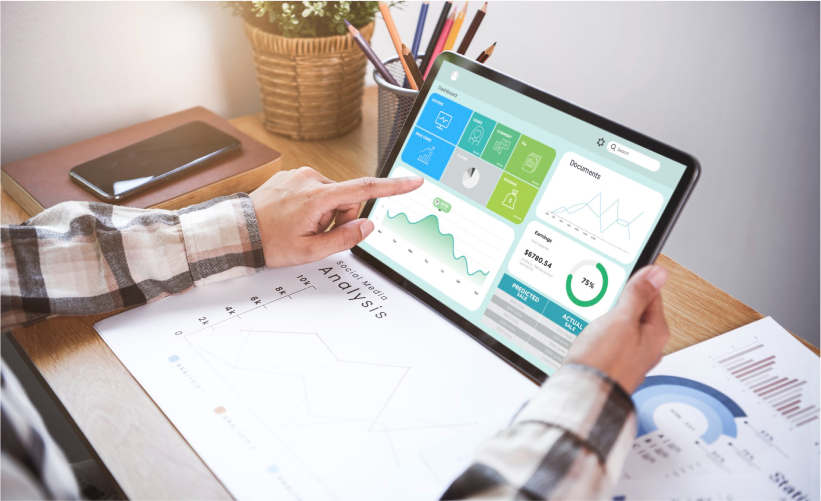 Prominent Role of Online Admission Portal in Document Handling
Shifting the entire student document management process to an admission portal system can offer numerous benefits, especially to colleges that experience annual enrollment growth. iTech's Eduleap is a comprehensive student admission portal that assists educational institutions in managing their admission phase efficiently, right from the student's registration. Following are a few features in Eduleap that can ease the handling of student documents in cases of high student intake.
The student admission process is completely tracked and recorded at every stage, covering all the phases like registration, allocation, counseling, selection, and admission. So, only the selected students are visible for the document collection process.
Eduleap's intuitive dashboard provides a holistic view of all the documents available with the institution. You can upload each of the collected documents on the application portal against the checklist in the document dashboard. It is also easy to view an applicant's document when required.
Provisioning is made to upload appropriate certificates or affiliated documents for every quota; thus, the proof document for categories such as first graduates, sports quotas, and more can be uploaded accordingly.
Helps in keeping track of all the uploaded documents. Not a single document can be missed for uploading, as the admission doesn't progress without uploading all the required documents.
An entirely traceable process facilitates retracing personnel involved at each admission stage through an audit trail.
Online verification of acquired documents is possible. So, it is easy to verify the received documents, reducing the time taken for document verification, improving accuracy, and consequently reducing total TAT.
Scalable software streamlines headcount management for growing institutions, making document handling for a high volume of students a seamless process.
Enlightening insights, which help in data-driven decision-making, are needed to manage the intake of students in various departments based on analytics from records.
Availability of online and secure payment facilities, ensuring successful and safe transactions for fee management.
Automating the complete workflow makes this online admission software a time-saving solution, improving operational efficiency, eliminating resource allocation challenges, and reducing the workload.
Simplifying the management of sensitive documents is paramount when dealing with a high volume of paperwork with tight timelines. Boost your workflow and optimize efficiency with the help of an online solution, providing a hassle-free approach to your processes.
Eduleap serves as a comprehensive tool, offering an all-in-one solution to address the various challenges encountered during the student admissions process. It streamlines the entire process, from eligibility checks to efficient document handling and secure data management, ensuring accuracy and data security. Reach out to our team of experts today and optimize your institution's operations.