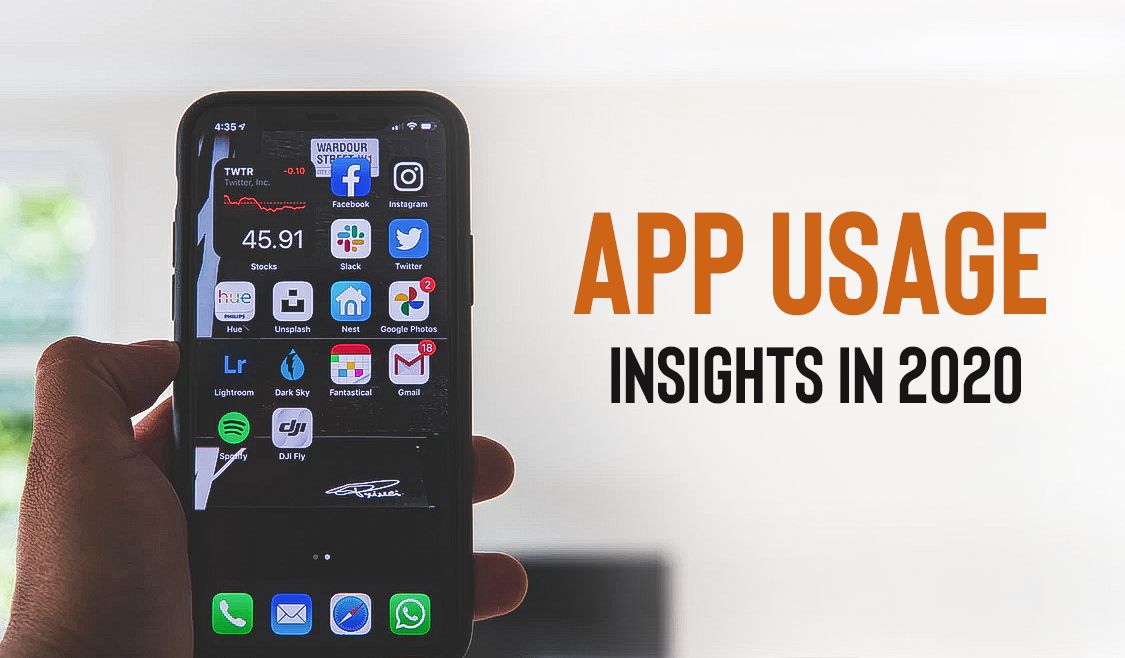 Smart phones have become our constant companion, more so in 2020. If you can tear your eyes for just a second away from your phone, chances are that you will find others totally immersed in their small screens as well.
88% of us spend most of our time on apps. This is an encouraging insight for start-ups working on a new app or those businesses that have already launched their app.
App usage patterns in 2020 has been influenced by the pandemic and lockdown.
Apps in 2020 fell into 3 defining categories
1. Pandemic-boosted Apps: Web conferencing apps like Zoom saw a dramatic increase from 10 million daily meetings in 2019 to 300M meetings a day during the pandemic
2. Pandemic-sustained: Ecommerce (40-68% growth), SaaS (low to moderate)and eLearning (rise in prominence) profited from a change in usage behaviour
3. Future- rebound: Hospitality and travel apps fall into this group. It will take well into 2021 before they see fortunes improve.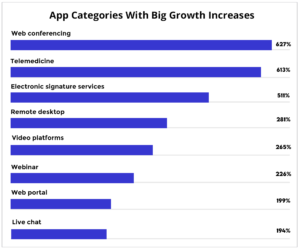 Small screen battles heated up in 2020 as more consumers moved to their mobile devices for entertainment.
Netflix
leads the charge along with other established players like
Disney+
and
Prime Video
. The year also saw challenges from bespoke services such as
Quibi
and network backed streaming platforms such as
Peacock
and
HBO Max
.
Most downloaded apps, globally
June, July and August were the months when restrictions were lifted a bit and the shelter-in-place rules were no longer as rigid as the peak of Q1.
Q2 download data shows that it was still the story of two very different apps – Zoom and Tik Tok.
'To Zoom' became a verb as common as 'googled' was prior to the pandemic. Zoom was the big connector not only for business meeting. Friends and family spread anywhere within 10 miles to 10,000 were meeting on Zoom scheduled meet-ups. We will have to see if this usage and downloads is sustained as the vaccine normalises life again.
TikTok has become the cultural sensation among apps. With people isolated at home, the need to be entertained as well as connect with others saw a phenomenal increase in its downloads. In June 2020, TikTok was downloaded 87 million times (7.5 million from US). The loss of 500 million users from India due to the ban has been their only downside.
The biggest surprise entry into the global top 10 app downloads is India's Aarogya Sethu app – the app promoted by the government to manage corona virus contact tracing as well as help users to access health services. It took the 7th spot with 125 million downloads in Q2 2020.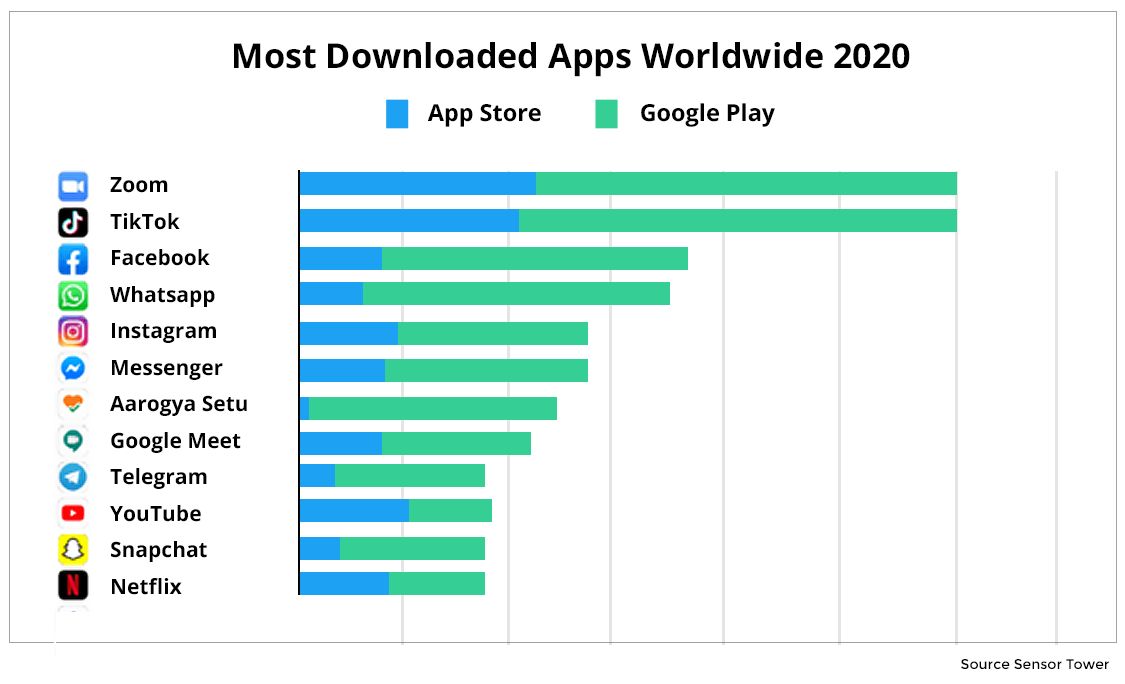 Time spent on mobile devices
The social restrictions due to Covid-19, made our mobile devices our closest companion. Time spent in mobile apps grew across the globe (global average of 4 hrs and 19 mins) in Q2 of 2020. A record high was in April with a record high of 200 billion hours. No wonder, with the whole world almost in complete lockdown.
In India (CMR study) saw a growth by 35% in July to September 2020 in comparison to the same period from January to March. This is almost 7 hours a day.
Italy had a growth of 30% and Indonesia 25%
In the U.S. time on apps saw a gain of 15%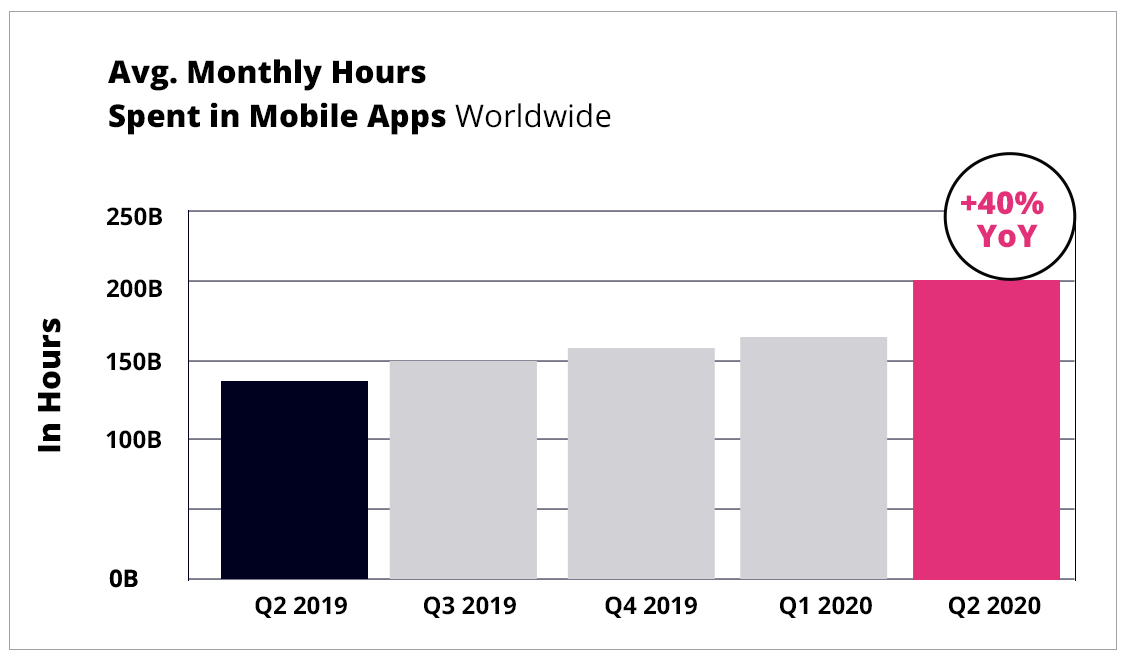 Source App Annie
We spent more and Apps reaped the benefit
The more time we spent on apps and the more apps we downloaded meant that businesses earned more through their apps from in-app purchases and subscriptions. This was an increase of 31% on Apple's App Store ($19 billion in Q3).
Google Play Store had a bigger increase of 33.3% (from $7.7 billion to $10.3 billion Y/Y)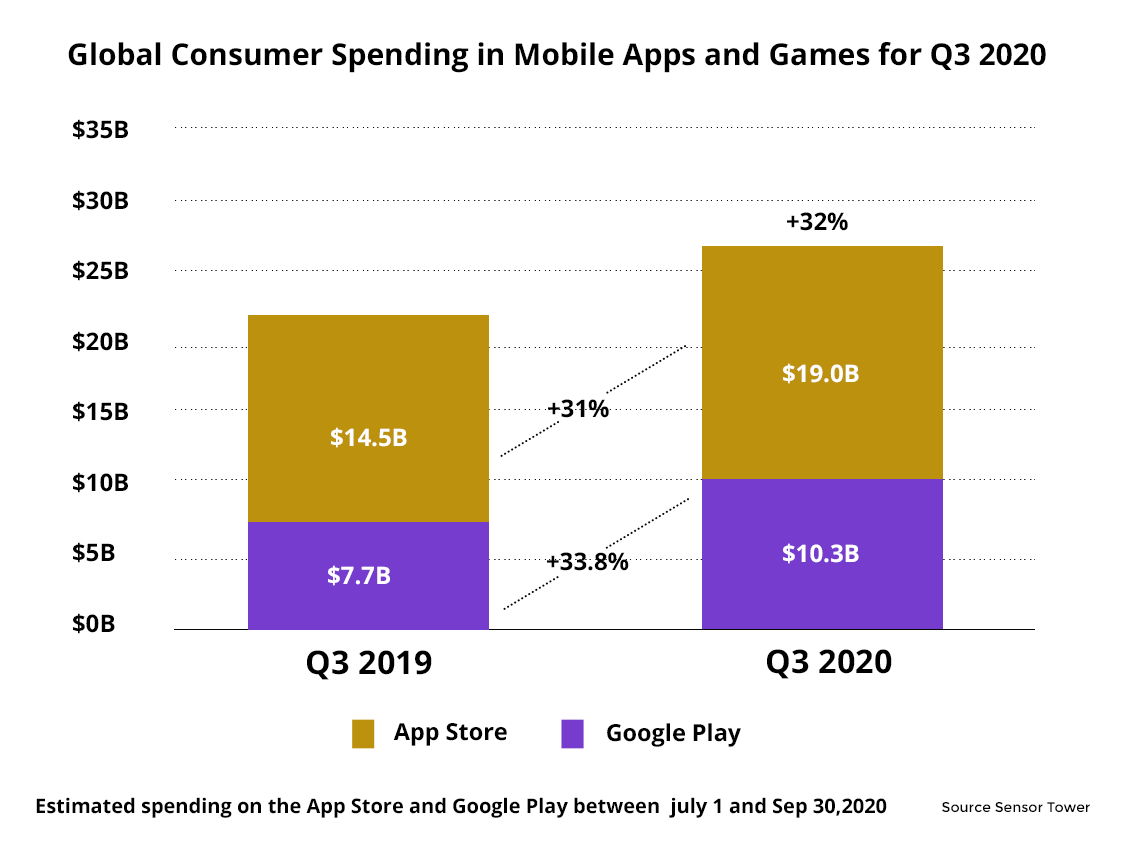 The top non-gaming app with the highest gross revenue for the third quarter of 2020 is TikTok, in spite of its ban in India and the dicey situation it faces in the US. It broke all records with an 800% growth in consumer spending year on year.
YouTube came second with a 59% growth in revenue. A distant third was Tinder with just a 5% growth in revenue, proving that dating in the era of social distancing took a big hit.
Pandemic and its effect on education apps
Google Classrooms 50 million downloads highlighted the need for solutions aimed at continuity of education in troubled times. After YouTube Kids, Duolingo was the third most downloaded app as many used this opportunity to improve their language skills.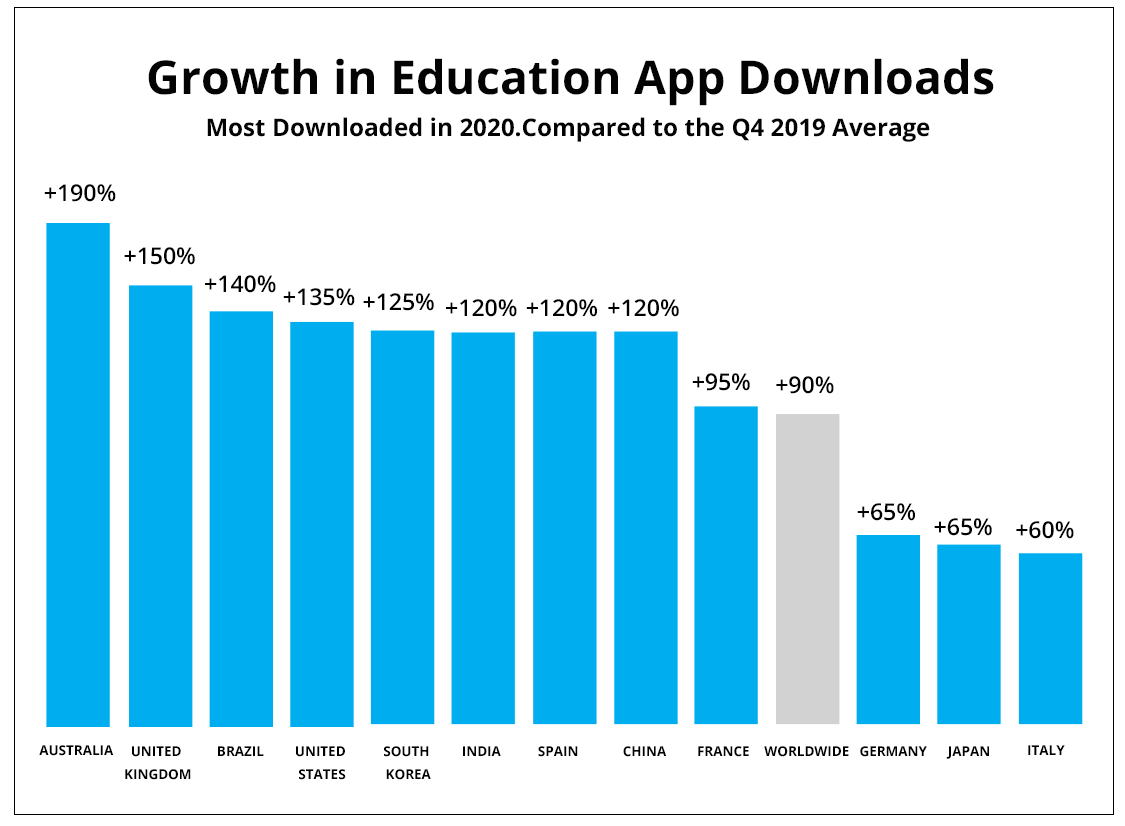 Source HootSuite
Rounding it off
Good news for businesses across the board. Business apps had almost 3.6 billion installs (Jan to Nov). This is a 140% growth from 2019.
90% of smartphone users made purchasing decisions on their mobile devices
68% of businesses have integrated mobile marketing into their strategy. The pandemic has highlighted the mobile experience as the most prominent platform for audience outreach. This will continue into 2021