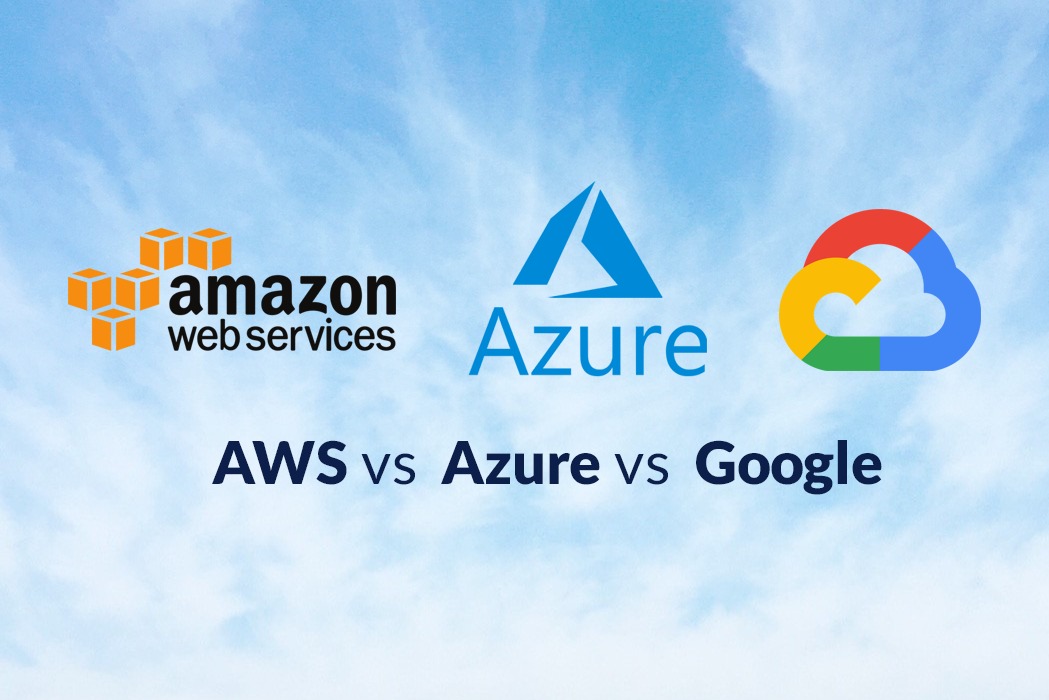 Amazon with its AWS cloud platform has a lion's share of 32 percent of the $130 billion cloud market in the fourth quarter of 2020 building on its advantage of a seven-year head start (courtesy Synergy Research Group). Microsoft is in second place with a market share of 20% followed by Google with 9%. Together, these three market leaders accounted for a large chunk (over 60%) of the cloud infrastructure revenues in Q4 2020.
Today, cloud computing is definitely an important component of business strategy as applications are increasingly being moved out of on-premise data centers to the cloud in order to reduce costs and increase agility. The question now is not whether your business should opt for cloud computing or not but rather which is the best cloud platform to suit your business needs.
Microsoft Azure, AWS (Amazon Web Series) and GCP (Google Cloud Platform) are the top contenders in the cloud ascendancy space. So, what is the differentiator that defines each of the big three cloud providers and sets them apart and ahead of the pack?
Azure, AWS, or GCP?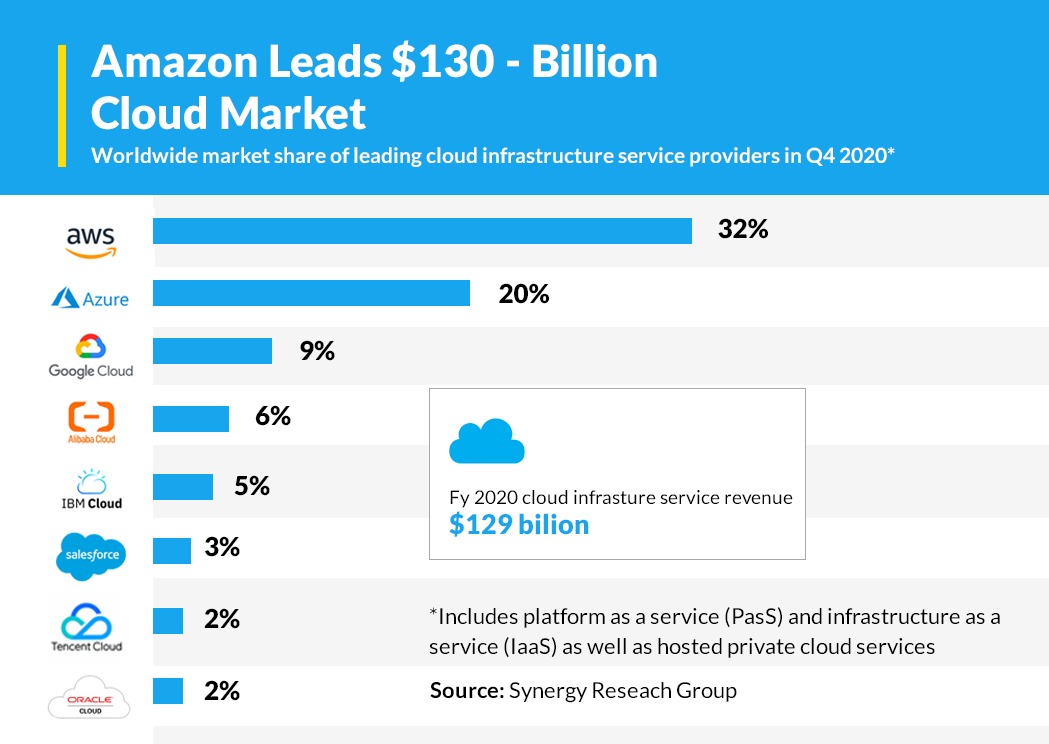 An analysis of the strengths and weaknesses of these cloud platforms coupled with a pricing perspective will better enable you to take an informed decision on the choice of cloud platform for your business.
Also Read: 6 Questions to Ask When Choosing a Technology Partner for Cloud Data Migration
Amazon Web Services (AWS)
Amazon was the first to break new ground in the cloud services space in 2006. This head start also contributes to its lion share of the market. Today, it offers a range of infrastructure as a service (IAAS), software as a service (SAAS), and platform as a service (PAAS) cloud computing solutions. These give access to functionalities such as computing, database, content delivery and storage, mobile development, analytics as well as networking. It also offers a wide -anging suite of management tools, developer tools, mobile services, and applications services.
Amazon cloud computing makes it possible for businesses to obtain large scale computing capacity more quickly and economically instead of building an actual physical server farm at any location.
AWS cloud clients: Netflix, Facebook, BMW and Airbnb
AWS cloud pricing
AWS cloud offers per-second billing which is advantageous for the customer. It offers a pay-as-you-go approach for pricing for its cloud services. Customers pay only for the amount of resources used and there are no long-term contracts or complex licensing.
AWS Strengths:
AWS cloud with its huge investment in data centers has a comprehensive network which gives it the advantage of global reach
It offers a wide-ranging suite of fast, reliable, easy to use tools and services. This coupled with its enterprise friendly features make it suited for startups, small and medium-sized businesses and large enterprises.
Its expanding infrastructure gives customers the advantage of economies of scale that give it the pricing advantage
It brings to the table 15 years of enterprise infrastructure experience.
AWS Weaknesses:
Navigating the large range of features can be difficult and to some, AWS is a complex vendor to manage because of its complex infrastructure.
The cost structure may be difficult to figure out and complicated billing is one of the disadvantages of dealing with AWS.
It may not be suitable for companies that are not technologically capable.
Microsoft Azure
Like AWS, Microsoft Azure cloud also offers a full suite of cloud computing solutions. Through its vast network of Microsoft managed datacenters, Microsoft Azure cloud services platform positions itself to build, organize and handle several services and applications. It offers compute services, networking, data management databases and has extensive networking capabilities that include support for multiple site-to-site connections to virtual networks.
Azure clients: Pixar, Dell, Xerox and Salesforce

Azure Pricing
Microsoft offers Azure on a pay-as-you-go basis or you have the option to pre-purchase a reserved instance for one or three years for many of the Azure products. A reserved Instance is an upfront commitment for an Azure service, and in return for it, you can receive up to a 72% discount.
Azure Strengths:
Has a distinct edge as regards compliance coverage. Offers over 90 compliance certifications ranging from CIS to GDPR.
Is working hard to bridge the gap with its competitors with substantial investments in building the Azure cloud computing platform.
Is more likely to be the choice of organizations which have already invested in Microsoft technology as it allows easy integration of MS tools with Azure cloud.
Azure enables you to deploy and manage virtual machines at scale. Processing and computing at the desired capacity is possible within minutes.
Azure Weaknesses:
One of the downsides has been instances of outages and this has affected the perception of Microsoft Azure's reliability. There was a 2-hour global outage that Microsoft witnessed on May 2, 2019.
Azure's customer technical support services are not its strong point.
Microsoft's sales strategy focuses on its own customers and the challenges that non-Microsoft users face while using Azure may not be adequately addressed.
Also Read: Why Embracing Intelligent Automation Will Change the Way We Work
Google Cloud Platform
Google GCP is a suite of cloud computing services that offer computing, storage, networking, machine learning and database products. Google cloud services offer other tools such as big data, the internet of things (IoT), management tools, security, and Cloud AI. It enables its customers to build and operate software through the web.
Google cloud services offer infrastructure as a service (IaaS), platform as a service (PaaS) and computing environments without servers. It is very affordable and has an intuitive interface.
Google Cloud clients: Forbes, Spotify, Twitter, Johnson & Johnson, Bloomberg, PayPal