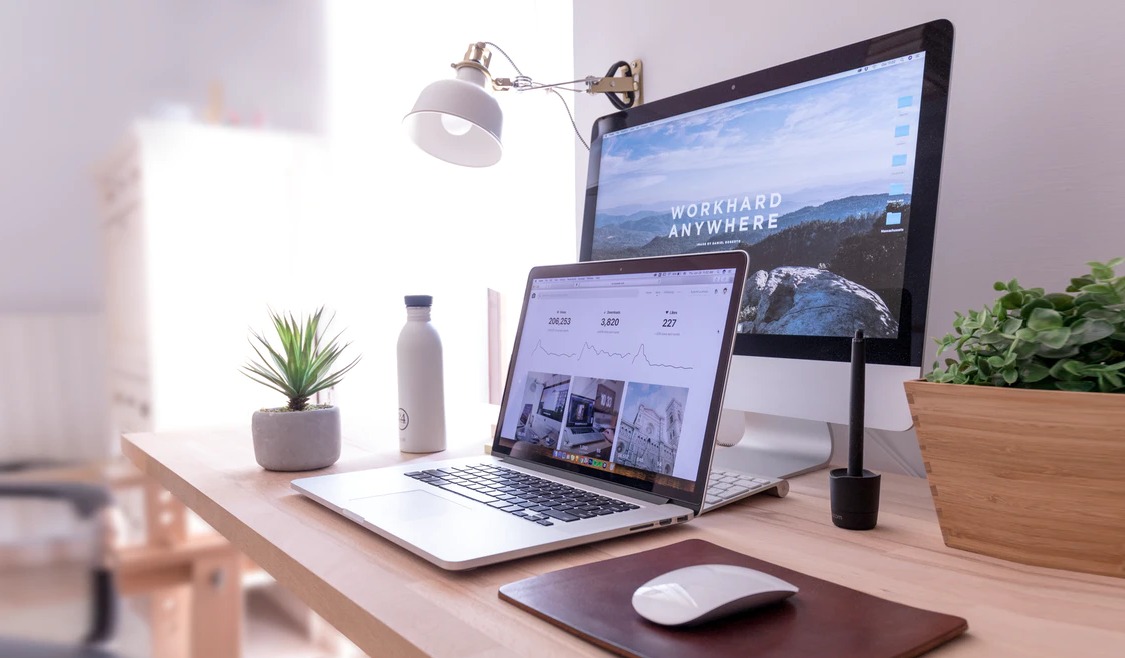 There are many reasons why a website should be redesigned. When you hold too long to your website, it can get outdated and will reflect on your brand. Many companies don't realize the impact the website has in new customer acquisition. It is one of the most important touchpoints in your sales and revenue growth. Here is all you wanted to know about the factors involved in website design cost.
The strongest reasons for a website redesign
The general rule is that a website needs a revamp every 2-3 years but this also depends on the industry. If you are in technology or SaaS then it should be redesigned every 2 years. For other industries like Real Estate or Financial sector, it can be extended to 3-5 years
The website has poor user experience. Slow download time of the page and websites that do not adjust to different screen sizes (responsive website) are the biggest cause of poor user experience. Remember that between 45-60% of your users will access your website from their mobile phones and that's why it is important that your existing website is updated with a responsive web design.
The website was built on outdated technology. Many older websites are built using flash which search engines cannot read. They might also use plugins that have not been updated for years. Newer technology has better security features and the platforms are built for faster upload of your website.
Improve lead generation. A new website with better call to actions (CTA) on all pages, including blogs will provide more opportunity for interested visitors to convert to customers.
Also read: What Technology to Choose: Full Stack vs MEAN Stack vs MERN Stack
How to calculate the cost of website redesign
Business owners will find it difficult to find website development companies that publish a rate card. This is because the cost of development depends on the complexity of the website you want developed as well as the number of pages – specifically the number of templates that have to be designed. A 15-page professional website with standard requirements will cost much less than a 15 page highly customized dynamic website.
To get back to the question "How much does it cost to build a website?" let us break it down. This will provide you with a realistic estimate of what you can expect your development partner to charge you for launching your new website.
There are different kinds of business websites that you can consider depending on the amount of customization needed and budget. These are the best options to design a website anew.
1. Single page website:
Many new businesses want to quickly build a digital presence, when speed is the criteria then a single page website is the best option. It can be built within 5 to 6 days, if the content you want for the page is ready. However, this is a stop-gap solution, since single page websites will not have enough information to get ranked by search engines. This will mean less traffic and so lesser number of online enquiries.
The average cost of a website for small businesses can fall in a range of 10,000 INR to 15,000 INR for a standard site with a contact form.
Domain name registration and hosting for one year is a separate cost.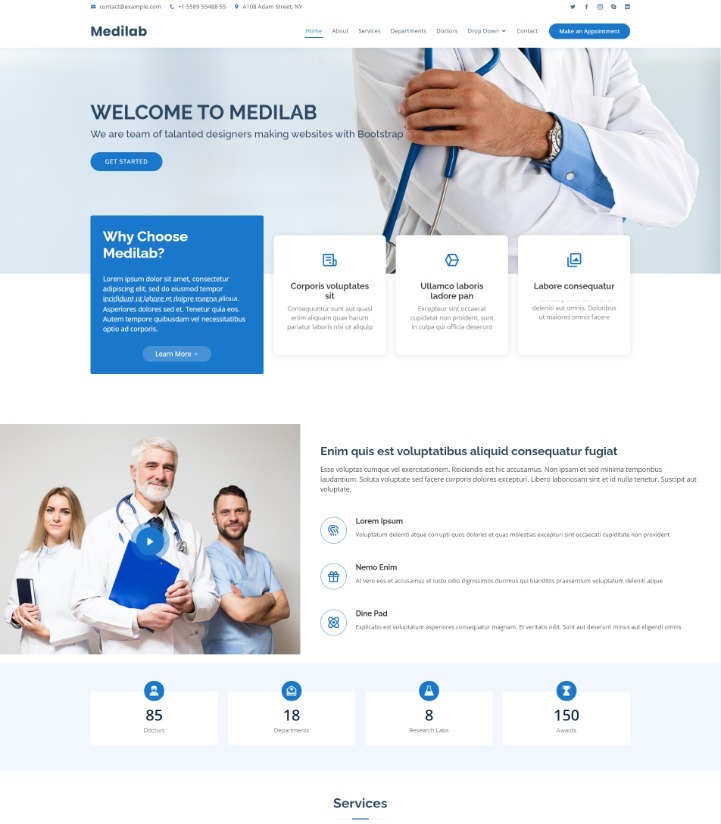 An example of a single-site template
Also read: 7 Expert Social Media Marketing Tips to Help Small Businesses
2. A website built from predesigned templates:
The design for a website can take a long time to be finally approved. A professional website can be built from a predesigned template and cut down on the web design cost. WordPress templates are the most popular and if you look around, you will find that many websites have taken this shortcut. WordPress is an opensource platform and offers the ability to customize functionalities.
However, many of the themes are not free and you will need to pay for it. The cost is an average of $57 but a premium theme can even go up to $5000.
You will be able to find themes by category such as a store, blog, education, medical and even eCommerce. To this cost you will need to add the cost of customization needed for any extra features and functionality.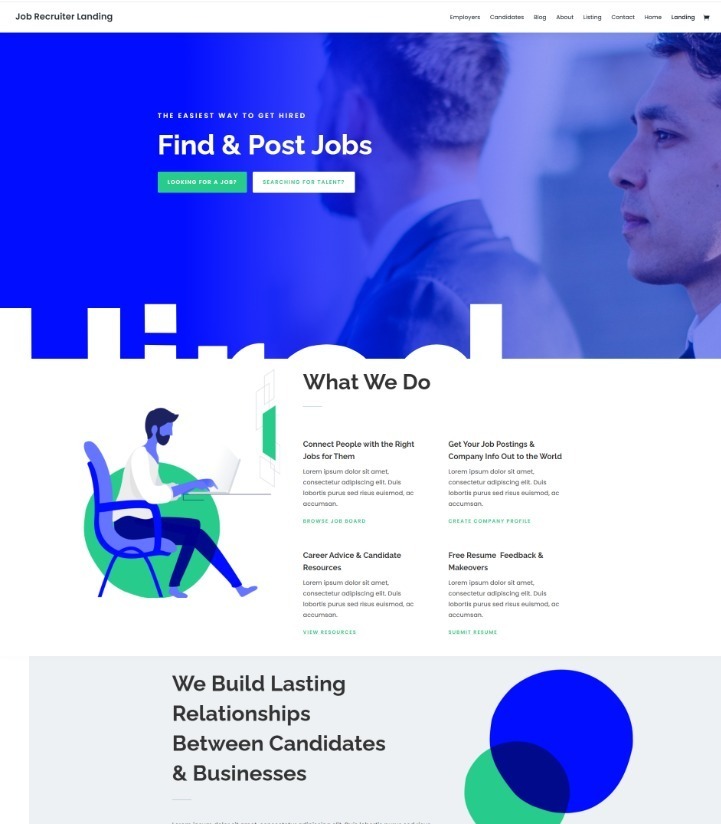 An example of a WordPress template
A template will get you 50-60% to your finish line but there is a lot of coding that needs to be added to provide for the right functioning. An outsourced development company will provide you a package plan based on all these factors.
Despite the advantages of cost, speed and professional designs, there are quite a few disadvantages as well. Websites that are template based lack originality. There will be other businesses that use the same design. Further, the templates undergo regular updates and you must keep yourself aware of them and update your site accordingly, else many of the functionalities may be affected and plugins might become incompatible with the new updates. There are also limitations to the amount of customization you can do.
Custom website:
You will NEVER find a successful product that has not been designed well. A good design is what pulls a user in and encourages them to convert. Invariably such sites are custom websites since they are optimized for conversion. A custom website is unique to your company and it's tricky placing a cost to it. There are many factors that will influence the final cost and these are
Number of pages
Tech stack to be deployed
Features
The website development company will first understand your objectives and then come up with a strategy that will offer you these services
Content writer for creating the website content
Search engine optimisation
Admin content management system
Content module for blogs
Website design (UI/UX design services)
Web development
Domain name purchase ($10 -$20 if name is available)
SSL certificate ($10 to $1000)
Annual hosting cost ($40)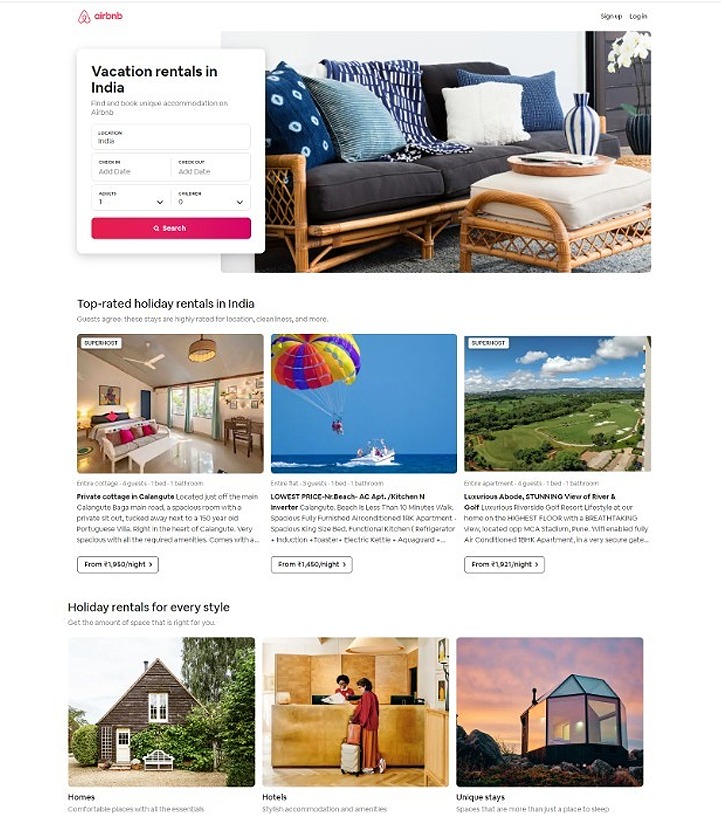 UI/UX is the design and user experience i.e. everything that visitors will see and interact with on your website. It will use technologies like HTML, CSS, Bootstrap, JavaScript, Angular, React etc. To put it into perspective, when users fill a registration form on your portal, they will see text boxes for them to enter their name, phone number and Email ID. Other questions might be presented as a radio button (e.g. gender) or checkbox format (set of options eg. To choose different services). If wrong information is entered – an error message is displayed. The 'Submit' at the end of the form changes color or is animated when you hit it on submission. All this is enabled by the front-end technology stack.Without the backend code and a database to store this information, the user will not get registered.The backend code powers all the functionality and takes up a considerable part of web development cost.Developing a website like Airbnb from scratch would cost a minimum of $160,925. But then, Airbnb added on features through the years and not at one go. So, that costing price should not scare you off from building a custom website for your business. Average cost of a custom website could be between $1500 to $6000.
These costs are just a ballpark figure and can vary based on the features involved. To get an accurate estimation of the costs involved in designing your website, speak to our experts.