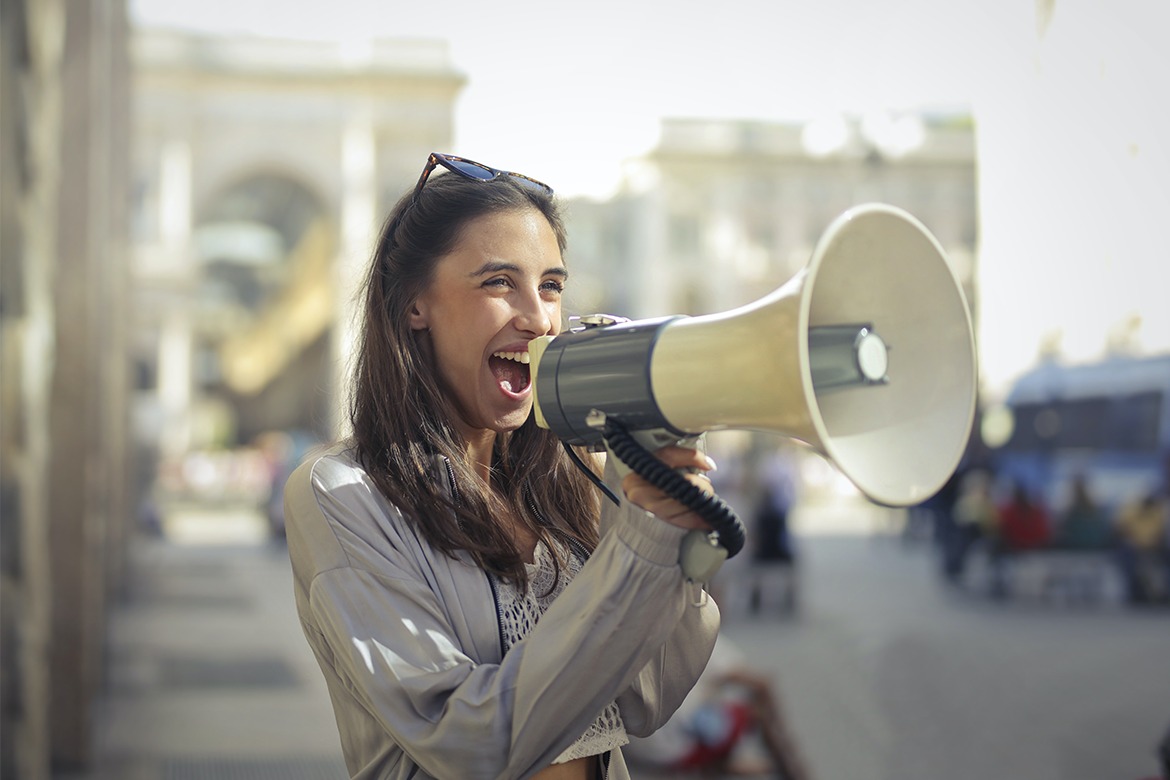 Content is what rules the internet and its importance has dramatically increased in recent years. Yet many businesses still rely on traditional sales and advertising strategies such as print ads or even face-to-face relationships. But the internet has made most of those methods less effective. This is because the information is so easily available and more people are doing their research before directly engaging with a business. This makes it vital for businesses to make themselves be seen as credible and authoritative during the research stage. High-quality content that has been optimized for search engines (SEO) is your superpower.
Content is even more vital in the B2B space where sales cycles are extremely long and investments are high. Companies do extensive research before deciding on a business as a service provider
At iTech Digital Marketing Services, we have seen this play out numerous times. The right piece of content is often the first point of contact with a prospect. We have seen this similarly with our content services with business customers. Developing a website goes hand in hand with compelling content about the business services and this should be complemented by an effective blog or article section.
Types of content marketing
There are various types of content marketing. Businesses with a limited content marketing budget should prioritize which category works best for their industry.
Website Content
Blog posts: Written articles that provide information or insights on a particular topic.
Infographics: Visual representations of data, statistics or information that make it easier for audiences to understand complex concepts.
Videos: Dynamic visual content that can be educational, entertaining, or both.
Direct lead generation tools
E-books: Long-form content that offers in-depth information on a particular topic, often used as a lead generation tool. Examples of ebooks could be A Definitive Guide on Social Media Marketing or A Beginner's Guide to Fitness
Whitepapers: Research-driven reports that provide in-depth information on a particular topic or industry.
Types of content marketing suited for Social media
Social media posts: Short-form content, such as tweets or Facebook updates, designed to engage with audiences and promote brand awareness. Of course, blogs also work well for social media.
Podcasts: Audio content that can be educational, informative, or entertaining.
Webinars: Online seminars or presentations that provide value to audiences and can be used to promote products or services.
Also Read: 7 Expert Social Media Marketing Tips to Help Small Businesses
Some of the key advantages of investing in quality content
Whether your business sells to consumers or other businesses, the key benefits of content marketing remain the same.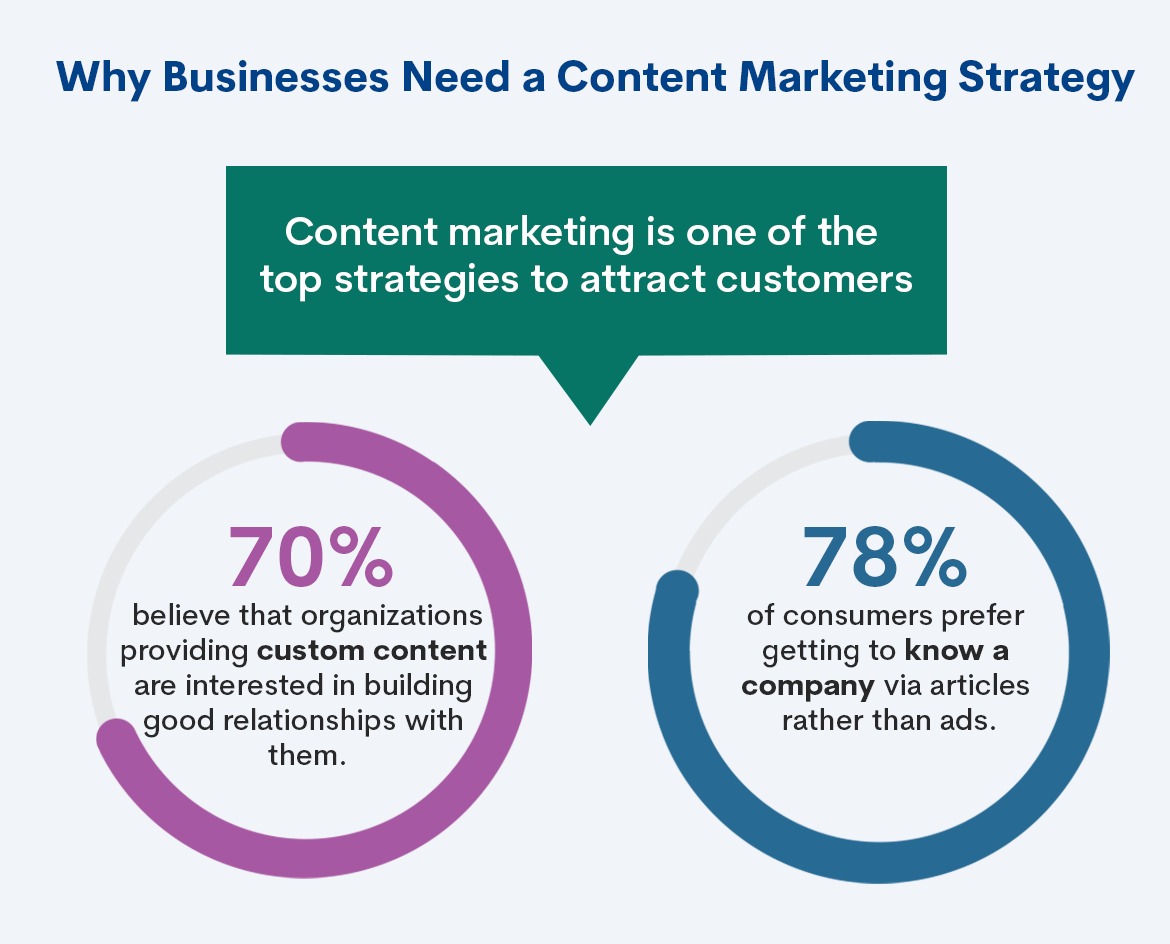 Content builds trust and credibility
Suppose you own a financial advisory firm, and you regularly publish informative and educational content such as blog posts, whitepapers, and e-books about personal finance, investment strategies, and market trends. By providing valuable and insightful content, you can establish yourself as an authority in your industry and build trust with your audience. As a result, potential clients are more likely to choose your firm over competitors.
Content marketing increases brand awareness
Let's say you run an online fashion store, and you regularly publish high-quality content such as fashion trend reports, style guides, and influencer collaborations on your blog and social media channels. By creating shareable and engaging content, you can attract new audiences and increase your brand's reach. This is one of the benefits of content marketing – It can help to drive traffic to your website and increase sales.
Content improves search engine rankings
The purpose of publishing content online is to get more and more people to read it. That requires content to be SEO friendly – include keywords and phrases that users are commonly using as search terms.
Content that is not optimized is like publishing a book and not running a marketing campaign to get readers to know about it. No publicity will mean no sales.
Let's illustrate this key benefit of content marketing by imagining you run a home renovation business, and publish informative and visually appealing content such as before-and-after project photos, how-to guides, and expert tips on your website and blog. By optimizing your content for search engines, you can improve your website's visibility and rankings in search engine results pages (SERPs). As a result, potential customers searching for home renovation services are more likely to find and choose your business over competitors.
Online content can generate leads and conversions
Here's another example of content marketing ROI. Suppose you run a software company, and you publish educational and informative content such as case studies, user guides, and video tutorials about your products on your website and social media channels. By creating content that addresses your target audience's pain points and interests, you can attract prospects to your website and ultimately convert them into paying customers. This can help to increase your sales and revenue.
Also Read:What are 4 Digital Marketing Trends in 2023 to Improve ROI?
Content can keep you top-of-mind with customers
Suppose you run a fitness studio, and you regularly publish inspiring and motivational content such as success stories, workout videos, and nutrition tips on your website and social media channels. By consistently creating high-quality content, you can build a loyal following of customers who value your expertise and insights. This can help to increase customer retention rates and build long-term relationships with your audience, resulting in a steady stream of revenue for your business.
Data to Support Content Marketing ROI
Here are some content marketing examples and statistics to illustrate how a good content marketing strategy can provide businesses with ROI.
1. Increased traffic and visibility: According to Hubspot, businesses that publish 16 or more blog posts per month receive 3.5 times more traffic and 4.5 times more leads than businesses that publish fewer than 4 blog posts per month.
However, businesses should not fall down the rabbit hole of quantity over quality. A B2B business might only publish 2 to 4 blogs per month, and that is ok as long as it answers the questions its target audience is looking for. Poor-quality content does not build any credibility.
According to a study by Content Marketing Institute, businesses that prioritize blogging as part of their content marketing strategy are 13 times more likely to see positive ROI on their efforts.
2. Better engagement and customer retention: According to research by Demand Metric, content marketing generates three times as many leads as traditional outbound marketing, while costing 62% less.
In another study by the Aberdeen Group, companies with strong content marketing strategies see a 19.7% increase in conversion rates.
3. Cost-effective marketing: According to the same study by Aberdeen Group, content marketing costs 62% less than traditional marketing and generates about three times as many leads.
4. Brand authority and trust: According to a survey by the CMO Council, 67% of consumers say that high-quality content makes them more likely to do business with a company.
Overall, these statistics show the importance of a content marketing strategy that can provide businesses with significant ROI. By investing in content marketing, businesses can increase traffic and visibility, improve search engine rankings, boost engagement and customer retention, increase conversions and sales, and establish brand authority and trust.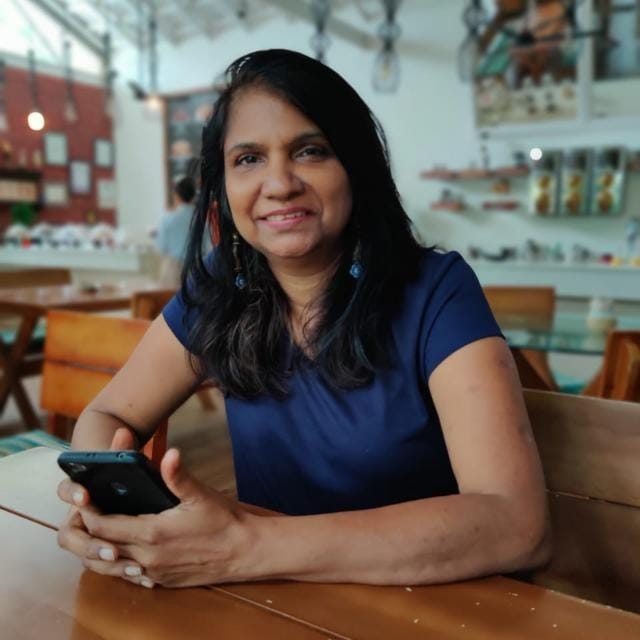 Karen brings her decades-long experience in content and digital marketing to helping global brands to showcase their expertise. When she isn't writing or caught up in being a digital marketing evangelist, you will find her passionately involved in animal rescues.