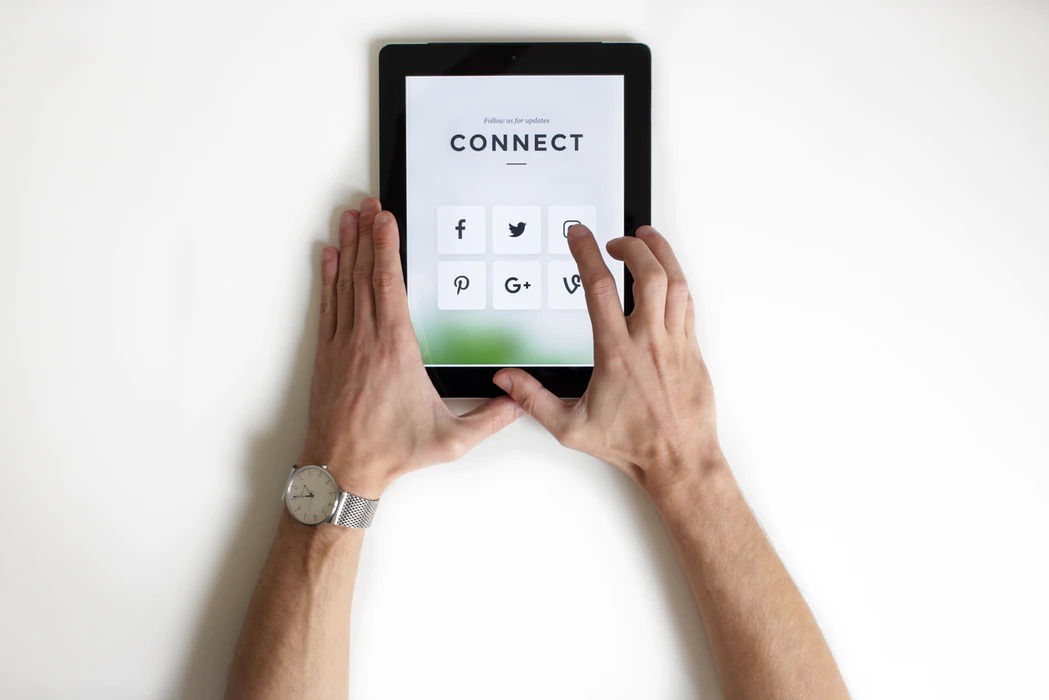 Does social media activity have any effect on your website ranking on Google or Bing? While Google might not give us a definitive answer on this, there seems to be a definitive link.
Google's fuzzy message on social signals is reflected in Matt Cutts, their ex-search quality evangelist, announcing in 2010 that social signals were important but then completely backtracking on this in 2014. This was probably because Facebook had blocked Google crawlers for a month and Google engineers were wary of working on special engineering for social sites if they were to be blocked. Also, the personal and sensitive data on social media pages didn't make it always feasible for showing it on organic search results.
Yet, a 2018 study by Hootsuite showed that sites with social promotions did much better than those without. So, coming to the big traffic question, in 2021 does social media signals help your website rank better in organic search results? Let's deep dive into this to know what digital marketers must keep an eye out for in their never-ending quest to boost traffic to their websites.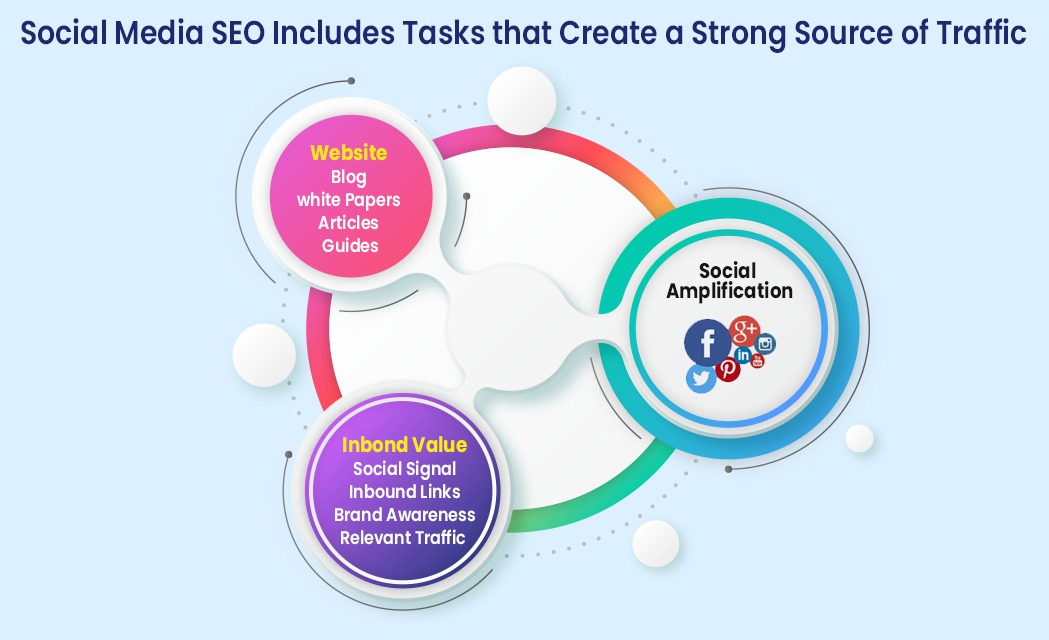 Backlinks from social media – Do they count?
A backlink, by definition, is any website that links back to your site. Since social media sites like Facebook are websites, then any link from them must by that definition be a backlink. It is not so straightforward though. While backlinks from high quality websites do help you, there is a distinction. Sites that provide you a 'Do Follow' backlink are more valuable than those that convert your link to 'No Follow'. Facebook redirects any outbound link, via a PHP script, this reduces the value of those links, for instance the links on your posts on your Facebook Company page. On the other hand content sharing platforms like Medium provide a Do Follow link in your content posts and are highly "authoritative". Knowing the way different sites treat your backlinks is important.and will require some technical SEO knowledge.
Unlike Google, Bing has been consistent and clear that their algorithms include social signals in their search results. While Google might be the market leader in search, Bing has a 33% share in the US market and a global search share of 5.6%
If sites like Facebook and LinkedIn or Twitter do not help you overtly improve your website's PageRank, there are still many reasons why you should assiduously build more social media links as possible. For time-sensitive queries, search engines pay notice to activity on social media to set priority in seo ranking. Another important point is the social signals that are generated when qualified traffic comes to your site from LinkedIn or other social media sites. More on this social media impact on SEO in just a bit.
Also of Interest: 7 Expert Social Media Marketing Tips to Help Small Businesses
Your Social Media Profiles rank in Google Search
Have you noticed that when you search for a company, their social media pages always (if they have one) comes up high in the search results. In our own example, the LinkedIn company page ranks even above the website, indicating the importance of social media SEO in SERP.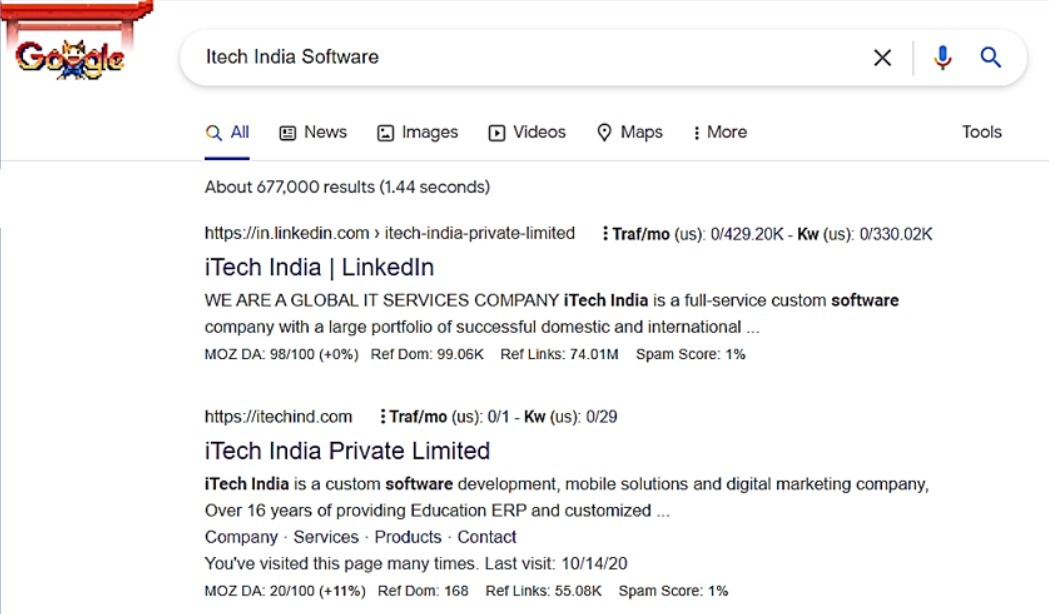 Another surprising fact is that content that has got a high like or share engagement often also has a high search ranking.
If you post content on your website and don't "amplify" it then it will just sit there. Social media gives you access to a wider audience quickly. It will take time for your blog content for example to move up the search rankings.The more people following the social links and reaching your webpage, the more those positive social signals may improve your search ranking.
While no one can definitely draw a straight line between SEO and social media when it comes to social engagements, what I've noticed is that a strong social strategy has always seen an impact on increased organic traffic.
The impact might be indirect but it is positively there.
Also of Interest: 3 Powerful Ways to Build Your Brand Through LinkedIn Company Page
Behavioural factors can affect SERP Position of website
Here is something else about the social media SEO connect – behavioural factors strongly influence organic search results. Some of these factors are:
Bounce rate

Time spent on the website

Number of pages user navigates to in a session

Return to search engine after visiting website
While this is not a comprehensive list, behavioural factors indicate user's satisfaction with the information found on the website. When a user spends time on the website it signals to Google's algorithms that the content is useful. This is why social media SEO is important because usually a post on social media contains a picture and a short description and is targeted to an audience that has subscribed to your company page or is interested in the topic. Such a user already has a good idea of what they will find on the website and so will spend more time and even return for more information. So, one of the best ways to improve search engine ranking is with a strategy that involves consistently posting to social media.
My List of Top Social Media Platforms for SEO (Apart from the usual 5)
Apart from Facebook, LinkedIn, Twitter or for that matter Pinterest ( 2 billion searches each month)on site) there are other quasi social media sites that build quality backlinks and improve SEO Rank. These are
Medium:

The high site authority and the ability to post your blog content and even republish your existing blogs makes me rank it at the top. Medium has 154M unique visitors each month and 58% of their traffic comes from organic search, makes this a top recommendation.

Quora:

This is a largely hidden treasure among social media websites. You can post questions and provide answers, all with the facility to backlink to relevant content on your website. Quora's organic traffic is almost 67 million. It makes sense to be an active participant on such a site.

Reddit:

This is a community driven website. It combines features of a social network, content aggregator as well as a forum. It has a domain authority of 97 and that's almost equivalent to Facebook. It has a complex algorithm that converts 'No follow' to 'do follow' based on certain conditions being met.
In conclusion
Both SEO and Social Media have specific benefits for improving business reach online and improving trust and credibility for your brand. However, too often SEO and social media activity are not linked up because they are handled by two different teams. It is important that the improvements being made in your SEO strategy are supported by regular social media promotions. In short there should be one, combined digital marketing strategy for a business marketing team.