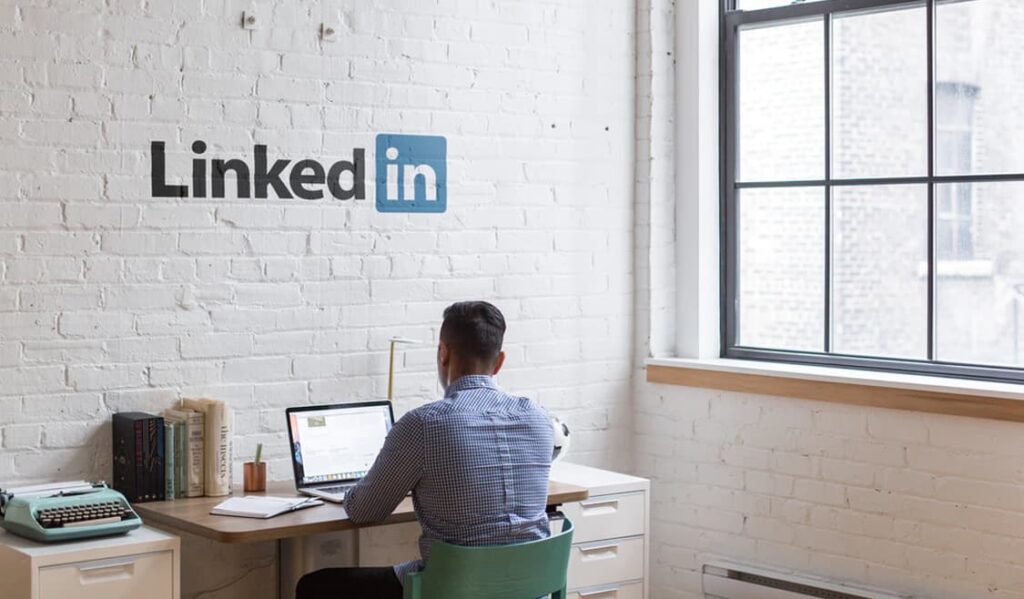 Your LinkedIn Company Page is a powerful online marketing tool. This is especially true if you're a B2B business. You are missing out if you aren't leveraging the potential of this platform for marketing your business. Everyone on LinkedIn is there to talk about business and that makes it the largest professional networking platform. Clients, prospects, potential hires, employees – you will find them all here. Having a good LinkedIn business profile is like a second company website.
When managed well, it can lead to increase in website traffic, higher engagement and conversions. It is important to structure your company page in such a way that it consistently syncs with a specific goal. For a B2B LinkedIn page, the goal is often a conversion action. This conversion action could be a click-through to your website or even a like or share on posts. Creating brand trust and increasing awareness are equally important to getting LinkedIn Leads.
So, how do you build a compelling presence? It is by having a strong LinkedIn content strategy. In this article, I'm going to show you 3 tips that will help you take full advantage of LinkedIn to market your business.
1. Your page must tell your company story
If you have not yet set up your company page, you can easily do it from the 'Work' dropdown in the menu bar and selecting an option as below.

Whether creating newly or already having your LinkedIn business profile, revisit your company information to make it informative and optimize performance. This means that you must tell a story on your page. Don't be dry and boring, this is your chance to engage with your audience and the way you present your information must be interesting after all LinkedIn is still social media, the same rules apply as in Fb Or Instagram, albeit in a professional space.
If you are building your page from scratch, LinkedIn will provide you helpful suggestions but that is only the basics, it takes more to build a top-notch company page. So, does your page check all these boxes?
Add a cover pic (1,128 x 191px). Remember that your profile pic should be your company logo (300x300px) so don't add your logo to your cover pic. The real estate is valuable and many businesses think it is mandatory to add their logo to the cover image – it is just overkill. Design a cover pic that will entice your visitors to check out your page. Here are a few good examples and remember sometimes an image doesn't need text to tell the story (viz a viz Unilever)


Complete all information, sure this seems like a no-brainer but there are so many companies that don't. That is like having a website with no information, you immediately lose credibility. This statistic will illustrate the importance
LinkedIn company pages that have all information get 30% more visitors than those who don't.
Add a tagline to your LinkedIn page that pithily explains your company's USP and then use the 2000 characters in the company overview to tell your audience what you're about. Write in a conversational tone about the products or services your company offers and what makes you different from competition. Tell your users what to expect from following your page. To get started, look at other business pages if you need inspiration but always keep your story true to you.
Also Read:
7 Expert Social Media Marketing Tips to Help Small Businesses
2. Don't miss out on these hidden gems
To round it off, create a customized URL in LinkedIn when you create your company page. Also, generate LinkedIn Insight Tag from the company page campaign manager and paste it to the global footer or header of your website code. This tag measures the activity of users on your website and sends data back to LinkedIn. In turn, you will be able to get a demographic report of your visitor's company, position, seniority level, location etc. This can be used not only to advertise to visitors on your website but also to customize the messages to your audience. You might not need it today but the data is invaluable whenever you do need it.
This feature is rarely used by businesses – Showcase Pages. A showcase page is linked from your company page and it is a great solution for companies that would like to build pages for different products targeted at different personas. LinkedIn Showcase Pages allow you to offer specialized information tailor-made for a specific audience. It need not be just a product showcase page; you can also create a career page as a showcase page.
Creating a showcase page is quite straightforward. You need to go to the Administrator Tool Menu and follow the guided process.Do remember that you will need to grow an audience for this, similar as you are doing for your company page.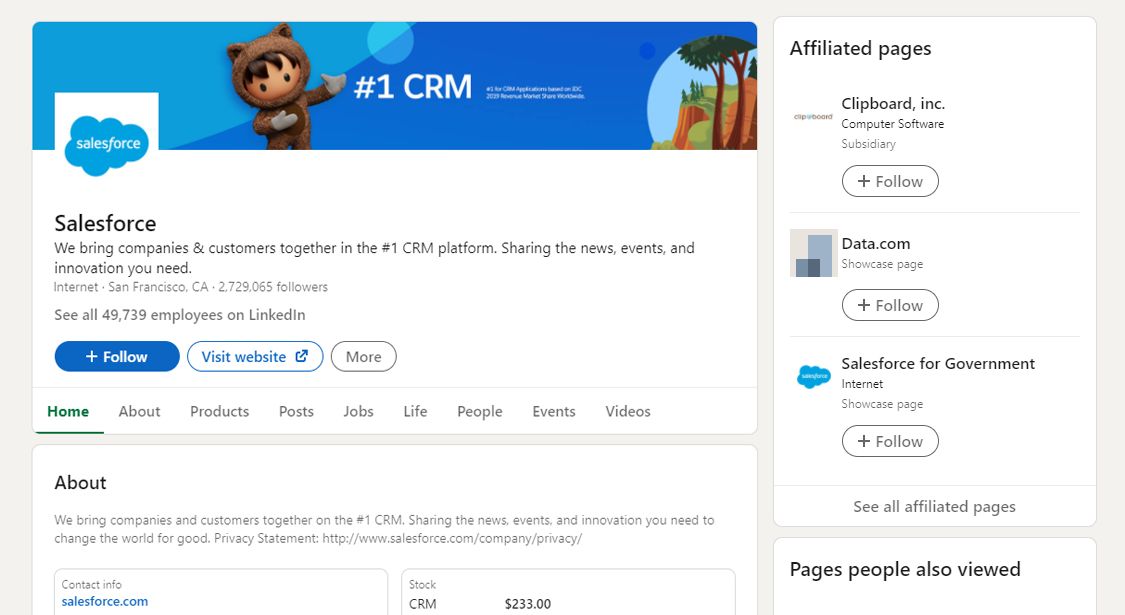 Also Read:
How Businesses Can Get More Leads Through Digital
3. Post consistently – some tips on generating content
I've found that there is a direct correlation between the frequency of posts and speed of getting more followers. The success of a post should not just be judged by the engagement on the post itself, often the engagement is by folks deciding to follow your page – that is oftentimes even more valuable. It is recommended to have at least 2 posts each week, the more the better.
So, how do you create so much content? Many page admins find it difficult to find ideas for their posts. It is not rocket science, there are many ways you can keep those posts happening. Here are some ideas to build your LinkedIn content strategy
One blog can be the inspiration for multiple posts. This is called splintering content and it is a great strategy for LinkedIn. Pull out tips from your blogs and give a link to the resource in the comments section, this will allow you to add alternate images for each tip or even post it as a text-only. LinkedIn displays less text before a 'More' pops-up, so ensure your first 2 lines create curiosity to read more.
Consider posting updates to your products, case studies are also a good fit, new job openings are also another source of content. Podcasts or video testimonials may require more effort. LinkedIn also has a useful Content Suggestion Tool to help you finds topics that your audience is already showing an interest in on the network. This is available in your menu and I recommend you try it out.
Employee-generated content works very well. This can be images of work events or behind the scene peaks. The biggest tip I can give you is to humanize your brand i.e. put faces to your brand. Graphic designed content does not work well. Instagram type images are much more eye-catching. This also helps to highlight company culture and career growth opportunities. This is what potential hires are looking for. The goal here is not to increase website traffic from these posts but to draw in a new audience to engage with your page. Here are a few posts from the iTech LinkedIn Page that illustrates this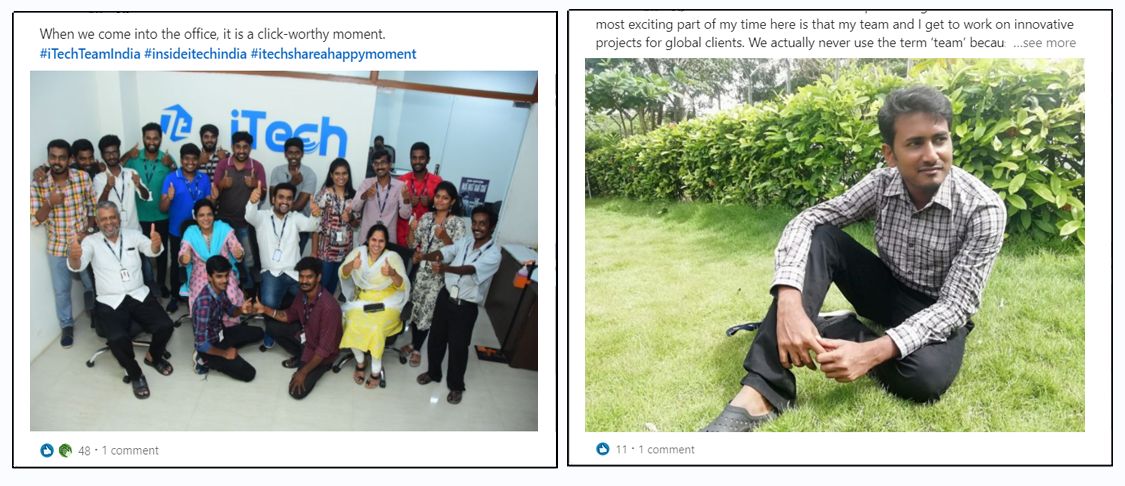 To conclude, people don't come to LinkedIn to find recipes or see travel pictures. When there are here, it's the best possible time to show them what your business has to offer. Get started with branding your business most effectively on LinkedIn. Remember that prospective business clients will definitely visit both your website and LinkedIn Company Page to know you better.
Karen Jain
Karen brings her decades-long experience in content and digital marketing to helping global brands to showcase their expertise. When she isn't writing or caught up in being a digital marketing evangelist, you will find her passionately involved in animal rescues.