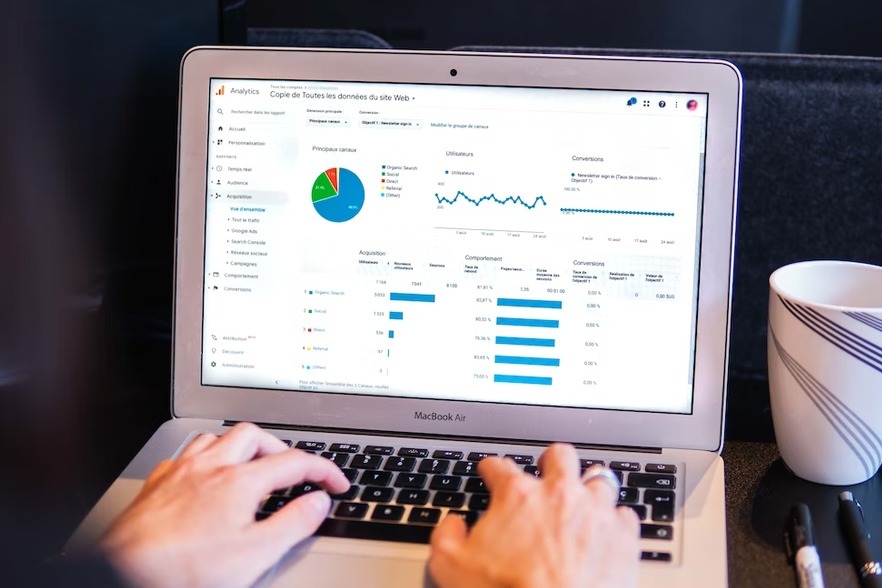 The chances are that if you have a business website you will be having a Google Analytics account to get insights about your visitors. 53% of all websites on the net use GA and 74% of the top 1000 sites. Yes, there are other traffic analytic tools but GA is free and it provides amazing data. As a business website launched before October 2020, your website is probably using Google's Universal Tracking. There is a change coming in the form of Google Analytics 4 or GA4. In fact, you would have received a notification on your dashboard that a mandatory switchover is slated for July 2023.
This is what Google says:
Until July 1, 2023, you can continue to use and collect new data in your Universal Analytics properties. After July 1, 2023, you'll be able to access your previously processed data in your Universal Analytics property for at least six months. We know your data is important to you, and we strongly encourage you to export your historical reports during this time.
Here is all you need to know about GA4 and why businesses are going to find it super useful.
Google Analytics 4 vs Universal Analytics or GA3
Both GA4 and Universal Tracking are property types but just work differently. A Google property type refers to a set of analytical reports and data that are associated with a property ID. You will have a property ID set for your website when you create an account in Google Analytics.
The difference between GA4 and UA is this – GA4 uses an event-based tracking methodology while UA uses session-based tracking.
Session-based tracking is the metric based on the time the visitor remains on your website. A session starts when a visitor lands on your website (whether on desktop or mobile) and ends when they leave or if they have been idle for 30 minutes. UA has a limit of 10 million sessions and if you are a super large site therein lies a rub.
Google Analytics 4 tracks metrics based on events. An event is anything the user does on the site such as pageviews, session starts, video plays, button clicks, link clicks or even a page scroll. There is no cap such as in UA of 10 million sessions, it is limitless. The only restriction is that up to 500 events can be tracked. This number is anyways quite high enough.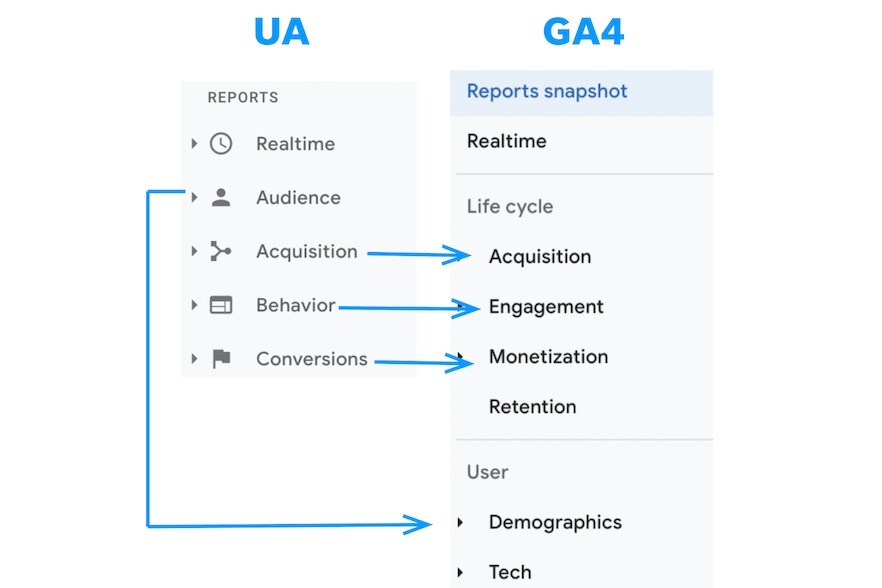 GA4 features that businesses should be excited about
Nearly every website we build for our customers includes Google analytics tracking right from the start. With Google announcing a move over to GA4 set up, we advise our clients to start as they wish to go on. This means that we will work with a client's SEO experts or our own in-house SEO team so that when the website launches, data will come in to provide insights on what is going right and what might need more work to take your business's online presence to the next level.
In the new GA4 set up some of the older features are retained while others are entirely new and are specifically designed to take businesses into the future. Here are some features that we predict will be beneficial for companies.
1. Google Analytics 4 supports predictive metrics
The exciting feature for businesses is that it is built on predictive metrics that are not available if you are still using Universal Analytics. GA4 is powered by Google's machine learning system and this will give businesses insights into probable future behavior of website visitors such as customer churn probability, purchase probability and even predicted revenue. For instance, the new analytical system could predict the likelihood of a user who has been active on your site within the last 7 days will not be active in the next 7 days. It could tell businesses whether users of the website who were active in the last 28 days would purchase an item or service in the next 7 days. That is exciting, isn't it?
However, there are a few prerequisites to trigger this behavior, there must be at least 1000 samples of positive and negative behavior for user purchase or churn behavior for predictivity algorithms to trigger. After all, data is necessary for any AI algorithm.
According to the Google Blog,
"It has machine learning at its core to automatically surface helpful insights and gives you a complete understanding of your customers across devices and platforms. It's privacy-centric by design, so you can rely on Analytics even as industry changes like restrictions on cookies and identifiers create gaps in your data."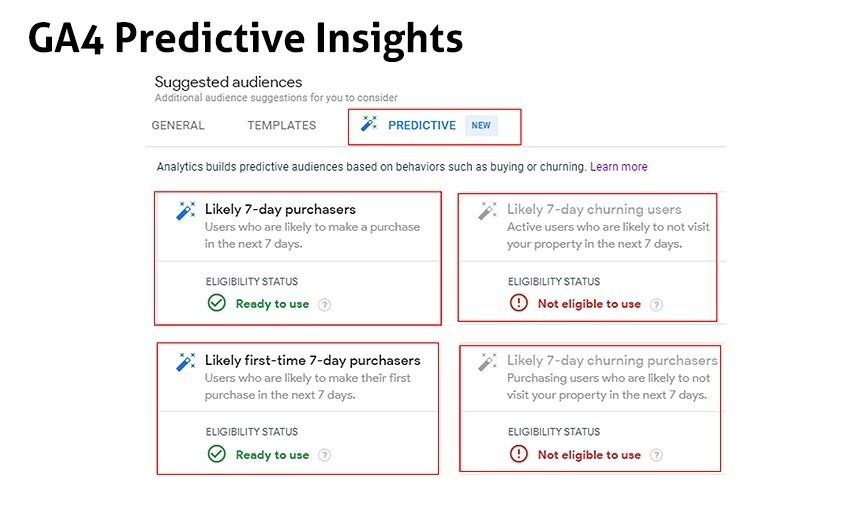 2. Aggregated data streams
This feature will benefit those businesses that have an app along with a website. In UA if you were tracking analytics for your website and your app, it had to be done separately. GA4 though consolidates all data streams.
While data can still be broken down into individual streams, you will also have a roll-up property that can be customized with up to 50 dimensions and metrics to give you a cross-domain view of traffic metrics.
3. Stronger insights into conversion and cross-domains
The goals of UA are now just known as "conversions" – so there is a slightly different terminology to get used to in GA4. In this new format, you can know where a customer first interacted with your business. This will be valuable insight that can improve lead generation strategies. Insights such as these are expected to help businesses to improve user journeys on their platform.
If your business has multiple website domains, GA4 permits the transfer of first-party cookies from one domain to another. This will help track the same user as they move across domains. These domains could also include your YouTube video views, social channels, etc. This will provide a comprehensive view that has been a bit difficult till now.
4. Making events the core of actionable insights
Universal Analytics does track events like form fills or clicks. Each event had its category, action, label and hit type and so it was more siloed. GA4 differs in that every event is a hit type. Since everything is labeled an event, it means that all goals are included in reports. These events in GA4 are of 3 types
Automatic events that are automatically collected don't need to be set up in the backend. It will be triggered by basic interactions with the website.
The recommended event will be suggested by Google specific for your domain type eg. gaming sites, eCommerce, education, etc.
The custom events are those specific to your business and cannot be found in the recommended events.
The new GA4 analytics is part of digital transformation that businesses are looking for. Contact us to learn more about building a website and integrating the new Google Analytics 4 property. Your project could be our next success story, let's talk.