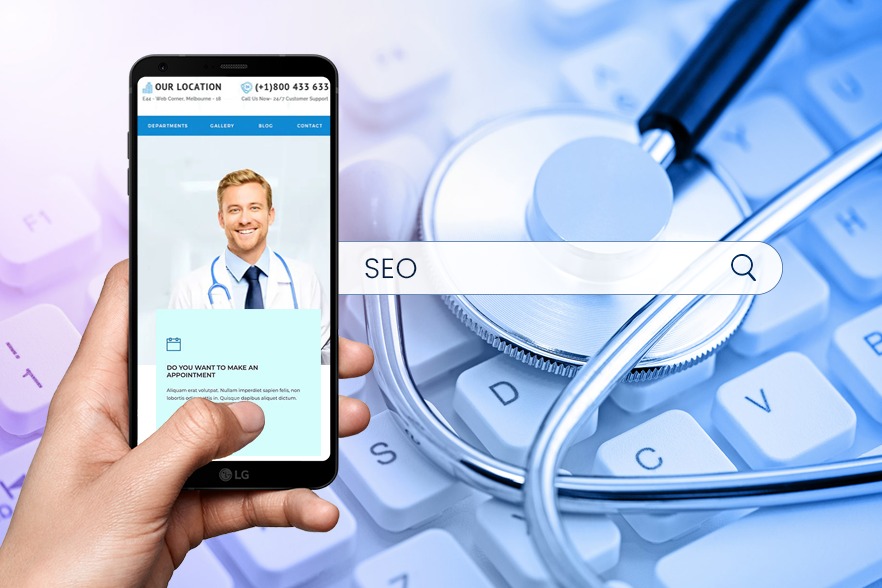 There are approximately 230,187 physician practices in America. Of these group practices, 2-5 physician practices account for 23% and 31-100 physician groups are about 11% (Statista 2018). There are over 70,000 healthcare websites. These numbers are a strong indicator that healthcare providers cannot rely only on traditional marketing or references to get patients. They are starting to find opportunities through digital marketing. 
Having a medical website has now become the norm rather than an exception. However, just hosting a healthcare website is not going to get people to find you. This is where medical SEO steps in. Patients have to be viewed in a new light, as consumers who need to be convinced to choose a particular provider. One of the most beneficial ways to do this is to feature in searches when people are looking for information. Search engine optimization is what gets your website to come up in these search results. If you are not top in these results then someone else is. As a medical practice would you want to miss out on new patients?
What is healthcare SEO?
Healthcare SEO, also known as medical SEO covers a number of processes (more on that further in this article). There are different techniques used to increase the authority of your medical website and the ranking in search engines for targeted keywords and search queries. This is done organically i.e. without paying for ads.
There are different ways people search for healthcare-related information. They might be searching for medical insight or they may be looking for physicians or hospitals with the best ratings. As a medical practice, you can decide whether you want to figure only for the second type of search or both. This will decide your search engine strategy. 
For example, if you are an orthopedic surgeon, you want someone to type "knee surgery" into Google and find you. This is an instance of organic SEO for your website. Note that the top 3 search results will get 50% of the clicks. That is why SERP or search engine results page ranking is important because very rarely do people go to the second page of search results.
Similarly, if you are a dentist, when someone enters "dentists near me", you want your name to come up first. This is an instance of local SEO. This will require you to set up your business listing in Google My Business and optimize it there as well.
This is a small peek into how proven Medical SEO strategies can ensure that your website is at the top rather than lost among the thousands of search results. Most medical practices have a website but feel that having taken the time to create the content and buying a domain name and hosting it online is all that needs to be done. You won't notice much traffic if you stop here. Google Analytics which uses a unique tracking code added to each page of the website will provide you with details of the traffic to your website. 
Creating a website is just the first step and there is more to be done if your medical practice is serious about capitalizing on organic search. Remember that organic search is a long-term strategy and is not a paid service, unlike PPC ads that can get you temporary eyeballs, only as long as you run paid ads.
Google's most up-to-date prescriptions for good SEO 
Here is why the term medical SEO was coined and how it differs from other industries. Medical-related terms are a whopping 20% of Google's annual searches. In recognition of this Google did an algorithm update in 2018 that is known as the Google Medic update. This is because pages that impact health or wealth would undergo a higher level of scrutiny by Google bots compared to other industries. 
The Medic update's purpose is to emphasize the sites that show expertise, authority, and trustworthiness – E-A-T. Google also pushed down or punished websites that were considered to have a low E-A-T. What the E-A-T algorithms look