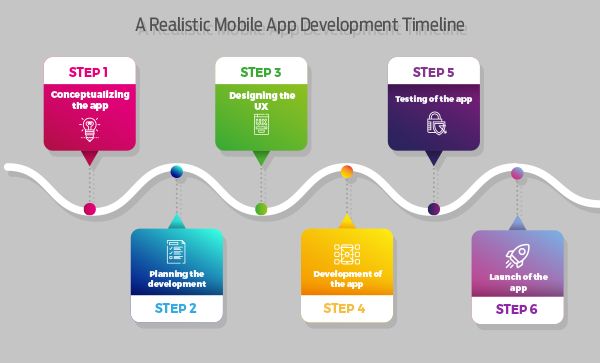 An innovative app is one of the best assets your company can have as it improves a user's experience and engagement with your brand. However, taking an app from the drawing board to the app store can be a long process. Managing application development timelines is important because it helps you plan marketing activities that can increase the number of downloads once the app is live. If you are outsourcing your app development, then it will also help you forecast how much you will actually need to spend for the duration of the app development.
The actual time for an app to be developed depends upon the complexity of the features, the design, platform it's being developed for and numerous other factors. But you can get an estimation of how long it will take to develop your app using a general web app development timeline.
The mobile app development process steps can be broken down into the following phases.
1. Conceptualizing the app
You might have a broad idea of what you want your app to do, but before you invest in developing it, it's important to understand if your audience actually has a need for it. If you have a clearly defined target audience, then you should conduct extensive market research to understand their challenges and pain points and check if your app idea actually solves it. It's also useful to do a competitor analysis on apps that are similar to yours and are already being used by your target audience. Delve deep into competitor apps to identify their shortcomings and find ways that your app can overcome it. This is critical to developing an app that audiences will choose over others in the market. This will also ultimately become the main communication in all your marketing activities in the future.
This stage can last for around 30 days but can extend to longer depending upon how in-depth you want your market research study to be.
2. Planning the development
Once your app concept is finalized, it's time to decide exactly what features you want to include in it. This is important because the complexity of the features you want to include will determine the cost and web app development timeline. The more features and the higher complexity of these features your app has, the greater the cost and the longer it will take the develop the app. In this stage, it's also important to set aside a fixed budget for developing the app. This helps you include only the features you need so as to not exceed the budget. You will also need to put together the team that will be responsible for the project management and actual app development.
If you are planning to outsource the development, then you will need to research the best app development companies and finalize on the one you would like to partner with.
This stage can last for about 21 days on an average.