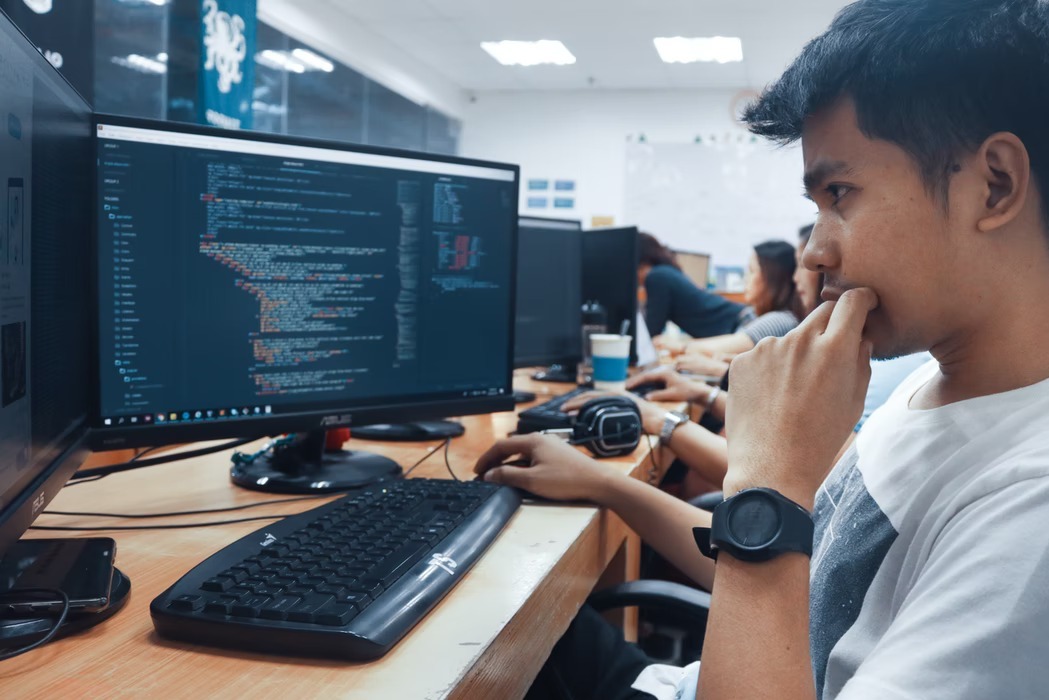 Software outsourcing is a prudent move that businesses are increasingly going for, to increase productivity while reducing operating costs. This tried-and-tested method has become the new standard since it allows businesses to focus on their primary growth goals while leaving critical software development to the experts. In a technology-driven market, this works to gain a competitive advantage.
According to the Deloitte Global Outsourcing Survey Report, around 70% of those polled claimed they utilized outsourcing to minimize operating costs.
In comparison, another 40% said software outsourcing gave organizational flexibility to deal with the pandemic's changes, such as remote work and complete digitalization at a breakneck speed.
Speed, quality, flexibility, and cost are the drivers and companies benefit from teaming up with reliable experts in an outsourcing partnership.
Cloud and automation technologies are the driving force for change in business processes. Companies are also realizing the advantage of microservices i.e. building single-function modules with well-defined interfaces. This helps in quicker deployment.
If you need to be convinced further, here are the top 5 reasons why it is a smart choice to outsource software development for your company:
1.Increases the focus on core business processes 
Software development projects consume time, which may hinder you from focusing on revenue-generating core business competencies. An effective software outsourcing strategy requires assessing your current strengths and weaknesses and focusing on establishing your leadership in the industry by building new and optimized products, improving customer relations, and leveraging other growth strategies. All these require technology to back them.
The trend in the last 2 years, especially with the pandemic, has been to work in a flexible outsourcing model (Deloitte study). Companies have found it advantageous to work with multi-vendors to prevent a vendor lock-in situation.
But here's the catch, you can't outsource 100% of the job; your participation in the process is critical to the software development partnership's success.
When you enter into a partnership with the expectation of simply delegating a project and letting the outsource software development team blindly execute the responsibilities, you're setting yourself up for trouble.
As a customer, you must have at least one technical lead with a thorough understanding of your software products and the ability to participate in day-to-day cooperation with the outsourced team.
Also read: Custom ERP Software vs. Off-the-Shelf: What's a better choice?
2. Accelerate your complete digital transformation 
According to Accenture research, 90% of businesses outsource to third-party solution providers to assist them with at least one aspect of their digital transformation. The same study concludes that improving customer experience is a top priority for businesses pursuing complete digital transformation.
Now that customer experience is clearly at the heart of digital transformation, and digital is at the heart of that customer experience, organizations must enhance their customer-centricity focus. Outsourcing can help you tackle this roadblock with better flexibility, scalability, and better risk mitigation. Third-parties can help fill skill gaps even technologically advanced companies might have, and make it faster and more affordable for organizations to implement and execute their digital strategy.
Outsourced software development solves the stumbling blocks to digital transformation in organizations, such as high labor costs or a lack of in-house skills.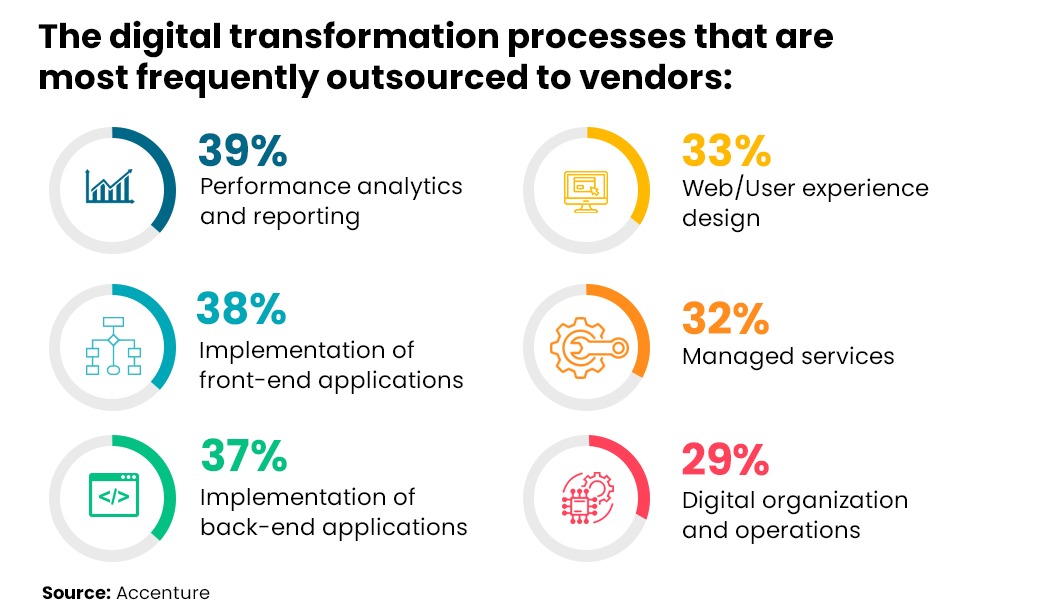 3. Software outsourcing leaves headache of talent shortage to your partner 
Covid -19 has shown many naysayers among businesses that a physical co-location of resources is unnecessary. Offshore technology partners were always considered outsiders and building a trusted working relationship with them was considered difficult. These inhibitions were thrown out during the crisis as all work became remote. More businesses realized the need for cost-efficient solutions offered by off-shore partners as well as access to first-rate professionals for the latest technologies.
When partnering with an outsourcing firm, your organization can access IT people with extensive industry knowledge of advanced technology and a unique set of abilities. Senior architects, UI/UX designers, and business analysts so that your core team doesn't have to start from scratch. The best aspect about outsourcing is that you don't have to hire these experts full-time; instead, you only need them for the course of your project.
While picking an outsourcing partner, don't only look at their capacity to supply qualified technical personnel––reliability is just as important.
As a critical step in matching demands to the right outsource software development partner, be sure to do a background and track record check.
Also read: Obstacles to Avoid to Prevent Software Project Development Delays
4. Allows businesses to focus on business challenges 
Managers and business owners are frequently so close to the action that they miss the larger picture, and their hazy vision distorts specific unique opportunities. Those in charge of operating the company may be so preoccupied with day-to-day operations that they have little time to keep up with new technologies that may offer them a competitive advantage. Developing outstanding software usually involves experimenting with new techniques and thinking outside the box. On the other hand, software providers have a single focus and that is to provide cutting-edge solutions that businesses are looking for.
5. Bridge the skills gap in the IT industry 
As per the SAP report, it is essential for companies to identify, onboard, retain, and retrain the right talent to build new capabilities and stay on top of the game. With the current skills gap in required technical fronts, outsourcing software development projects can significantly improve an organization's overall business performance and daily operations.
With predictions indicating that the tech gap would not be narrowing in the foreseeable future, it is apparent that software outsourcing is necessary. Establishing off-shore IT development teams and diversifying outsourcing programs to safeguard against the emergence of IT skill shortages in outsourcing nations are the key components to effective, efficient, and seamless outsourcing software development. For instance, iTech has its offshore development team based in India which has a load of IT talent. The company also has offices in the US making it easier to collaborate with business clients.
How to make the right business call with software outsourcing 
Trusting an external team with the right skill set to produce a high-value product for users may pay off big time. Finding third-party professionals ready to work on a project-by-project basis is easier than ever, and every firm should take advantage of it.
However, outsourcing should be viewed as a strategic collaboration rather than a mere transfer of responsibility to a third party.
Establish clear communication and reporting protocols from the beginning, and monitor your outsourced team's work regularly to ensure that all channels of communication stay open.
When done well, with the appropriate partner, and with the right collaboration model, software development outsourcing is a smooth process in which you don't notice the difference between working with an expert across the table or halfway across the world.
If you have a business need, we have the software solution. iTech India has 18 years working with top global companies, among them Fortune 500 businesses, developing customized software. Talk to our experts to know about how outsourcing can be an effective solution for your business.