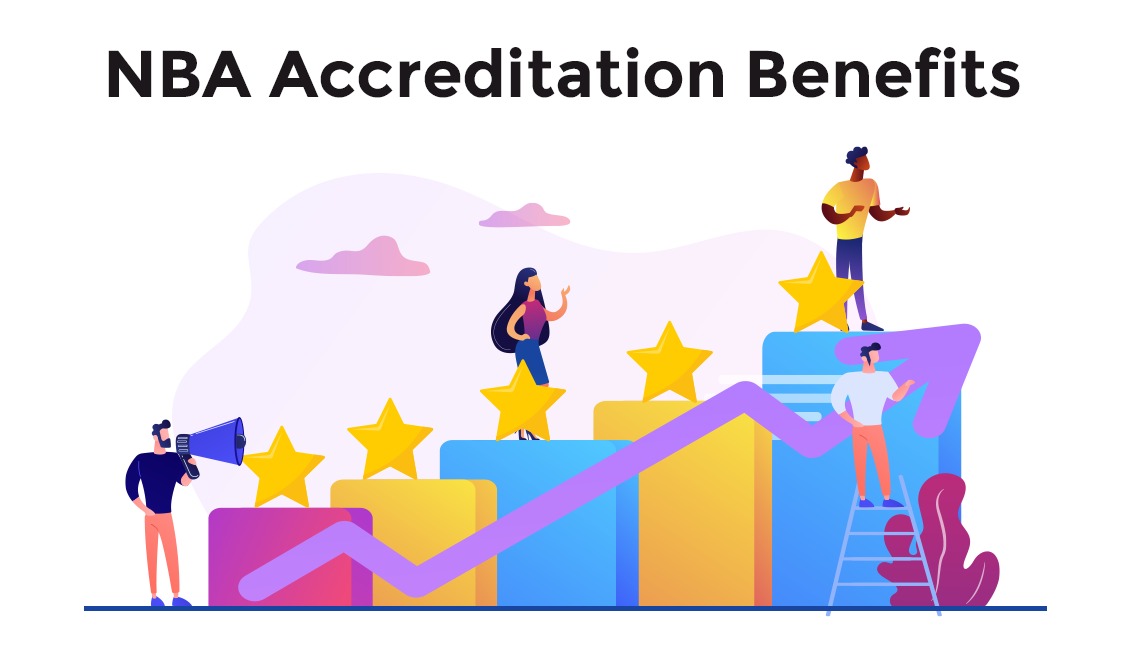 India has over 4000 engineering colleges and not all of them have got NBA Accreditation yet. While the single most important point for students seeking admission is that the college must be approved by AICTE or All India Council for Technical Education, else the technical degrees are not recognized. But wait, it is just as important for the Engineering college to have NBA accreditation (National Board of Accreditation) that is awarded by an independent body under the AICTE.
Why an NBA is critical?
An engineering college that has NBA accreditation, carries the stamp of recognition for its education quality assurance both at undergraduate and postgraduate level. Colleges are periodically evaluated for stringent NBA accreditation criteria with the purpose that they are on par with international best practices. It is mandated that all engineering colleges have NBA accreditation by 2022.
Educational institutions eligible for NBA accreditation can offer courses from diploma level to postgraduate level, in the fields of engineering and technology, computer applications, pharmacy, management, hotel management and catering technology and architecture.
It is indeed an honor to have the badge of accreditation stamped on your engineering programs. You are sending out a message that your programs have been assessed by experts in the field and found to have met premier quality standards. This is the biggest advantage of NBA program outcomes to both engineering colleges and their students.
Also Read: NAAC: All You Need to Know About the Accreditation Process
Importance of NBA in the international arena
NBA had become the permanent signatory member of the Washington Accord on 13th June 2014. This Accord is an international agreement between 20 countries and is entered into by authorities, like the NBA, responsible for accrediting engineering degree programs in their own countries.
This enables Indian graduates from accredited engineering programs to practice in or go for higher education to other Washington Accord countries. This mostly applies to students who have graduated from NBA accredited programs offered by Tier – 1 institutions.
Who qualifies to be a Tier 1 engineering institution?
There are basically 2 categories for institutions to apply for NBA and the process of accreditation is different for Tier-I and Tier-II institutions.
TIER-I: All IITs, NITs, private universities running Engineering program, all autonomous colleges.
TIER-II: All engineering colleges which are not autonomous and are affiliated to UGC recognized universities.
Now that we have a better understanding of the NBA Accreditation process, here are the proven NBA accreditation benefits that approved colleges enjoy.
NBA Accreditation Benefits and Significance Attached
1. Validates quality standards
Accreditation for an engineering program signifies to students that the program outcomes of NBA approved colleges has met stringent quality standards. These rules out the necessity of students having to conduct detailed analysis of their own to evaluate an institution and its programs when making a decision on college admission.
This is borne out by the fact that NBA accredited engineering colleges usually have higher student enrolments.
It is an indicator to aspiring students of the college's level of commitment to excellence. Students also benefit from the process of continuity in improvement of quality that is a part of the NBA's approach to promote excellence in technical education.
2. Fosters trust in the institution
Accreditation makes it necessary that institutions go all-out to meet and maintain their high standards. This in turn increases trust and confidence in them among the public and also helps to boost accountability. This helps potential students and their families to place a certain level of trust on the institution for which the accreditation is received. After all, the future career goals depend on the education they receive.
Also read: Effectively Manage College Applications and Generate Short Lists and Merit Lists
3. Improves student performance
Students getting their degree from a college that has its programs given the stamp of quality can be confident about the education they have received. An NBA accredited program uses Outcome Based Education OBE to measure students on 3 criteria – knowledge, skills and attitude. Also, the facilities and curriculum ensure the student is employment ready when they graduate.
4. Helps in SWOT analysis and bettering outcomes
Accreditation helps engineering institutions to do a SWOT analysis i.e. evaluate their strengths, weaknesses and opportunities / threats. While a SWOT is a good starting point for evaluation, it helps the college understand where it currently stands and how it should move forward. As a result, the college gets insight into how to improve its programs on a continuous basis. You can enhance the quality of your programs such that it sets you apart from other engineering colleges.
5. Provides basis for fund-raising
Helps institutions in securing necessary funds from the government.  With funding increasingly linked to performance and outcomes, accreditation would help engineering colleges to avail performance-linked funding and incentives.
A college that has attained a Category 1 status is a big achievement not only for credibility of its NBA program outcomes but also for the many opportunities it opens up. Category 1 technical colleges are given the autonomy to include new programs, open learning centers, increase student intake both at local and global level. Category 1 accredited colleges can more easily tie-up with Global universities for twinning programs as well as apply for research grants.
6. Edge in the job market
The advantages of NBA accreditation to students include enhanced chances of career success. One of the biggest NBA accreditation benefits is that more companies will find it advantageous to take part in your college's placement programs.
Students armed with quality education passing out of accredited colleges are more likely to find appropriate employment. Potential employers accord more value to degrees from accredited programs secure in the knowledge that the candidate has been taught at an institution that has met and maintained strong quality measures aligned to industry.
7. Better mobility going forward
NBA's membership of the Washington Accord provides us with the opportunity to benchmark the quality of undergraduate engineering education offered by India with that of other member countries. It encourages and makes possible ease of mobility of engineering graduates and professionals at international level.
STEM courses (Science, Technology, Engineering, and Mathematics) are the most popular among Indian students going to do their Masters abroad. This makes NBA accreditation all the more important.
By being a signatory to the Washington Accord, NBA enables students graduating from accredited programs of engineering colleges to pursue advanced studies in universities of other countries which are also signatories to the Washington Accord. This facilitates higher mobility of engineering graduates looking to pursue higher studies abroad.
India's higher education needs the course correction of NBA accreditation. Engineering colleges must actively participate in such course correction by adopting the accreditation process to garner the benefits of NBA program outcomes for their institutions and their students.
iTech's Edumate ERP is the solution chosen by leading educational institutions and group institutions in Tamil Nadu. With a large team of technically qualified professionals and mentored by educational experts and technology architects, we are recognized for our cutting-edge ERP solutions. Message us today through our chat feature to know more about how our solutions can fit your needs.