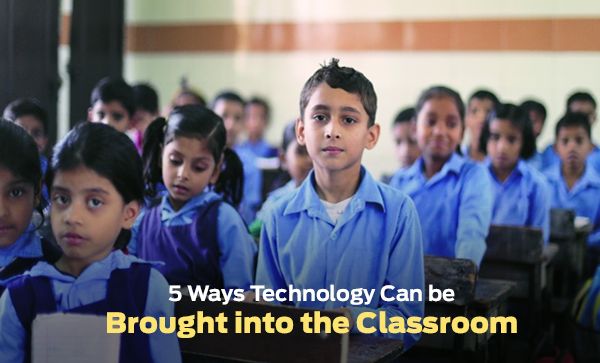 In India, most schools and teachers are uneasy when it comes to technology. The general thought of educators is that it distracts students and it is best kept out of the classroom. The point that they overlook is that technology is not only about digital devices like mobiles. There are many positive effects of technology in the classroom and it can truly revolutionize learning.
Students are digital natives and providing them the skills in the classroom will prepare them for a challenging world outside the safety of a controlled environment. Teachers, though, must choose wisely when it comes to what technology to use in the classroom. A few insights on how educators can use technology to give students a learning advantage.
1. Game Based Learning
The biggest problem most students have in school is that it can get repetitive and boring. Also, every classroom has students with different speeds of learning. A traditional classroom finds some students bored because they have picked up the concept quickly, while some students have just given up on understanding because they cannot keep up with the rest.
In primary and middle school, gamification is one of the best examples of technology in the classroom. Internationally, schools have realized that game-based learning motivates students to learn. Gamification is based on the system of rewards, with children progressing to the next levelwhen they have mastered the concept of that level. Children at a young age are adept at playing games on smartphones and this way of learning makes it less of a chore and more of a challenge.
The school app, BYJU'S, has used this concept of gamification along with innovative learning techniques to reach a large audience of teachers and students. In the classroom, teachers can use many educational games that allow them to control the content as well as to adjust settings based on individual student's abilities.
2. Let Students Be the Teachers
Teachers have a full and busy teaching schedule and using new digital technologies can feel overwhelming. Here is the best advice from educators who have already introduced different types of technology in the classroom – hand it over to the students themselves. Give a few students, the new tool, which may be an app or online project. Let them figure the workings and then teach their classmates (and teacher). This develops in them a sense of responsibility as well as makes them feel a sense of accomplishment. Students, after all, are the digital whiz kids and will take a shorter time than most adults to grasp the workings.
3. Get Students Involved in Creating a Class Website
While students might be digitally active, most parents lament the time they 'waste'. Technology is today a basic skill and they will need it both at college and at their workplace. Teachers can hone these skills by encouraging them to create a class websit