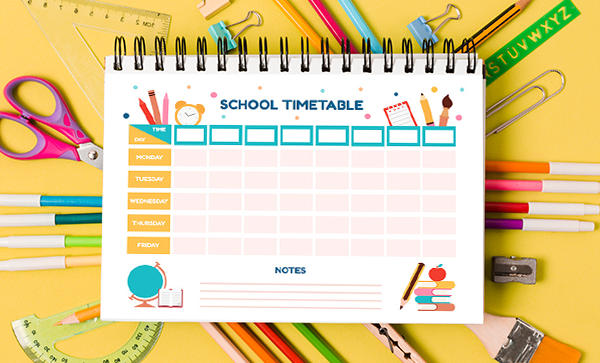 Schools can be very complex ecosystems. There are thousands of students, dozens of teachers, multiple classes and limited classrooms, each of which needs to function in cohesion. The various types of school time table are the most important part of this system, tying in each of these elements and allowing them to work seamlessly. This one schedule decides the subjects each student is going to learn every day, allows teachers to plan their lessons ahead and ensures that a classroom is always available. Even a small error in the timetable can make this intricate system to breakdown and cause inconveniences to teachers and students alike. This is why a smart and dynamic time table management system is crucial for every school.
Type of school time table
There are broadly three types of school time table, each of which serves a specific function.
1. Master time table
The master time table shows the schedules of every teacher and class in a school at a single glance. The principal of the school typically maintains this time table. In case a class needs to be switched around or re-allocated because of a teacher's unavailability, the principal will refer to the master time table to organize it.
2. Teacher-specific time table
If a teacher teaches multiple subjects or grades, they will have a teacher-specific time table. This time table shows them the exact class they have to teach in various time slots. A teacher-specific time table is an invaluable tool to help teachers plan ahead.
3. Classroom-specific time table
This time table is distributed to students and includes the lessons they will have on each day of the week. This helps them understand what books they need to bring on each day and gives them a stable sense of routine.
Importance of time table management with an ERP
Schools are slowly moving away from the static section-wise model, where a single grade would be grouped into a set number of 'sections'. Today, there is a greater variety of elective courses and classes that students can take, thus creating multiple subsets of students. Clearly in this scenario, traditional methods of time table management might prove to be inefficient. Here's why an ERP powered by school time table teacher-wise and class-wise software can be useful for schools.
1. Quicker modifications
An ERP allows you to update the time table (at any of the three levels) almost instantly. Once the change has been made on the platform, students and teachers will receive the updated schedule immediately. This eliminates any confusion that might arise from a simple change in schedule.
2. Zero margin for errors
Whenever there is human involvement, there is always a possibility of errors. For instance, incorrect values could be entered or information could be entered in the wrong slot. In the case of a time table, even one small mistake in a schedule can have a