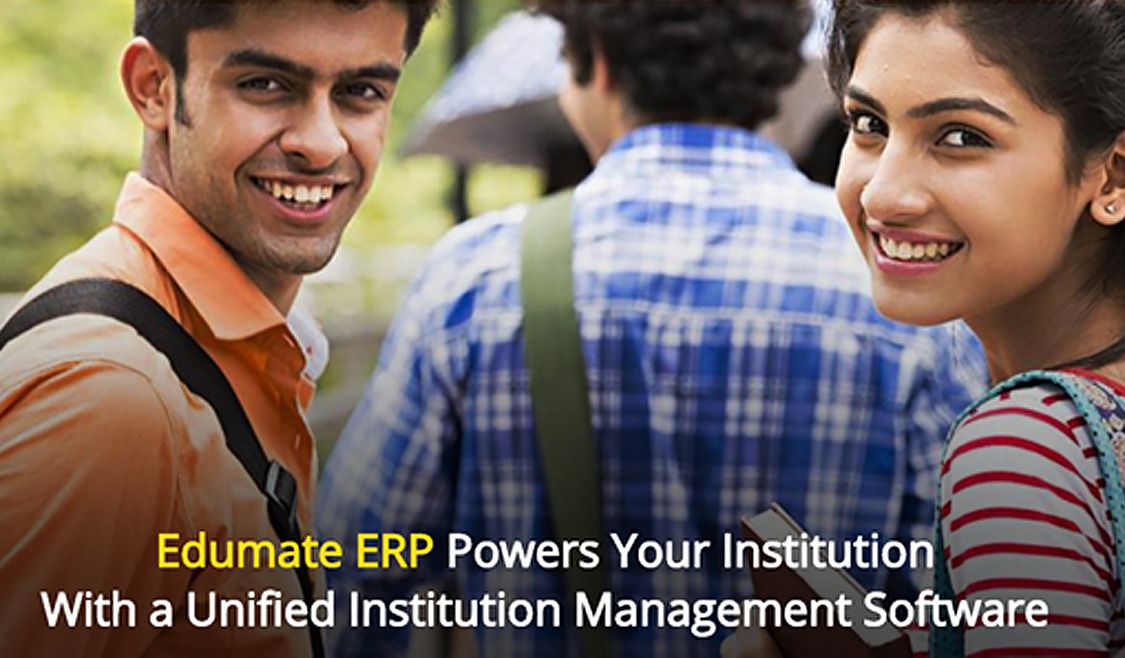 Recently, an acquaintance told me how she was struggling to join a digital meeting and her 7
th
 grader child stepped in and got her set up. Everyone is speaking a digital language and the younger generation more so. Technology is the key driving force in everything we do and
smart campuses
 that integrate technology on a large scale will be vital in the new order of things.
Student information systems have made giant strides to keep up with the evolving technology – mobile applications, cloud accessibility, advanced analytics and artificial intelligence capabilities. The best student information systems for higher education are active contributors in behaviour tracking for improving student academics.
You just need to enter 'Student information systems' or 'education ERP' in a search engine to know that the market is flooded with many solutions. Choosing the right Education ERP can be a daunting task. Almost all of them have the same features, so how do you choose the right ERP?
How to choose the right Education ERP?
This is the list of factors that should help institutions decide on the best Education ERP provider
Individual product modules available and how they integrate
Software fit according to institutions needs
Pricing plans
Brand reputation of the solution provider
Industry references
Timeline for product delivery
Maintenance and training plan
You might be interested in: 6 Tips for Schools/Colleges to Use Social Media for Better Marketing
Reasons Institutions choose Edumate as the best student information system in Chennai
Educational institutions are becoming larger with multiple campuses or multi-institutions in one sprawling campus. The biggest pain point for such institutions is that there is no visibility into day to day running of the institutions. Neither do they have quick access to data and to monitor benchmarks or develop data driven strategies.
Smaller institutions have other challenges. They might not be ready for a full-out integrated solution but might need specific modules. For example, Covid-19 has brought into the spotlight the need to quickly get an online admission and fee payment system.
Edumate is considered as the best student information system software by institutions in Chennai because it can fulfill the needs of smaller educational institutions with standalone modules but it can also customize its solutions to specific requirements of multi-institution groups.
While Edumate ERP scores on all fronts in the list above (to choose the best education ERP), it also has these 5 advantages
1. Industry Expertise: iTech's Edumate ERP has been honed over 16 years of working with educational institutions. We bring this knowledge to develop highly customisable solutions that can be scaled up to newer technological advancements.
2. Cross-industry competitive advantage: iTech provides cutting-edge solutions in different industry sectors such as healthcare, logistics, sports management. Transferring successful experiences from these sectors has opened avenues for innovative approaches to the educational sector. Our understanding of global business success brings these diverse skillsets to bear in each project we undertake.
3. Unique methodology: Our methodologies are internally developed, proprietary and based on experience.
 4. Flexible and scalable: Every institution's process is different, right from finance to classroom management. A school management system software cannot be one size fits all. It must must be flexible enough to adapt to these different needs but also be scalable enough to answer the needs of a growing institution. Edumate ERP is a school management software that is built on the cloud that seamlessly integrates administrative, financial and student processes. It cut backs the need for manual intervention. To a minimum
 5. Proven track record: We leverage a 360-degree approach to all our ERP engagements. It is why Edumate is considered as the best college management software for NAAC accreditation. Our solution specific expertise has been built on successful deployments for multiple educational institutions.
Here are a few of these institutional experiences…
Sri Venkateshwaraa Group of Educational Institutions, Puducherry
The group is founded by the Ramachandra Educational Trust and began in 2005 with a multi-specialty hospital.  The Medical College was founded later in 2007, followed by individual colleges for dental, nursing, paramedical sciences, pharmacy, physiotherapy and engineering.
Their challenges: There are a set of unique challenges that the group faced. Topmost is that the head office is located in Chennai while their institution campuses are in Puducherry. The management struggled with the problem of transparency as they had no view into day-to-day operations or even the status of the admissions to their multiple institutions.
For individual institutions, reporting and analytics took up much of the time as there was no systemic process. This led to frequent travel from Chennai to Puducherry for on-the-spot reviews.
Edumate solution: Our experts identified and matched the right modules and features for the different institutions under the group's umbrella. All data needed to be digitized for an integrated approach before we could automate all processes.  A unified dashboard for the admin office in Chennai, ensures that there is visibility at every stage.
The different modules that are being implemented are
Academics module (Admission, Fee payment, attendance and exam)
Hostel management
Library management
Transport management
Payroll management
Inventory management
Also read: What Features Should Your Library Management System Have?
Sairam Group of Institutions, Tamil Nadu, Karnataka, Puducherry
They are one of our longest serving clients and are a premier educational group with over 20 institutions, including engineering institutions, medical colleges, MBA and multiple schools. They came to us because of the quantum of challenges they faced of huge operational costs and a fragmented data ecosystem.
Sri Sairam Group partnered with iTech at the start because of our domain expertise but our long association is because of us ensuring that the solutions we provide are scalable to their expanding needs.
The results
All processes, departments and functions became automated and standardized. This has brought ROI through enhanced productivity, transparency, reduced cost and effort, as well as faster decision making.
A centralized Online Admission System across all 20 institutions changed the traditional admission procedures. The pandemic made this foresight even more valuable.
Over time, the increased efficiency has brought positive response in superior brand differentiation and enhanced quality perception for the institution.
You might be interested in: A guide to college attendance management system
St. Thomas College of Arts & Science, Chennai
Smaller institutions too are understanding the competitive edge that automated student information systems can give them. This college is in Koyambedu and they recognized that the other colleges in Annanagar and Ambattur had NO online admission system.
The pandemic underscored the need to go online to facilitate their student admission. The challenge was that they had barely 2 months from start to finish to complete the process.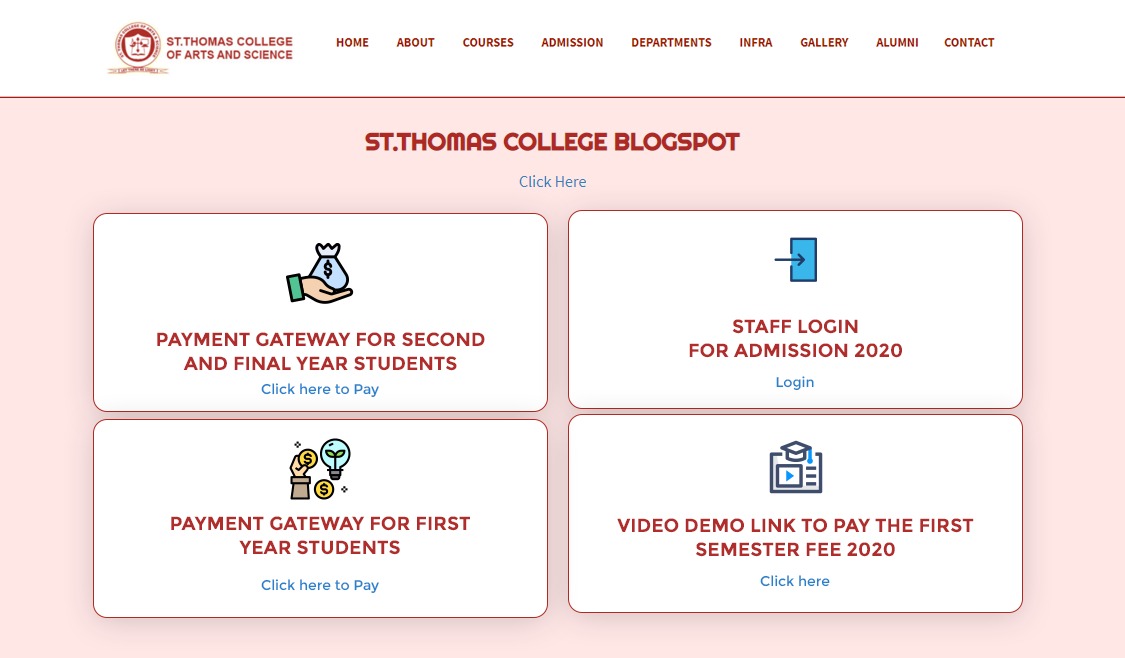 St. Thomas College Online Admission
The St. Thomas website makes it apparent that a tried and tested admission solution like Edumate ERP can meet deadlines while providing accuracy. It was a dual solution that needed to be provided with differential fee collection system.
The college ran 2 shifts – the morning shift that was autonomous and an afternoon shift that was government aided. Each of these shifts had independent teams of admin and staff. Essentially, we provided two independent solutions that was still integrated. 
iTech India provides customized software solutions since 2003. We specialize in Education ERP with a product portfolio built on best practices. We have distinct product offerings for different segments from schools, colleges and coaching institutes. With a large team of technically qualified professionals and mentored by educational experts and technology architects, we are recognized for our cutting-edge ERP solutions. Message us today or mail sales@itech-india.com to know more about how our solutions can fit your needs.