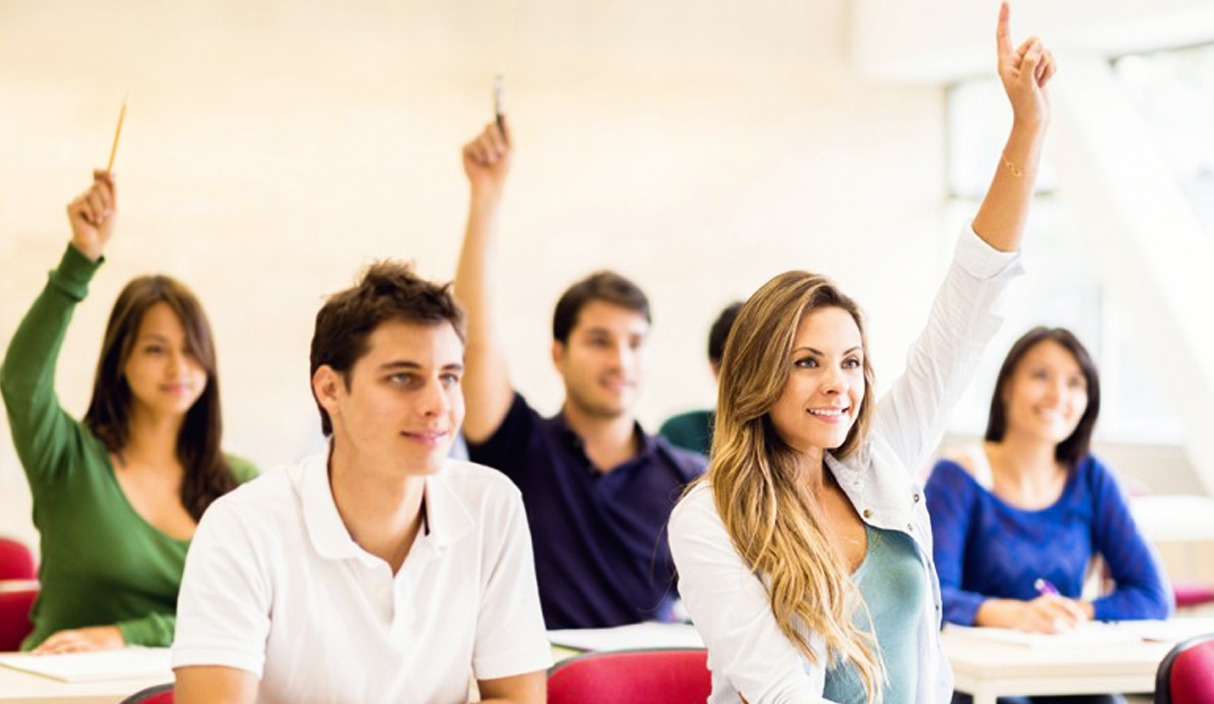 Majority of colleges in India have a compulsory attendance policy and it is connected with the grading system or ability to sit for exams. Teachers and lecturers are mandated with the task of daily and often hourly marking the attendance of their students. It is time-consuming, not to say tiresome and a loss in productivity.  Cost-effective cloud solutions make automating the entire attendance process more efficient using student attendance tracking software.
Attendance management system key benefits
The education sector is rapidly evolving by using new technologies that improve everyday efficiencies. The pandemic has brought the benefits of online technologies and those that adapted faster to the new normal were those institutions that already had some form of school information management system in place. Education ERP companies like ours have seen a rise in adoption of cloud-based ERP solutions and here are the reasons for it
System flexibility – Educational institutions may have a number of campuses and a cloud-based school information management system will provide an overview of all branches in one dashboard alongside individual institution views based on varying access controls
Productivity and efficiency– Whether your institution uses instructor entry, smart scanners such as facial recognition software or biometrics like finger swiping, it decreases staffing overheads and saves times. The system will track real time absenteeism and can have automated triggers to deal with it.
Quick-time accurate records – Calculating annual or semester average attendance for each course and subject is a tough job for school administrators and can take weeks of manual effort. And human error is almost always a liability that has to be factored in. College attendance applications records data accurately and customized reports provide accurate performance data at a single click.
Expand effortlessly –Reducing paperwork through a cloud-based attendance system also has an added benefit. New features and upgrades can be easily added on to keep systems up to date with new technology.
Also read: Tips to track Student attendance during online classes
Attendance Management System options for reading data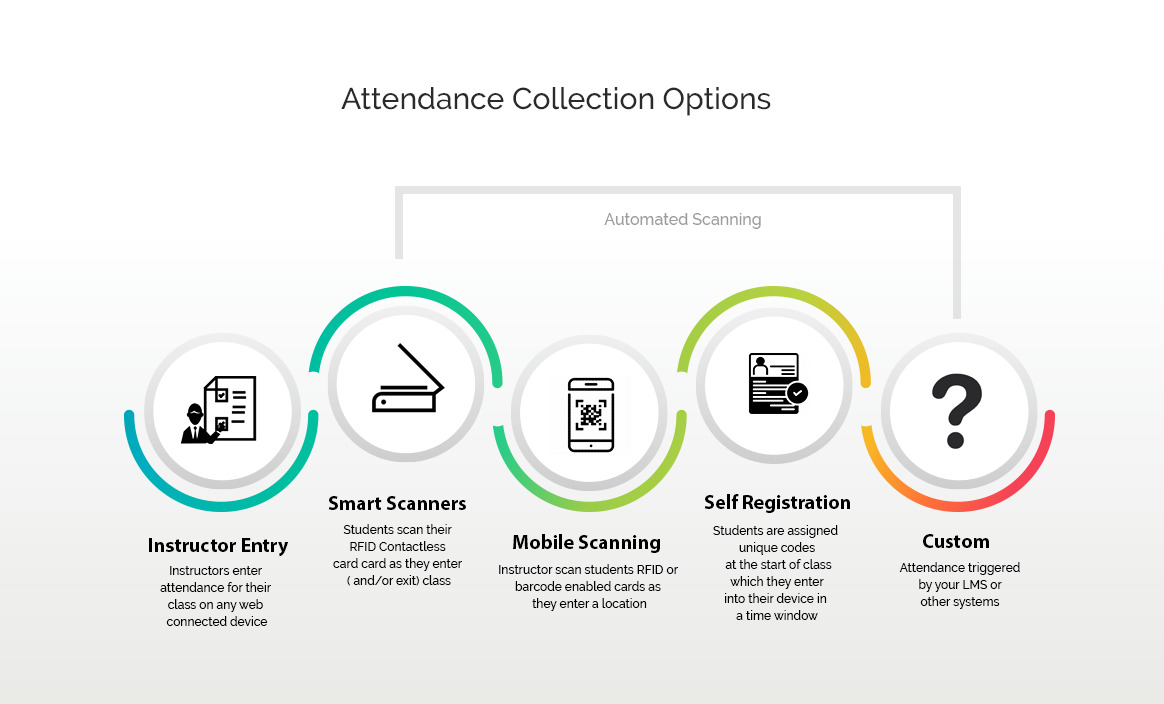 Edumate ERP can be integrated with different methods for automating student attendance. Schools can choose the option that works best for them.
Smaller institutions might prefer manual entry but automation is often the better option and the attendance management system can be scaled up to include it at any point. Even in manual entry, the attendance management system makes it easier by marking all students as present by default and teachers or office staff then just needing to tick the absentees
The most popular automated attendance system is Radio-Frequency Identification, more commonly known as RFID. This technology is through unique identification number in Smart RFID cards given to each student. RFID Readers can be installed at the entrance of classrooms, libraries etc.  The data from the RFID readers gets automatically added to the school integrated ERP software and attendance details of every class can be accessed by admin at once.
Another useful system is the Biometric attendance management system. Since Biometrics work on unique fingerprints, there is no chance of proxy attendance. At the same time, with a biometric system in place, access to only authorized members is ensured.  Attendance management and security gets integrated.
The current pandemic and health concerns make facial recognition software a more viable biometric method of automated attendance management in offices as well as educational institutions. Facial recognition systems are a cost-effective method that can be easily integrated into any smart device. Its hi-speed scanning functionality can detect faces matched against the database, in a matter of milliseconds.
The new kid on the block is videoconferencing synced with attendance management. Even if the pandemic eases and on campus classes begin, virtual classes will remain a reality for a long time to come. The biggest pain point with using third party video conferencing tools like Zoom, Webinar Jam or Webex is that these tools provide participation reports but these need to be then fed into the attendance management system, making it laborious and time consuming. The work around is to incorporate these tools directly into your learning management system so that students and teachers require a single portal login and attendance is also automatically read into your college attendance management system.
Like it or not, all students are not raring to attend every lecture. Missing  classes though cannot affect their performance. The capability of Education ERP to trigger automated email. SMS or app notifications to students themselves or parents ensure that attendance does not slip.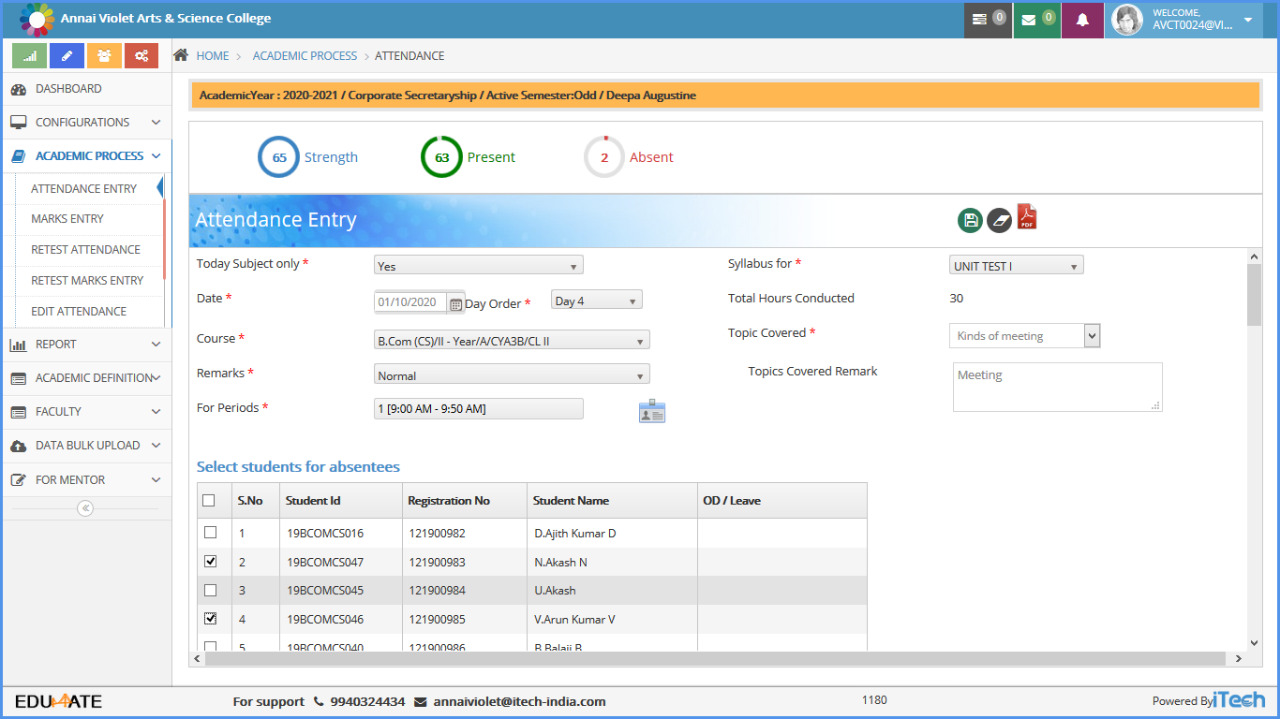 Edumate Faculty/Admin Attendance Dashboard – By Subject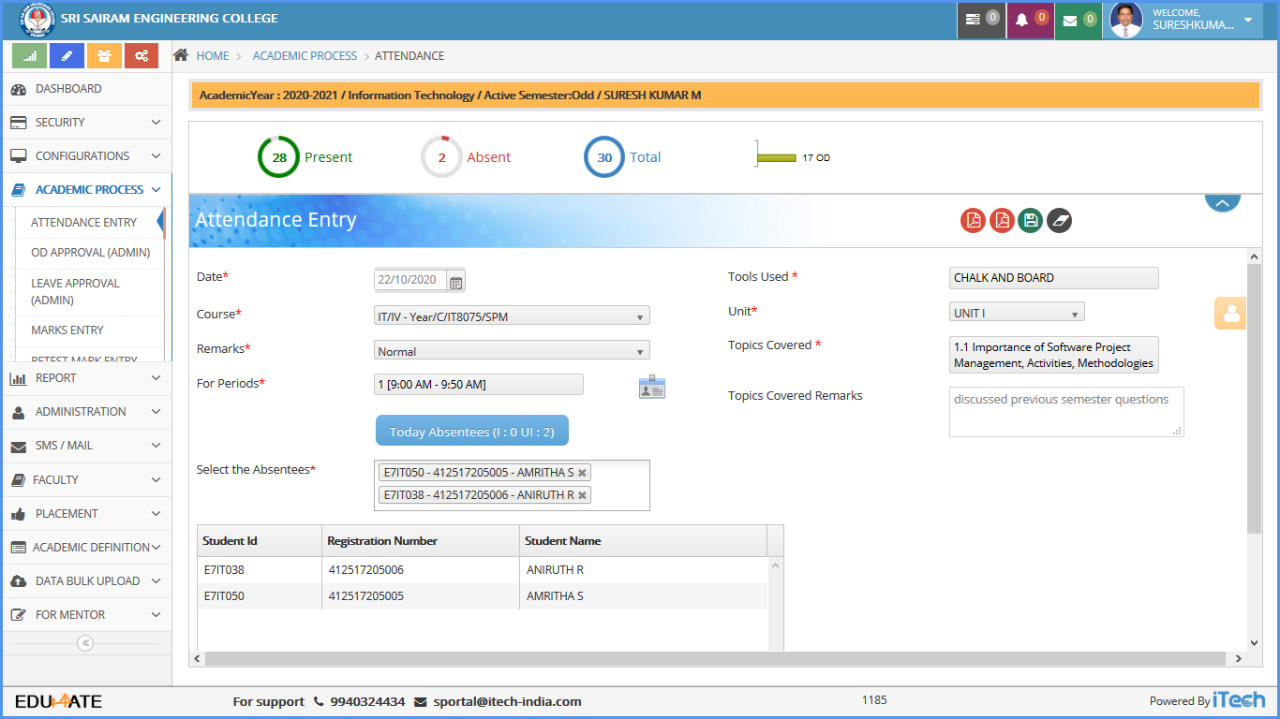 Edumate – Individual Student Attendance Report
Also read: Making online classes easier with video conferencing as part of your LMS
Advanced analytics
The most significant reason to have an automated college attendance management system is to analyse student performance including attendance data. Edumate school information management system gives you graphical data about anything and everything, instantly. Data is synchronised with student information and timetable systems.
The attendance data dashboard makes back office work much easier by determining attendance trends of your institution, a particular course, a specific subject, a specific educator or even a particular student. Graphical and other visual representation of data, instantly identifies attendance patterns for corrective measures to be put in place.
Screenshots from Edumate Attendance system
Employee attendance management in Edumate
Often school management systems focus on student information, ignoring the other vital cog in the education system – teaching and non-teaching staff. Edumate provides employee attendance management also as an optional module that can be integrated into the Education ERP. The leave management system takes care of leave requests and approvals within different departments.  Employee attendance reports are available under the HR module.
iTech India has been providing customized software solutions since 2003. We specialize in Education ERP with a product portfolio built on best practices. We have distinct product offerings for different segments from schools, colleges and coaching institutes. With a large team of technically qualified professionals and mentored by educational experts and technology architects, we are recognized for our cutting-edge ERP solutions. Speak to us today or mail sales@itech-india.com to know more about how our solutions can fit your needs.