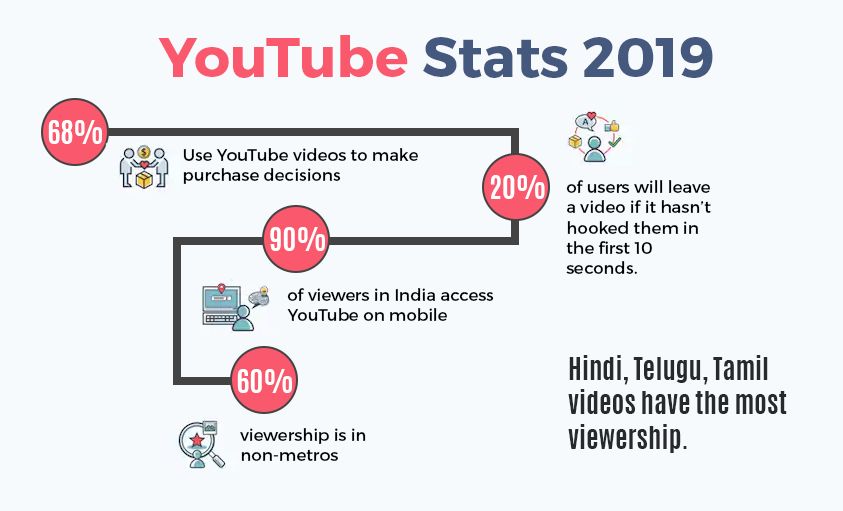 Over 400 hours of YouTube videos are uploaded every minute. 75% of adults watch videos on their mobiles. YouTube attracts the most visitors from India, USA and Russia. 50,000 years of product videos (particularly reviews) have been watched in just the last 2 years. These statistics should convince you that there is a lot happening on the second largest search engine after Google. It also shows that you must know how to optimize your YouTube channel to cut through the clutter.
6 SEO Tips on How to Make Your Video Appear First on YouTube
YouTube has its own SEO ranking factors that are different from Google. How to make your video appear first on YouTube search results is most important because it means more search traffic. YouTube SEO is a bit different from Google SEO and to get enough eyeballs on your video, here are a few techniques that you must implement.
1. Find the Right YouTube Search Keywords
You have created a video for your business or you have your own personal channel. A lot of time and thinking has gone into the video creation and now you need to get people to see it. Uploading a fantastic video is rarely going to get views if people don't find it. So, the first thing you need to do is know how to optimize your YouTube channel and each video you upload.
To begin, you will need to decide what keywords to optimize the video for. To do this, first get a list of potential keywords then you can decide on which keywords you need to focus on. There are three ways to do this
i. YouTube Search Bar
To find the best keywords is not very difficult. YouTube's search bar suggest is the best place to mine these keywords. Just type the phrase you think suits your video and you will get a list of suggestions. The best part of it is that these are actual keywords that users have typed previously to find videos similar to yours.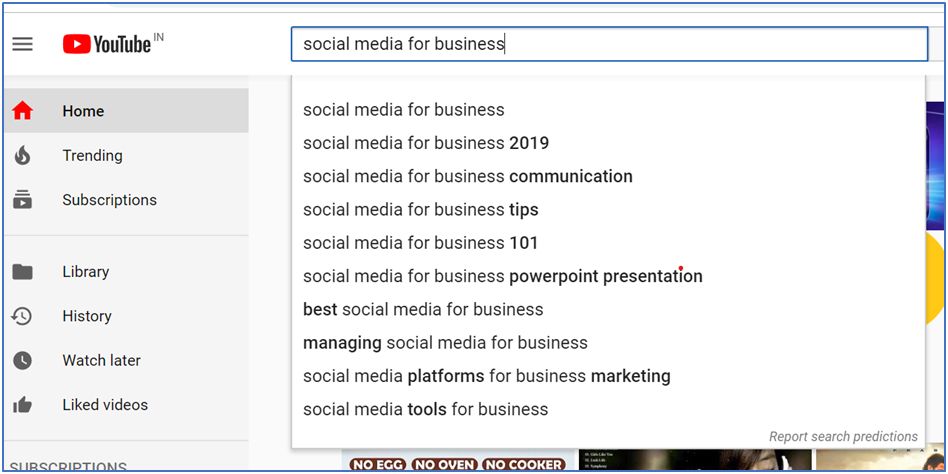 YouTube keyword suggest
ii. Keywords From a Similar High Traffic Video
Competitor analysis is a good way to know how another video in the same genre has been able to get so many views. For example, if you are uploading a video on how to make chocolate cake, what better than to analyze a video that has got 24 million views. To find the keywords used, just look at your competitor video for
The video title
The video description
The tags added
A good tip as seen from this screenshot is that videos in regional languages are getting the best viewership. Depending on your audience, decide on the language for your video. In fact, you can upload your video in different languages including English. This way you can reach a wider audience. It will also give you many options in how to get your video first in YouTube search results.
However, when it comes to YouTube SEO, you will need to stick to optimization techniques in English.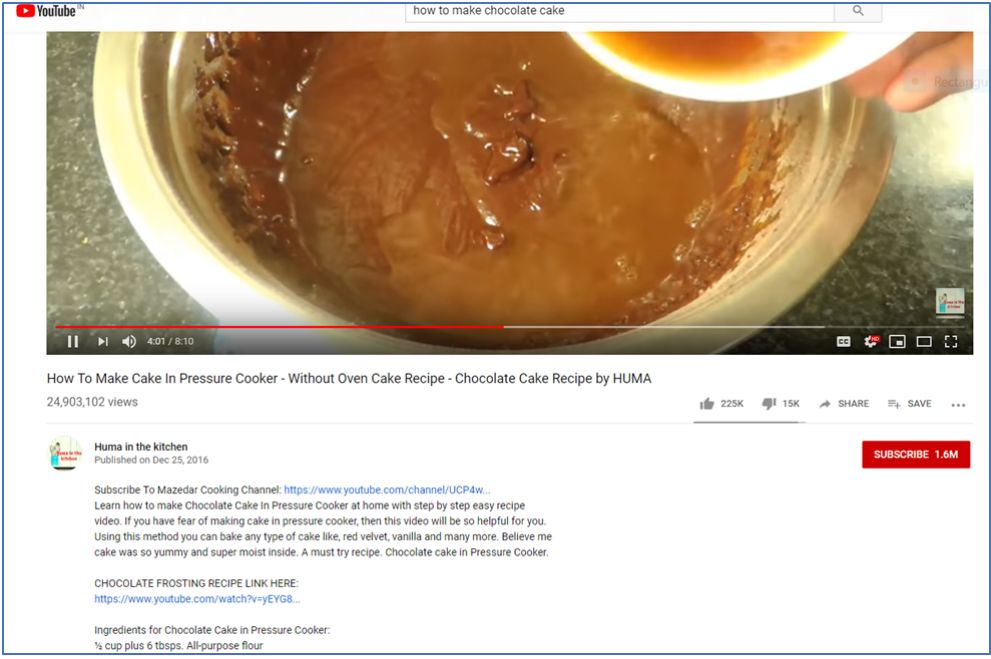 An example for good keyword use in title and description
iii. Use YouTube Keyword Tools
There are many free and paid YouTube SEO tools. The best one to add as a chrome extension is vidIQ. This tool will immediately add all the keywords and tags used in competitor videos. It will also give you the video with the highest views, search volume as well as competition. This will also give you an insight of how to title YouTube videos based on competition.
There are also other free YouTube SEO tools that are available.You can use Google Trends to find a popular topic to create a video for. TubeBuddy is another extension that gives you optimization tips.
2. Start With Less Competitive Keywords
Once you have got a list of potential keywords, you need to decide on which keywords to optimize your video with. Just as in Google, the keywords for your genre with the highest search volumes will also have the most competition. How do you compete with a video that has already garnered 10,000 views or more? This is where you need to get intelligent. Optimize your video for keywords that have less competition but yet has a decent search volume. If you are a new channel, you must first build up your views and subscriptions to compete for a larger piece of the pie.
To find keywords with less competition, use variations of your main keyword. If lesser number of relevant suggestions are thrown up, then it means competition is less. Also look at the number of results for the keyword. If the results say 'About 506,000 Results' and another keyword says 'About 3.170,000 Results' you know which is the keyword with less competition.
3. Optimize your Video Title, Description and Tags
Now that you have decided on the keywords it is time for execution.
 Video Titles:  It is important you spend some time on deciding how to title YouTube videos. Your video title is what will come up on YouTube Search, Google results as well as get your users to click on it. Keep it understandable and preferably not longer than 5 words else it can get cut off in search suggestions. Also, write a video title with the keyword coming at the beginning of the title
 Video Descriptions:  Search engines cannot extract information from the audio in your video. What you write in your description and how you title your YouTube videos, will tell these search engines what your video is about. This is one of the biggest errors most videos commit, they do not optimize their descriptions and so their rankings suffer. Your description should be about 250 words and must include all your relevant keywords. Your main keyword should be in the first 25 words. Link to external URLS like a related blog on your website.
 Tags:  While these are less important in ranking, they are still important. Tags are about 1-3 word phrases that users might type in to find videos like yours. Don't fill it up with generic keywords. Choose from the potential keyword list that you identified at the start or use LSI keywords Don't go overboard with the tags, keep it to 10-12 tags.
4. Don't be Shy to Ask Users to Subscribe
If you are a new channel then you will realize that getting subscribers is just as important as getting views. User engagement metrics is an important way in how to optimize a YouTube channel. Metrics like subscribers, comments, likes, shares, time spent viewing etc. shows that your video is engaging users. If a subscribe happens on a particular video, it indicates to YouTube that your video is a valuable piece of content and pushes up your ranking. So, don't be shy to ask your viewers to subscribe at the end of every video.
5. Use Closed Captions
Not every viewer can run the video with sound. YouTube videos support closed captions and this is a toggle option. If you toggle it, the captions are visible. The best part is that closed captions are crawlable by search engines. YouTube supports automatic captioning option but it is never too good. Make sure that you edit it or write your own captions.
And finally, don't forget to share your YouTube videos on other social media channels like Facebook. Instagram or LinkedIn to increase your views. Similarly, Google also shows YouTube videos for many keywords, you can increase your views 2x times if you optimize for Google search as well.
Tech India is a custom software provider and digital marketing company with 16 years of expertise. Call us today at 98849 90833 to for social media and digital solutions.