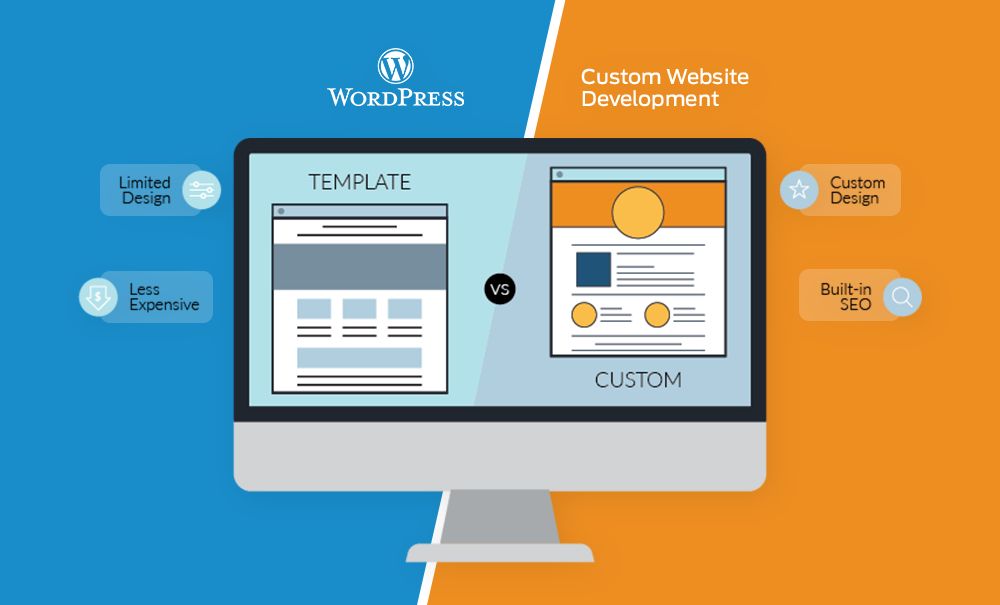 Having a great website is critical to your brand's success because it is essentially your brand's address on the world wide web. It's the platform where your customers can learn more about your company and decide whether or not they want to engage with it. This is why it's so important that, when planning the launch of your website, you consider every aspect of it, right from the design to the development. One of the first choices you will be faced with is to decide between building a website from scratch using custom HTML or choosing a pre-built template on WordPress. Here are the benefits and drawbacks of WordPress vs custom website development to help make your decision easier.
A.Building a website on WordPress
WordPress offers a number of pre-built templates that users can choose from based on their requirements. It is an open-source platform and, as a result, you can find both free and paid templates on it. There are a number of advantages and disadvantages of WordPress to consider when choosing your backend:
1. Cost: If a cost-friendly website is your biggest requirement, then WordPress is your best bet. This platform offers templates in a range of prices, ensuring that you can always find one within your budget. Additionally, since it doesn't require any manual work, you will also be able to avoid paying a website designer and developer.
2. Versatility: WordPress offers themes specifically designed for a number of sectors. You can choose from e-commerce, blogs and magazine templates depending upon which sector your brand falls into.
3. Variety of plugins: A website requires more than just a good design in order to perform well. It needs to be SEO-optimized, mobile-optimized, responsive and fast, among other things. Usually, you would require dedicated resources within your company to ensure all of these factors are in place. WordPress, however, offers a host of plugins that can perform these same functions. Using these, you can build a high-performing website within a short period of time and with limited resources.
4. Limited functionalities: This is one of the biggest disadvantages of WordPress. If your website requires several custom-built features or a unique layout, then it might be challenging to make this a reality with WordPress. While there is room for customization within WordPress, there's only an extent to which you can innovate. You will also require a developer to make these changes, which can add to your website development cost.
5. Risk of security lapses: One of the disadvantages of WordPress is the lack of fool proof security. Like any interconnected platform, WordPress can be prone to security threats. While the platform does frequently upgrade its security features, there is always a possibility that an attack on the platform could affect all websites hosted on it. If your website deals with sensitive information, then developing it on WordPress might be a risky decision.
Customized WordPress development
However, using an off-the-shelf WordPress theme might not suit every business. You might settle on a theme but it might not deliver everything you need. In such cases, businesses can use a custom theme rather than build from scratch. A custom theme provides these benefits
Gives the complete visual appeal and functionality
Removes the options that you wont need that comes along with the theme.
Maintain quality at every step of development
Not every business has its own development team. In such cases, it is best to partner with a development company that has WordPress developers. This allows a business to focus on the content that they need while your outsourced development team can take care of the functionality and make changes to the visual effects as needed.
B.Building a custom website
The alternative to using a pre-built template on WordPress is to code your own website from scratch. This option does require professional resources, such as a web designer and a web developer. While the advantages and disadvantages of WordPress might make you consider building a custom website, this option is not without its drawbacks. Here are the most important points to factor in if you're planning on building a custom website.
1. Greater control: Custom building your website means that you can create a website that is completely unique and fully suited to your requirements. Unlike with templates, there are no barriers to the extent to which you can personalize your website. This comes in especially useful if you want to incorporate advanced functionalities or features into your website.
2. Higher speed: Custom websites typically have a higher speed than those built on WordPress. This is because one of WordPress's greatest benefits is also one of its biggest drawbacks. The plethora of plugins that can be installed into a WordPress website can also slow it down to a huge extent. A custom website, on the other hand, will have these features built into it, rather than have it in the form of plugins. Because of this, page load times are drastically lower in custom websites.
3. Better security: Unlike WordPress, which is an open-source platform, custom websites will be built as a closed-source network. This means that your website is less vulnerable to security threats because it isn't interconnected on any platform. Your website developer will also be able to install advanced security measures on your website because they are building it from scratch. Thus, if tight security is the most important factor to you, then a custom-built website is the way to go.
4. Longer development times: The limit to what you can do with a custom website is endless, but all of it will require time. Since there is no pre-built template to work off of, every single element of your website will have to be created from scratch. This means that the development time of a custom website is significantly longer than it is for a WordPress website. Even once your website is live, if there are any changes or customizations to be made, they will require time to be set up.
5. More expensive: This is usually the biggest deciding factor in businesses deciding against using a custom website development. Building a website from scratch requires major technical expertise, right from the design, to the development. Most businesses will have to hire resources to do this or engage with a vendor on a contractual basis. After the website is live, you will still have to pay for IT support to monitor your website and ensure there are no bugs or security lapses.
Developing a website that is truly representative of your company's brand is essential for its success. Choosing between WordPress vs custom website development ultimately comes down to the resources at your disposal and the factors you consider most important.
Tech India has been providing customized software solutions since 2003. We specialize in custom software development, WordPress and custom web development, app development and re-engineering. Contact us today to know more about how we can bring value to your business process