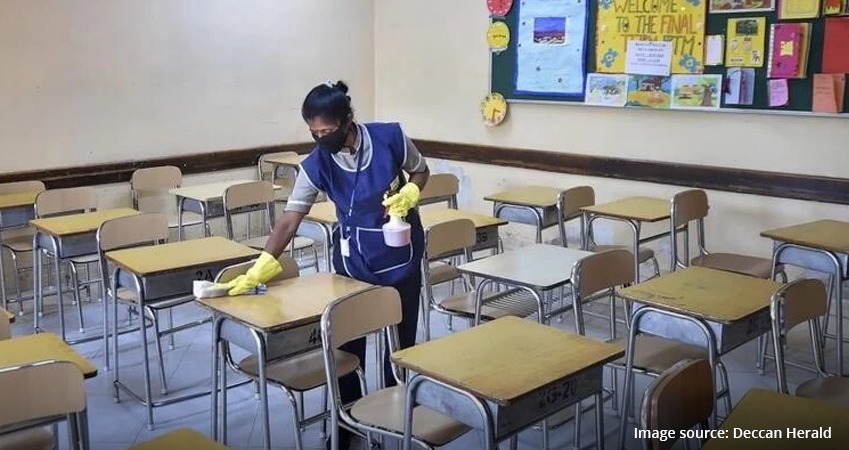 The central government will announce guidelines on August 31st regarding reopening of educational institutions anyway between September and November. While it will be left to the discretion of each state government, the expectation is that there will be a staggered reopening with limited hours for in-person classes.
Schools will be expected to run in shifts between 8-11am and 2-3pm with 33% of students and teaching staff. Effective precautionary measures will need to be in place as schools and colleges slowly begin to adjust to the new normal.
The response by states
The order to shut all schools and colleges was taken on March 16th and it has been 4 months since then. Covid-19 has flattened in some states but the spikes has got parents worried about sending their children back even for restricted on-campus classes.
West Bengal, Assam and Goa are considering opening schools from September (source: Indian Express). However, this will include holding classes in the open, alternative day classes or restricted hours. The guidelines will require proper sanitisation methods on a daily basis and this may restrict classes only for the senior students in schools.
Andhra Pradesh also is considering a staggered opening of institutions from September 5th. Chief minister, YS Jagan Mohan Reddy has made it clear that this will only happen if the situation is closer to normal by then.
Tamil Nadu, according to a Dina Thanthi report, will consider holding physical classes only from November dependant on prevailing conditions. The government has announced that there will be no quarterly or half yearly examinations. Annual examinations for this academic year will be in June of next year.
Safety Guidelines
The HRD Ministry and UGC will announce safety guideline checklist for schools and Higher Education Institutions when classes resume on-campus. Proper social distancing norms keeping student and staff safety will be a priority. Districts will be charged with the implementation of these guidelines.
Schools will have to suspend morning assembly as well as sports activities to reduce contact. School buses, if they ply, will also have safety norms in place. Masks, of course, will be mandatory. Sitting for hours with a mask will take some getting used to and monitoring it will be important.
The safety guidelines, when they are announced, will frame the measures that school and colleges will take. However, institutions do know what they will have to do to safely open, at least to senior students. Here are a few particulars to keep in mind
1. Ensuring distance in the classroom
should be at least 6 feet distance between student seating and is one of the reasons why open-air seating is recommended. For classroom teaching, this might require distance demarcation using floor stickers to ensure that the 6 feet rule is strictly followed. Based on classroom size, this might be a valid reason to consider teaching in batches rather than at full class strength.
2. Sanitizing and disinfection
Adequate amount of hand sanitizers, soap and paper tissues should be made available, This must start when students enter the school. Garbage bins must be closed and can be opened through foot pedals are extremely important. Reminders should be strategically placed all over the campus for hygiene measures that must be strictly followed. Masks must be worn throughout the time on-campus.
Strict disinfection policy must be followed at the end of the school day or between two different shifts. Desks, door knobs and lab or playground equipment must be disinfected. Strict do's and don'ts of using the washrooms should be put up and soap and water must be adequately available.
3. Temperature checks and health personnel
Temperature checks might not be failsafe as many are asymptomatic but it still is important. It would be ideal if schools have a designated health staff member such as a school nurse to monitor student symptoms. Staff or students at high-risk such as with comorbidities or above 50, should be exempted from on-campus participation.
4. Transport and cafeteria regulations
Personal transport to school remains the safest way but if school buses or vans are used, they must run at half capacity allowing for social distancing.
Lunch boxes from home and eating in the classroom should be encouraged but if the cafeteria is opened then lunch times should be staggered to prevent any over-crowding.
While the new academic term is in full swing with virtual classes, there is no doubt that teaching and learning is difficult. Social interactions are part of the learning process and optimism remains that students may be able to have it back, keeping safety as the important consideration.