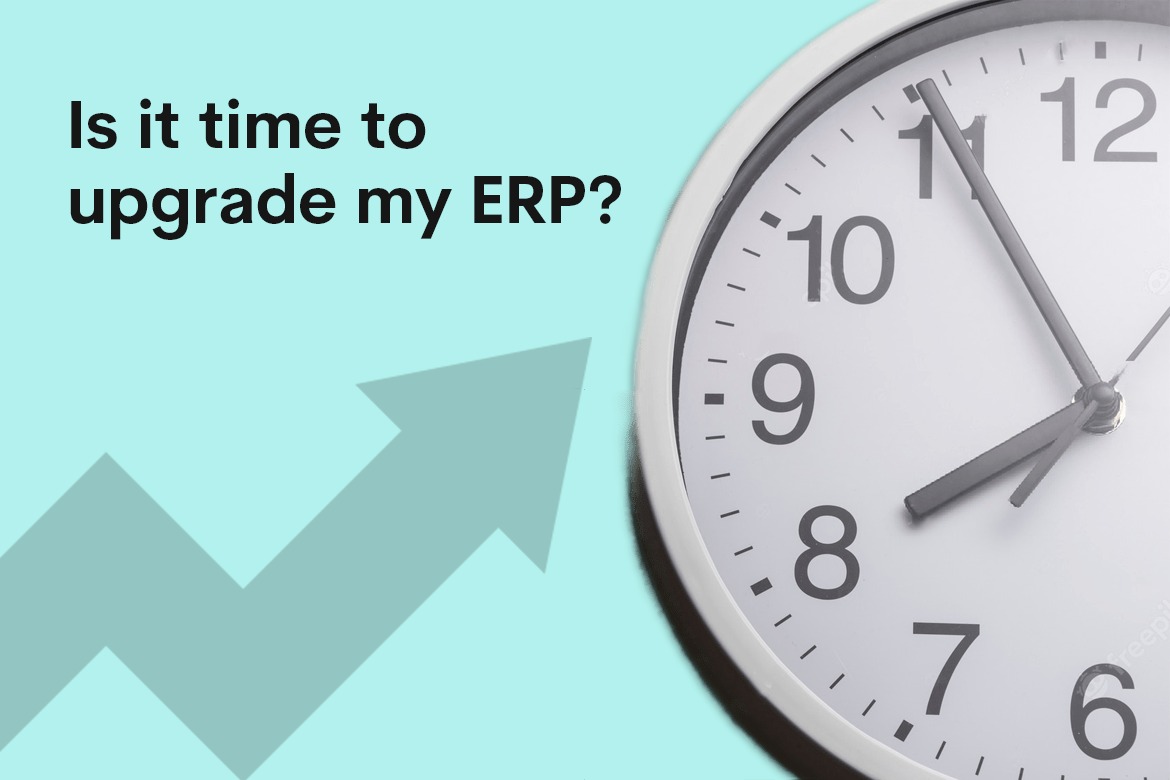 Businesses in the last 5 years have been dealing with technology innovation at a pace like never before. New advances in technology like AI, IoT, and mobility are forcing businesses to reevaluate their software systems. While ERP software systems have always been important, they have become even more critical because they are now managing a broader range of business functions. Often, the newer applications have a hard time being integrated with legacy systems.
ERPs or Enterprise Resource Planning Systems have been around for years. Some businesses might have ERP systems that are 10 or 20 years old. The older systems might still be on-premise while the more recent ones might be hosted on the cloud. However, even in the case of existing cloud ERPs, their technology foundations might be a little shaky now because of multiple upgrades, customizations, and add-ons. Not just that, legacy software systems do not have access to advanced business intelligence. This in a nutshell is why businesses are feeling the compulsion to modernize their ERPS systems.
What is ERP modernization?
ERP modernization is the process of upgrading or replacing an existing ERP software to take advantage of the latest technologies, functionality, and best practices. The goal of ERP modernization is to improve business operations, increase efficiency, and reduce costs by ensuring that the ERP system is aligned with the current needs of the organization.
For instance, a business uses different software solutions for different business processes. Modernizing ERP platforms can involve creating a single integrated system and removing previously existing data silos that created communication issues.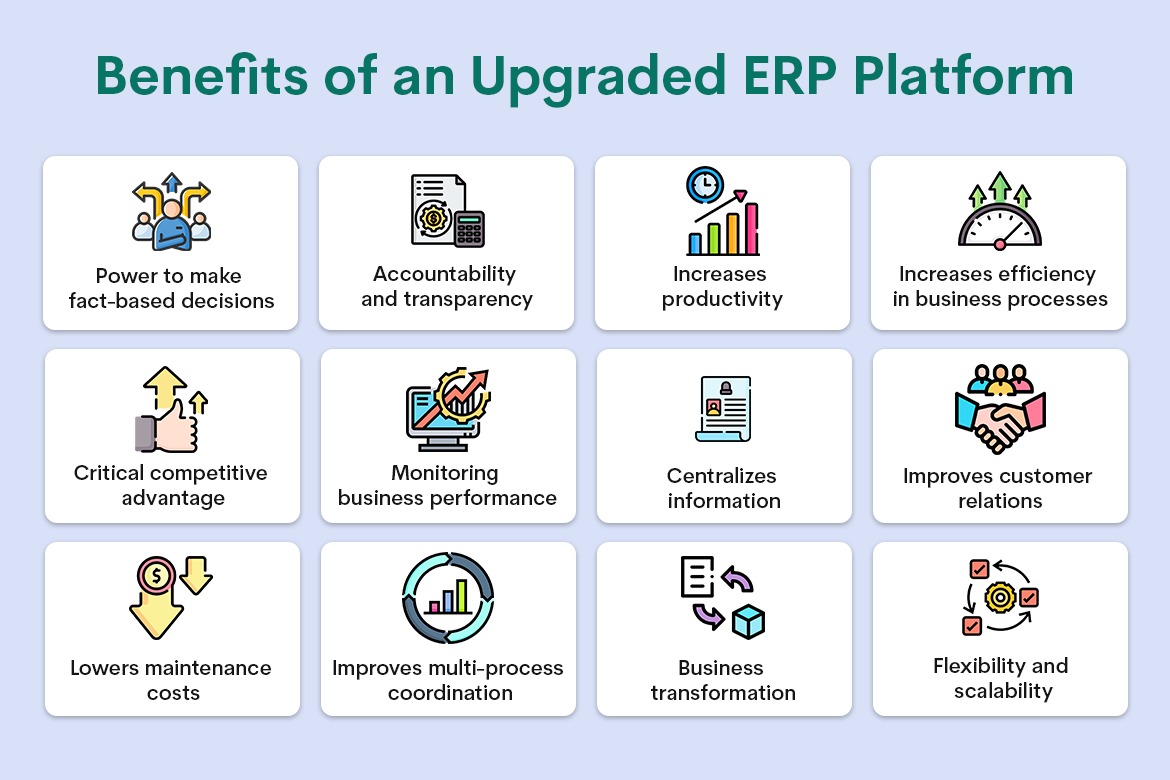 Related Article: 5 Red Flags That Say it's Time to Reengineer Your Legacy Software
Industry examples of ERP software upgradation
Let's take the example of a small non-profit organization that is using an outdated ERP system to manage its operations. The old ERP system was implemented over a decade ago and has become increasingly difficult to maintain, with limited support and outdated technology. This older version was a customized solution built on top of Microsoft Access, a legacy software that is no longer supported.
Upgrading ERP to make it leverage modern tools and functionality made the non-profit organization decide to implement Odoo. It is an open-source ERP solution that is designed to run on cloud computing technology, enabling faster processing times and real-time data access. It runs on a modern technology platform and includes cloud computing and mobile device cross-platform availability.
The new Odoo system offers several benefits over the old Microsoft Access-based system, including:
Real-time data access: The new system centralizing all its data into a single database location. This helps in better decision-making, as all relevant data is available in real-time. It enabled faster processing times and real-time data access, allowing the organization to make informed decisions quickly.
Improved functionality: The new system offers improved functionality like tools for accounting, management and financial reporting. It provided better donor management tools, enabling the NGO to tailor its fundraising efforts to better meet its goals. It also helped the NGO manage its supply chain more effectively by providing tools for inventory management, procurement, and distribution.
When it comes to Education ERP modernization, Edumate ERP from iTech is a cloud ERP system designed specifically for educational institutions. This software includes modules for student enrollment, course scheduling, attendance management, grade book management, and report card generation. It also provides a centralized platform for managing administrative tasks such as payroll, accounting, and human resources.
The software includes features such as real-time data access, automated notifications, and multi-level security. It can also integrate with other systems such as learning management systems, library management systems, and student information systems.
Edumate ERP platform is designed to improve the efficiency and effectiveness of educational institutions by automating administrative tasks, reducing paperwork, and providing real-time access to data. It can also help institutions to make data-driven decisions by providing insights into student performance and institutional trends.
There are numerous other industry examples where ERP modernization has meant a change in software and improvement in functionality.
The specific process involved in upgrading ERP systems
ABC Corporation, a mid-sized manufacturing company, has been using a custom legacy software ERP for inventory management for the past 15 years. The solution was developed in-house and the technology it is based on is now outdated. The company was experiencing several issues with the solution, including slow processing times, data inconsistencies, and limited functionality. The company decided to upgrade its inventory management ERP to address these issues. Upgrading ERP platforms that are intrinsic to business operations is different from ripping out and starting new ones. Existing functionality has been perfected through the years and most businesses want to retain existing workflows but bring in more automation and leverage new technology and digital ecosystems.
From assessment to implementation these are the specific stages that are involved:
Step 1 – Identify business requirements: The first step in upgrading the inventory management ERP is to identify the company's current and future business requirements. This includes analyzing the current inventory management processes for ABC Corporation, identifying pain points, and defining the desired outcomes of the upgrade.
Step 2 – Evaluate ERP solutions: Once the business requirements have been identified, the company needs to evaluate available ERP solutions that can meet those requirements. This includes assessing the functionality, scalability, and cost of the available solutions. This is the time when companies will be sharing an RFI (Request for information) with the potential technology partners
Step 3 – Develop a migration plan: After selecting an ERP solution, the company needs to develop a migration plan that outlines the steps required to move from the legacy solution to the new solution. This includes data migration, system configuration, and user training.
Step 4 – Implement the new ERP solution: The next step is to implement the new ERP solution. This includes setting up the system, configuring the workflows and processes, and migrating the data from the legacy system to the new system.
Step 5 – Test and validate: Once the new system has been set up, the company needs to test and validate the system to ensure that it is functioning correctly. This includes testing the workflows, processes, and data integrity.
Step 6 – User training and rollout: The final step is to train the users on the new system and roll out the new system across the organization. This includes providing training and support to users to ensure a smooth transition from the legacy system to the new system.
It is important to choose a reliable provider when you decide to upgrade or replace your ERP solutions. An important criteria is the length of time they have been in the industry as it reflects on their domain expertise for different industries including yours.
iTech, established in 2003, is a well established Software development company with our proprietary Education ERP and Healthcare EHR products. We have a clientele of over 500+ satisfied clients across the globe. We are based in Dallas, Texas and with a 250 strong development center in India.
If you are still not sure about the need to modernize your software solutions, get in touch with our top team of management experts for a detailed discussion.