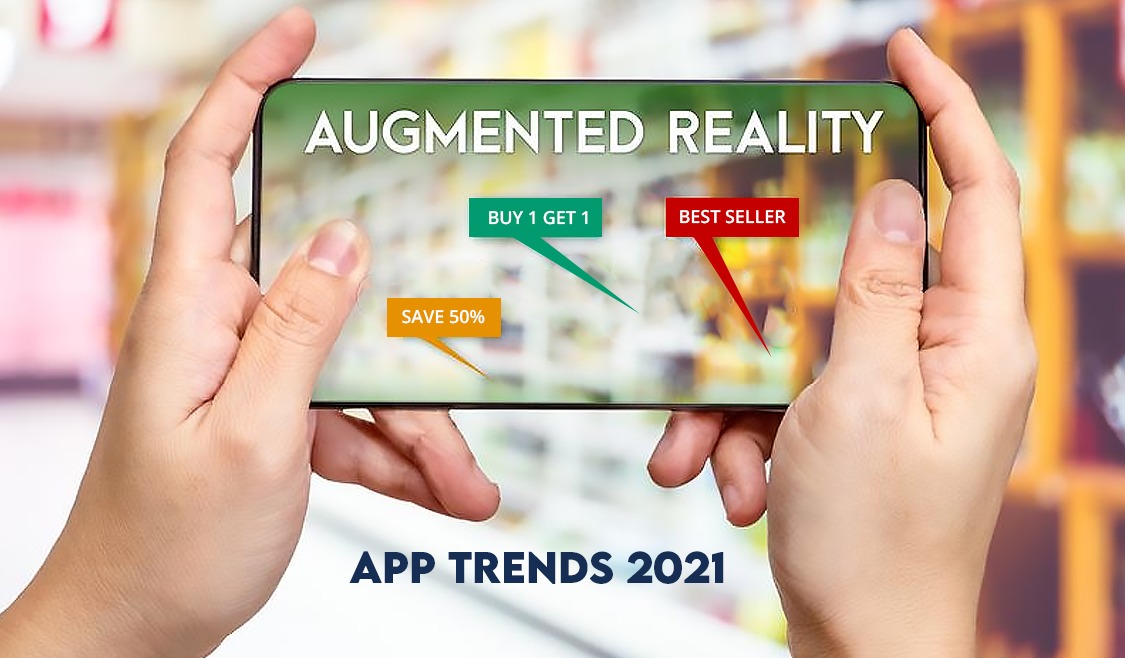 Remember the snake game on the Nokia cell phone? Oh man, we've come a long way from those first apps for sure. Today, apps dominate our lives. Whether it is waking up early to catch a flight, get into Zen mode with a little meditation, find the route to a new place or order home a pizza – we have an app for each need. The mobile app trends reflect changing consumer lifestyle.
Business leaders are trying to stay competitive by building mobile applications that will take them ahead in an increasingly crowded app marketplace.
The past year has shown that apps have increased their reach. Troubled times saw an more people turning to apps for easy solutions. 2021 will see app developers push the envelope, capitalizing on trends that will dominate 2021 and beyond.
Augmented Reality (AR) and Virtual Reality (VR)
AR and VR applications are going to have starring roles in the future of mobile apps, for 2021 enhancing user experience in Android and iOS, the cornerstone of all mobile app development trends.
Immersive technologies, fueled by the release of ARCore by Google and ARKit by Apple has made it much easier for app developers to add visual layers of the real world into smartphones. AR and VR technologies will provide a better user immersive experience in applications that cover healthcare, retail, education and travel.
The use case possibilities are endless. A few of them that we have already got a glimpse of in 2020 and that will gain more prominence are
3D avatars or digital spokespersons will create holographic participation in virtual events, making it more realistic than flat 2D video form.
In the 2D era creating a product catalog required a professional photographer, costly cameras, lighting and skilled photoshop editing. This year will see companies embracing 3D productsand people to create photorealistic models that will sell better.
The good news is that creating these 3D models has got easier for both professionals as well as amateurs. 3D scanning tools are now readily available as are 3D model standards.
A few examples of AR and VR success is in the L'Oreal make-up app that identifies your face and then allows you to see how you would look with different makeup products. The Ikea Furniture App has used augmented reality rather well. It allows users to select from their product catalog and then see how it will look in their own home – on scale.
Also read: 2020 Was a Good Year for Mobile Apps:The Full Story
5G technology
The next generation cellular technology is the future of networks. 5G will have up to 100 times the speed of 4G. The number of mobile phones with 5G will be almost 600 million in 2021 (Strategy Analytics) and half of all phones in 2022 will have 5G connections. Even inexpensive mobile phones will start getting 5G connections in 2021.
Faster speeds than we have so far experienced, will improve everything – Video conferencing, video streaming, gaming and even telemedicine.
What this means for app developers and businesses is that app bundle size will no longer be a restraint. AR And VR technology can more easily be implemented with faster speeds.
Foldable Smart Phones
The future of mobile apps will begin to be dominated by foldable displays. Xiomi is set to launch 3 foldable cell phones with a display size of 7.22-inches while the cover would have a 6.22-inch display. Samsung will also have a busy 2021 with a line-up of expandable phones that it promises will be at an affordable pricing. While this revolution is more in the Android world, we can expect announcements from Apple as well.
Foldable displays might be a recipe for UX disaster. It will impact user interfaces that are already out there and definitely change new business app launches. Mobile apps will need to be optimised for changing screen size between folded and unfolded settings. This will add on to the complexity that already exists for different mobile screen resolutions.
Beacons and Nearby Networking
Beacon technology has been widely used in 2020. It simplifies location-based searching using Bluetooth low energy signals. This technology has been particularly helpful with containing Covid-19.
Google and Apple used Bluetooth signals through Exposure Notification programming interface (API) to help governments in contact tracing. A smartphone that runs an app that uses Exposure Notification API, will use Bluetooth to ping other nearby devices with a Beacon. The phone will store a list of beacons it connects with in the vicinity and if there is a match with the beacons it has stored against a positive list then the user will be notified and advised on the next steps.
The future of mobile apps will have Beacon Technology in some form or the other. It will see extensive usage in multiple industries such as food services, retail, logistics, travel and sports and concert venues.
Imagine this! If a retail store could pick up on a customer nearby and sends push notifications based on previous purchases and day offers? Actually, this technology is already in use and 2021 could see a wider adoption. Sephora, the cosmetics giant, introduced in-store beacons to help customers to locate products more easily.
Carrefour, a multinational retailer, installed beacons in 28 of its hypermarkets in Romania and saw a 400% increase in mobile application usage and increased their sales.
Also read: Top 5 UX/UI Tips to Instantly Improve Mobile App Experience
Hybrid Mobile App Development Frameworks
While this might not be a new app trend, the fact is that user experience through native apps is slowly finding fewer adopters. While there will always be experiences that only native apps may provide, hybrid apps will help save money as well as reduce the headaches of developing apps for different platforms.
App developers will need to add hybrid development frameworks to their toolbox. React Native is used in popular apps like Facebook and Instagram and is powered by java Script using an open-source framework.
Mobile Angular UI, is cost-effective and combines the power of Bootstrap and Angular. Its biggest advantage is converting from a web-based to mobile based application.
There are a large number of hybrid frameworks each with its own unique features. If you are looking for a professional firm with cross-platform development capabilities to leverage the best-fit technologies, drop us a message here and our app experts will be glad to guide you.