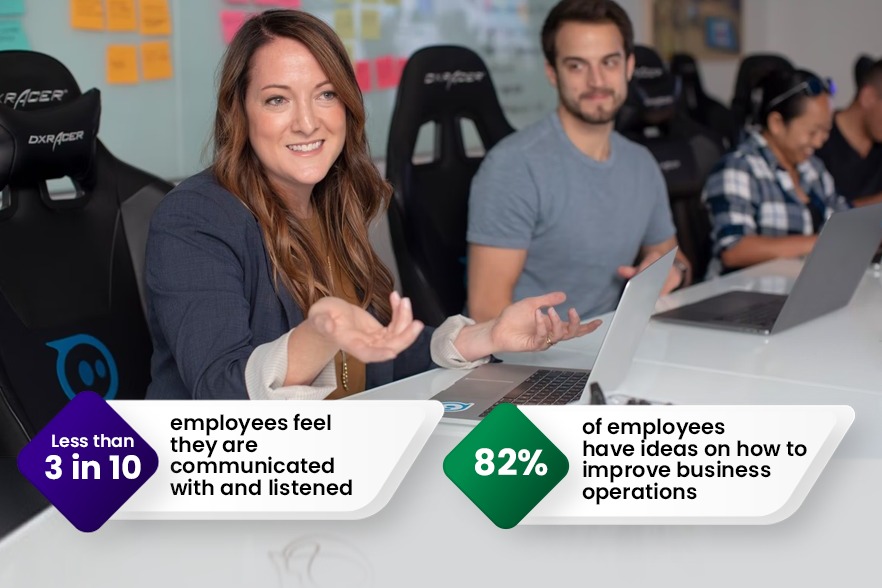 69% of potential candidates would reject a job offer if they know that current employees are unhappy. – HR Dive
There you have it in a nutshell – employee engagement strategies not only drive improved employee retention but also the quality of future job hires. Employee experience or EX is a direct result of the employee engagement programs that you have in place in the work environment. It starts right from recruitment till an employee exits the organization and this means a right through this journey.
While the human contribution to the employee experience is overarching and covers HR, Managers, leadership and company culture; employee engagement must also be supported by the best employee engagement software that fits the company requirements. Adding technology to employee engagement ensures that every employee is heard and employee sentiment can be better analyzed and visibility is increased. After all, employee success is the backbone for business success.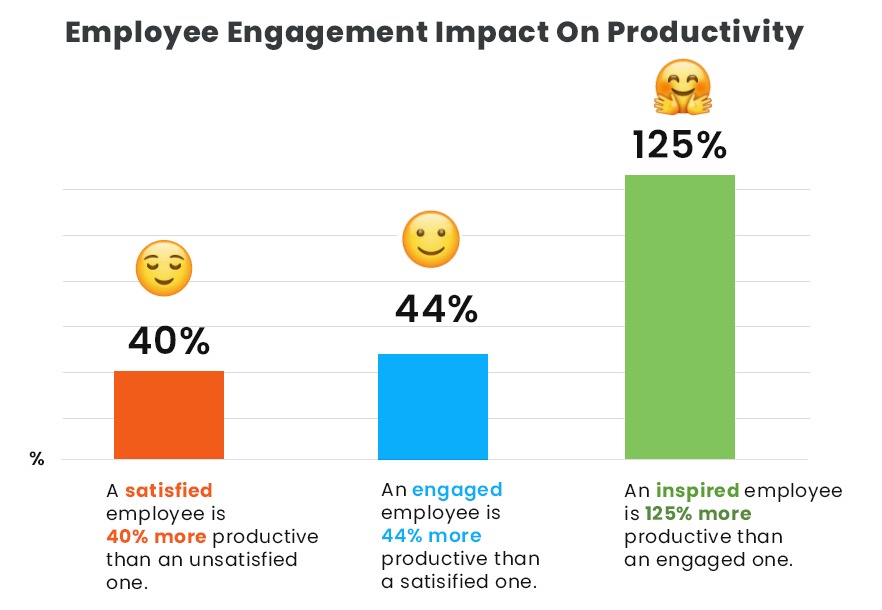 What is employee engagement software? 
Employee engagement as everyone knows cannot be a sporadic event, it has to be an ongoing effort. The pandemic has brought about a shift in the work culture. The distributed teams while having many positives have one area that is challenging – lack of physical interaction is making it difficult for many of the human to human corporate engagement activities that used to be the norm before and new possibilities must be explored. Employee engagement software helps to uncover opportunities to engage employees while providing a quantifiable measure of productivity vs employee satisfaction.
An employee engagement software will include important features such as dashboards for different user roles, employee recognition and incentivization, a feedback mechanism with quantifiable TAT and a notification system. The best employee engagement software will have customizable features added to this list like  employee survey tools, training tools and integration with performance evaluation systems. It is essential that the employee engagement platform your organization chooses should be able to seamlessly integrate with other business tools such as HR tools, email, etc.
What core features are essential for an effective employee engagement platform? 
Some of the best SaaS employee engagement products marketed in the US have come from the development stables of iTech India. Here are the product features that our in-house experts say are a must-have.
1.  An easy to understand user interface 
This is right up there in the top criteria for evaluating a suitable platform. Always look for a user-friendly interface. If it is not intuitive but requires numerous training sessions to understand its working, then be assured employees will not use it. Of course, the vendor must provide tutorials that will help in the initial stages but an intuitive interface and simple navigation are a must. A simple and hassle-free onboarding experience is crucial to make employees use it.
Surprisingly, even though usability is a much-talked-about need, not all tools are intuitive, many succumb to the quicksand of fancy layouts and multiple different patterns for each module. The more the bells and whistles, the more difficult it is for users. While the interface might look phenomenal it can create confusion for users. Simplicity is the best way to know that a product is not throwing smoke screens that make important functions difficult to get to.
2. Well defined user roles and benefits
An employee engagement platform should benefit all levels, from top to bottom in your organization. Let's have a look at some of the features that should be available for different roles:
C-suite: The leadership team should have full visibility into the talent data. Their dashboards should show the connection between employee satisfaction scores and business outcomes. It should in turn be connected to revenue, profitability, customer satisfaction and other analytical data even stock price.
HR: In a majority of cases, the company's workforce engagement system is administered by HR. The software should provide HR a data-driven road map to talent trends within the company, the ability for targeted communication, newsfeeds and push notifications.
One of the features of the platform is to get a real-time pulse of employee sentiment by conducting pulse surveys and polls with an automated system to identify trends. It should have internal rewards and recognition programs and display an internal job board to improve internal mobility. Finally, it should be able to prove the value of talent acquisition and retention strategies to the C-suite.
Managers: A good employee experience platform should improve both top-down and bottom-up communication. Internal communication between executives and managers and employees should be facilitated by the platform. This is absolutely essential, particularly with remote workgroups. It should also provide tools to drive-up team morale, productivity, and performance.
Employees: It comes down to employee experience and providing clear pathways for growth. Professional development and Training tool integration with the platform is one way of achieving it. Most ERM software will facilitate better workplace relationships and provide tools for conflict resolution and employee assistance programs.
3. Help Desk and ticketing software
HR receives dozens of employee requests each day. As much as it is important for an organization to revert quickly to their customer requests, the same yardstick applies to their internal employees. Human resource help desks make it easy for HR to streamline processes and eliminate repetitive problem-solving. A help desk gives HR insights into frequently occurring cases and they can create standardized responses that empower employees to find answers independently. In cases where the employee still needs to reach out to HR, they can track their request status and response time. This makes for a happier and more responsive employee.
4. Ease of integration 
No software can exist on its own. Organizations use multiple channels of communication – Slack, Zoom, e-mail and more. As mentioned at the start, it makes sense if your ERM can integrate through APIs with other pre-built software and platforms to create a smoother experience.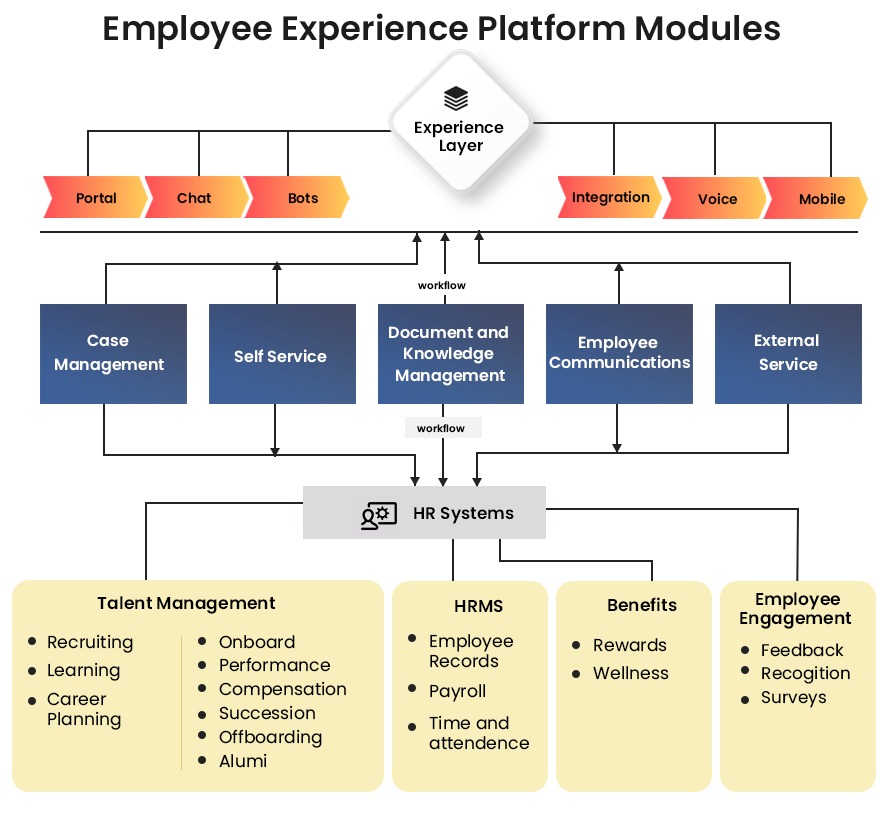 Finally, every employer recognition software has its own strengths, it is just a matter of deciding which is the best one for you. If you own a SaaS software that you need upgrading and need a
team of specialists to work on it
, iTech would love to understand your goals.
How can we help
?