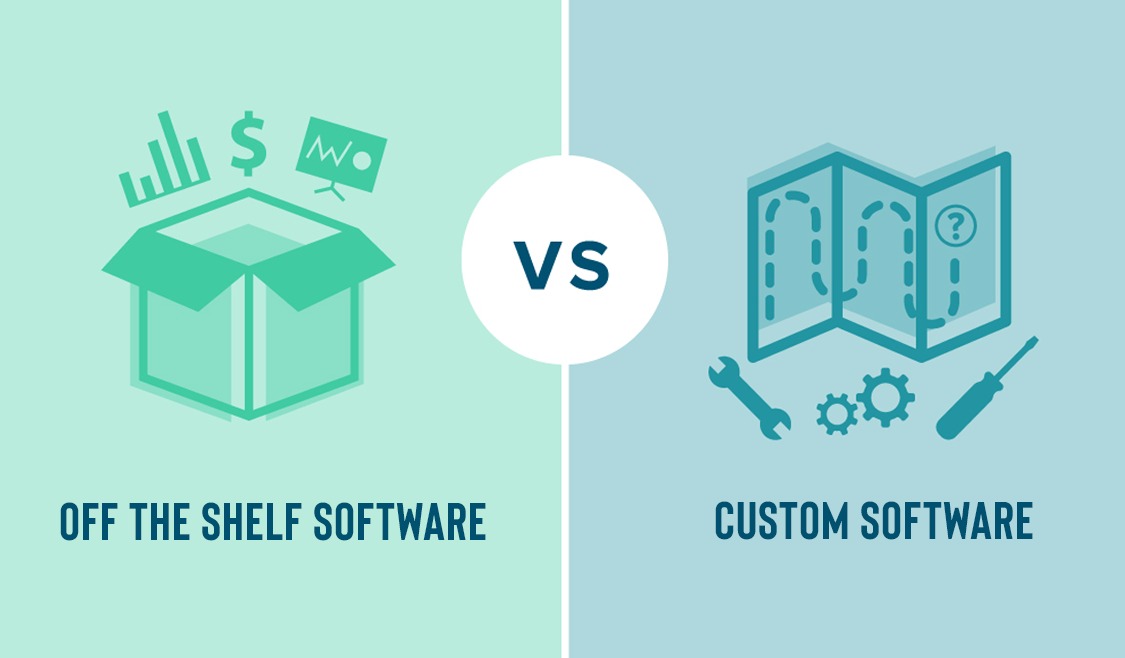 When an organisation is selecting a software for its business processes, choices narrow down to 2 options – enterprise software vs SaaS.  The difference between the two is much like leasing versus buying a car. They both have their advantages but which one is suited depends on the purpose it will be used for. For the organisation, it boils down to what custom software can provide them compared to SaaS software.
Before we get to the pros and cons, let's have a closer look at what each of them provide.
Why use Custom development?
Taking the car analogy again, Enterprise Software is software that your company buys and installs on your own servers that may be in-premise or on the cloud. It can be customized to your business needs and you have full control over your data.
Large companies prefer to build from scratch custom software personalised to their business needs. Smaller companies might also prefer to make a substantial initial investment because of payoffs in long-term savings, increased productivity and adaptability to change in any business processes.
The most common enterprise applications that are customised are
Automated billing system
Payment process
Asset management systems
Business intelligence
Enterprise resource planning (ERP)
Business continuity planning (BCP)
Enterprise application integration (EAI)
HR management
Call centre and customer support
Also read: The Pros and Cons of Open Source vs Proprietary Software
Why use Saas or Software as a Service?
SaaS is software that runs on the internet and a company pays a subscription to use it. Under SaaS software, the vendor is responsible for hosting the service as well as maintaining databases, upgrading the code, adding new features, and data security. For example, Salesforce has scheduled maintenance twice a month. Of course, subscription-based software service will not meet all business needs but it will meet most of what a business needs.
Popular SaaS Software in the market
Almost all companies big or small use some of the shelf software, particularly for non-critical processes (that is because your data is stored on vendor servers).
One of the most popular SaaS solutions is for internal company communications offered by Slack. It is better organised and allows you to set up multiple workspaces, share files, set up meetings using video and audio and numerous other robust features. It would make no sense for a company to create its own custom communication solution. Further while data shared within the company might be important and easily searchable it is still not mission critical. The organisation using the service might at any time switch its allegiance to another SaaS service with no disadvantage.
Other popular SaaS solutions are CRMs like Salesforce and HubSpot. Salesforce CRM boosts an organisation sales process by managing leads and prospects in one place. HubSpot CRM is focused on inbound marketing through advanced technological features and is expanding its services to social media marketing and content management.
Atlassian JIRA for project management, MailChimp and Google Application (G Suite) are other examples of popular SaaS solutions that are ruling the market right now.
Also read: 6 Things to Know Before Planning a Data Migration
Now that we have got an overview of both these solutions, it is time to look at their pros and cons and possibly get a clear idea of what works for your organisation.
Pros of custom software solutions
100% customisable as per requirements
Software is fully owned
The data is owned by the company
Custom software has a better advantage to integrate with third-party software
Better reporting and analytics. It can also be integrated with any third-party reporting tool.
Cons of custom software solutions
Takes a long time to scope and develop
Initial investment is high (though cost effective in the long run)
Prone to security risks and bugs
Greater dependence on developers and they are a high cost centre
Pros of SaaS Solutions
Normally subscription based so low initial cost of starting up
SaaS provider owns the IT infrastructure so maintenance cost is theirs
SaaS solution is already deployed in the cloud, only minor configuration needed
Hardware and software updates are the responsibility of the provider
Flexibility to change plans as needed for more functionality
Cons of SaaS Solutions
No ownership of core code so customisation is minimal
If it is a subscription model, costs pile up in the long run
Renting the software so its metaphorical all eggs in one basket.
Data is stored in provider-controlled database
The provider may be acquired or shut down
Number of reports is limited
Difficulty with regulation compliance
Data security may be insufficient
Are you still confused about building your own solutions or subscribing to off the shelf software? Get in touch with us and our experts will help you understand the pros and cons of enterprise software vs SaaS software and what would fit your business requirements best. We have developed customized multi-channel software and our team of software engineers are also experienced in developing SaaS application for Sales, Invoicing and billing, CRM etc.