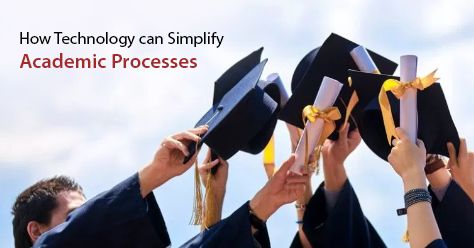 Small to large multi-college institutions are realizing the benefits of an Enterprise Resource Planning software. Education ERP software allows an institution to use a system of applications that manage different operation processes but still communicate with each other since it uses a single database and user interface.
Educational institutions face numerous challenges such as difficulty interacting in real-time with different departments, admin office, working from paper files, difficulty communicating with students to keep them updated with the latest information, keeping financial records accurate, no up-to-the-minute student profiles etc. Unlike the corporate world, educational institutions are still not aware of how an education ERP software can streamline all their processes. Simplifying back-end processes can bring multiple benefits.
1. Admissions
The student journey through higher education portals starts with the admission process. Gone are the days when hard copy applications had to be filled out and submitted. The time taken to scrutinise and filter the student applications required multiple resources and time. Admission ERP like iTech's Eduleap software is geared for the whole process of online application. Everything from submission of application on the online portal to payment of application fees, interview date notification as well as admission status can be done completely online. This opens up admission to students in a larger geography.
However, when the admission platform is also integrated into the academic ERP such as iTech's Edumate ERP, is when the journey becomes seamless. Management can put students into different courses and batches, electives can be chosen online, credit scores assigned, faculty allocation as well as classroom allocation is also online.
When Edumate ERP is integrated with Edonline, the examination software, then online entrance exams for shortlisting students for admission as well as internal exams and assignments makes it an end-to-end solution.
The biggest advantage of education ERP software solutions are that they are flexible and can be customized to an institution's needs. It does not come as a one-size-fits-all but colleges can choose which modules they want.
2. Complete Student Information System (SIS)
Moving from outdated systems to an automated, cloud-based SIS is storing all data in a single system making all kinds of reports an easy outcome. A student management system software stores and organizes data like enrollment, attendance, course details, examination results, timetable, mentorship details etc. This is the power of a SIS, it gives a single view of each student's profile to faculty, administration and even students depending on the access levels that are set.
A good student management system software allows administrators and faculty to generate their own student reports as needed and provides multiple filters for greater drill-down of information.
Students can even get their course material and syllabus delivered online since communication is one of the biggest benefits of an Education ERP software. Outcome-based-education is what all quality accreditation like NAAC and NBA are striving for. With Education ERPs like Edumate, each faculty can easily create course plans from dragging and dropping course topics. Faculty can also upload their daily class schedule so that a track is kept on actual against the proposed plan. The institution management can have a better insight on all courses making academic management a streamlined process.
3. College ERP goes further than any MIS
College management ERP goes further than any MIS can. A Management Information System is a stand-alone system for a specific process. The systems cannot communicate with each other and so a lot of time is wasted in repetitive tasks. You will have to download data from one system and upload it into another or even worse, you might have to enter it manually. This is a highly error-prone process.
However, in an ERP, all data is stored in one place so you can easily share data between one module and another. For example, the student data from the admissions module can be easily shared with the hostel module and in turn is shared with the library management module. This saves time in sending data manually to the different departments and reduces data entry work, does away with data redundancy and freeing up time that can be better spent elsewhere.
A college ERP like Edumate is flexble as well as customizable. The institution can decide on which modules they need and extend it as far as they need. Modules can be added on as needed as well, making it highly scalable. An ERP covers the complete institutional lifecycle on a single platform. It extends from online applications, enrollment, finance, library, hostel, cafeteria management, asset and inventory management, fleet management for transport etc.
4. Report Generation is Easier
One of the main factors that gets any higher education institution to consider an ERP is because of report generation. NAAC has mandated that reports submitted to them must be through an ERP software. The reason is that speed, transparency and accuracy are the core benefits of a college management system. A configurable ERP enables an institution to generate a variety of reports related to both academic and non-academic activities. Examination result analysis that used to take more than 2 weeks using many resources, is now available at the click of a button in a matter of minutes. And NAAC reports are just a matter of minutes with an accuracy that no manual process can match.
Also read: NAAC: All You Need to Know About the Accreditation Process
5. Security and Accessibility
Most education ERP are cloud-based and information is stored on third party providers such as Amazon AWS, Google Cloud or Microsoft Azure. When data is stored on-premise then the cost and technology requirements are very high as it must be developed in-house. Cloud providers have their own data security firewalls in place and continuous upgrades happen to keep all data secure. Furthermore, multiple backups ensure that student and administrative data are never lost. Login credentials and role-based permissions provide further security levels since all data is not available to everyone. For example, the student role will allow the logged in user to only see their information such as fees paid, courses, faculty assigned, credits etc.
Since data is stored in the cloud, the institution ERP can be accessed anywhere and on any device. Moreover, a cloud College ERP can be integrated with a mobile app to allow certain functions to be performed even from a smart phone.
iTech India is a custom software provider with 16 years of expertise in Education ERP software for India. We have modernized the complete college management system for numerous multi-group institutions as well as individual colleges. 100% of colleges using Edumate ERP are NAAC accredited colleges or are in the process of getting accreditation. Call us today at 98849 90833 to get a free demo.