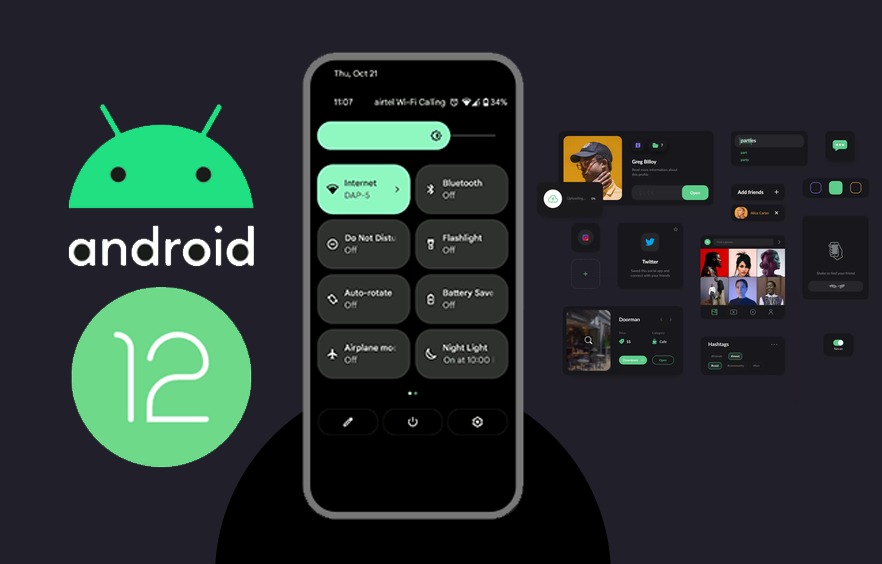 The long wait is over: Google has officially released Android 12! If you are one of the 3 billion users who use an Android smartphone or an Android app developer, then this release means some exciting new features and updates for you. The Android 12 source code is also released on Google's Android Open Source Project (AOSP), so developers and smartphone manufacturers can adapt it or customize it. In its 12th major avatar, Android has a completely refreshed design and possibly the most significant changes in its long history. Here's everything you need to know about the Android 12 update list.
Device compatibility with Android 12
Will your Android phone get access to the Android 12 update soon? Android version 12 will first be rolled out to Pixel devices, specifically Pixel 3,4 and 5. The soon-to-be-launched Pixel 6 and Pixel 6 Pro will be released with the Android 12 OS so users who are buying these phones won't have to download the update manually. But what about other Android phone users? With luck we won't have to wait too long because Google announced that the update will be available for other Android devices by December 2021. Some smartphone manufacturers have gained access to closed beta programs, so you can expect a full release very soon.
Android 12 new features in design: Material You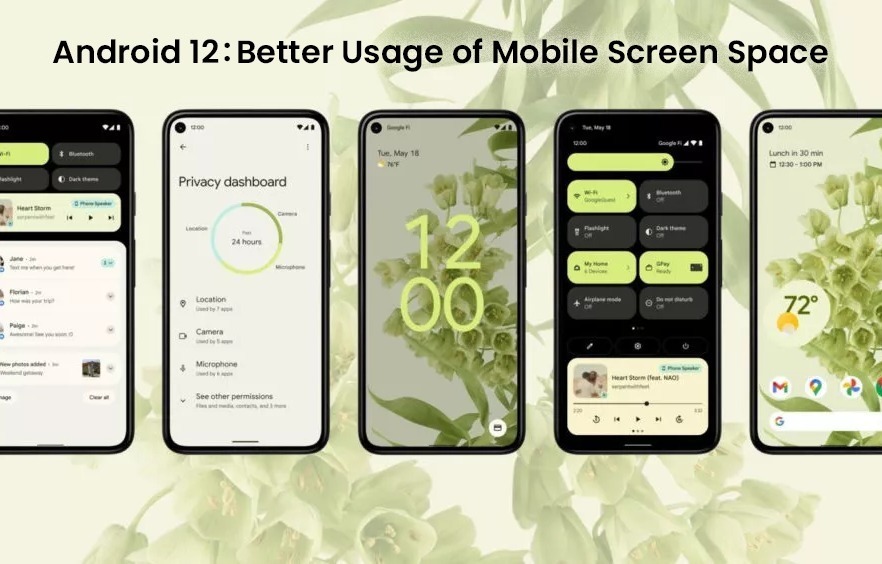 With the latest update, Android 12 has undergone a massive makeover. Fluidity has been a huge theme in design and the new update is reflective of that. Android version 12 does away with harsh lines and makes room for a lot more personalization with its new design, 'Material You'. The new design uses color extraction, which means that a user's wallpaper will form the background of the OS and all elements will have the same color as the theme of your wallpaper. For example, the clock widget, Menu, and Notifications bar will have the same color theme as the wallpaper. A user can also opt out of color extraction and choose the color theme they want for the OS. Either way, Android 12 hands over the reins of the visual experience completely to the user.
Also Read: How will 5G impact Small and Large Businesses
Improvements to UI in Android 12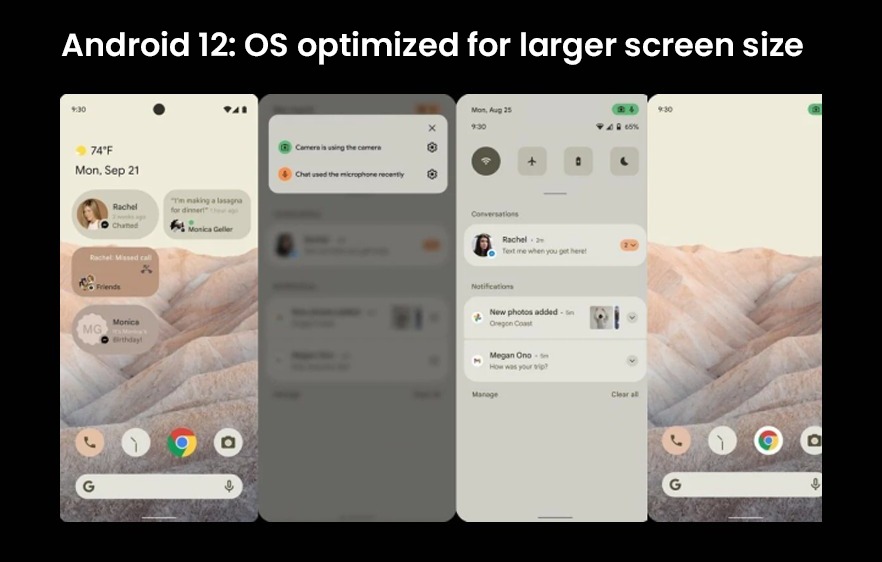 Apart from the design theme, the Android 12 update list includes several improvements to its overall UI. One key update is to the Picture-in-Picture (PiP) feature. While on other apps, browsers, or the home screen, PiP allows users to view an active app in a small window on the side of their screen. With the latest update, users can reposition the PiP window, resize it with a pinch-to-zoom gesture, and exit PiP by tapping on the window.
Your notifications will also look drastically different with Android version 12. In an effort to make notifications easier to understand at a glance, Google has grouped them by conversation. You can also say goodbye to unimportant notifications clogging up your notifications bar because Android 12 gives you the option to snooze notifications from a specific source for a set time period. Several under-the-hood improvements have also been made, so apps should launch faster when you click on a notification.
Also Read: App Optimization Tips: Going Beyond The Basics to Improve Visibility
Android 12 provides a greater push for widgets
Widget designs have remained more or less the same over the last few years, but Google is clearly pushing for developers to revamp them. Developers can use APIs that connect to Android 12's Material You theme to redesign their widgets. They can also use the Android 12 open-source code to create widgets that are native to Android 12. For users, this means that widgets will fit in more seamlessly with the theme of your home screen and that you have complete control over how they look. Android 12 also retains the widget resizing feature first made available with Android Honeycomb, so users can also customize the size of widgets on their home screen.
Tightened security and privacy settings
Beyond the actual visible changes of Android 12, there are several updates to the architecture of the OS, making it the most secure version of Android yet. There has been growing concern around user privacy and misuse of personal information, something that Android 12 is clearly seeking to address.
The Settings dashboard in the pull-down menu gives users an immediate snapshot of ongoing device permissions, for example, if a specific app has access to the microphone or camera. Users can also trace the history of what device permissions their apps have accessed and when. Part of the Android 12 update list is an important feature that allows users to hide their precise location and allow apps to access only their approximate location. Users can customize this for different apps as a toggle menu will allow them to decide whether they want to share their precise or approximate location for a particular app.
Better gaming performance in Android 12
Gamers can expect to see smoother lag-free graphics with Android 12. The new update allows for haptic feedback for audio, something that gamers will recognize from gaming consoles. Developers can program their games in a way that causes the phone to vibrate in coordination with audio on the screen (for example, an explosion). This can lead to a more immersive gaming experience.
Android 12 has also made Game Mode APIs available for developers which allows them to control performance output. For example, gaming developers can create options that maximize performance of a game with more battery usage or preserve battery life but with lower gaming performance. This functionality is closely related to the Gaming Dashboard feature that Android is expected to launch very soon.
These are just a few of the huge number of updates that Google has announced for its Android 12 update. With the slew of new features and improvements that come with Android 12, it's clear that this update will not go unnoticed. Greater room for personalization and tighter privacy controls make this a truly user-centric OS update.