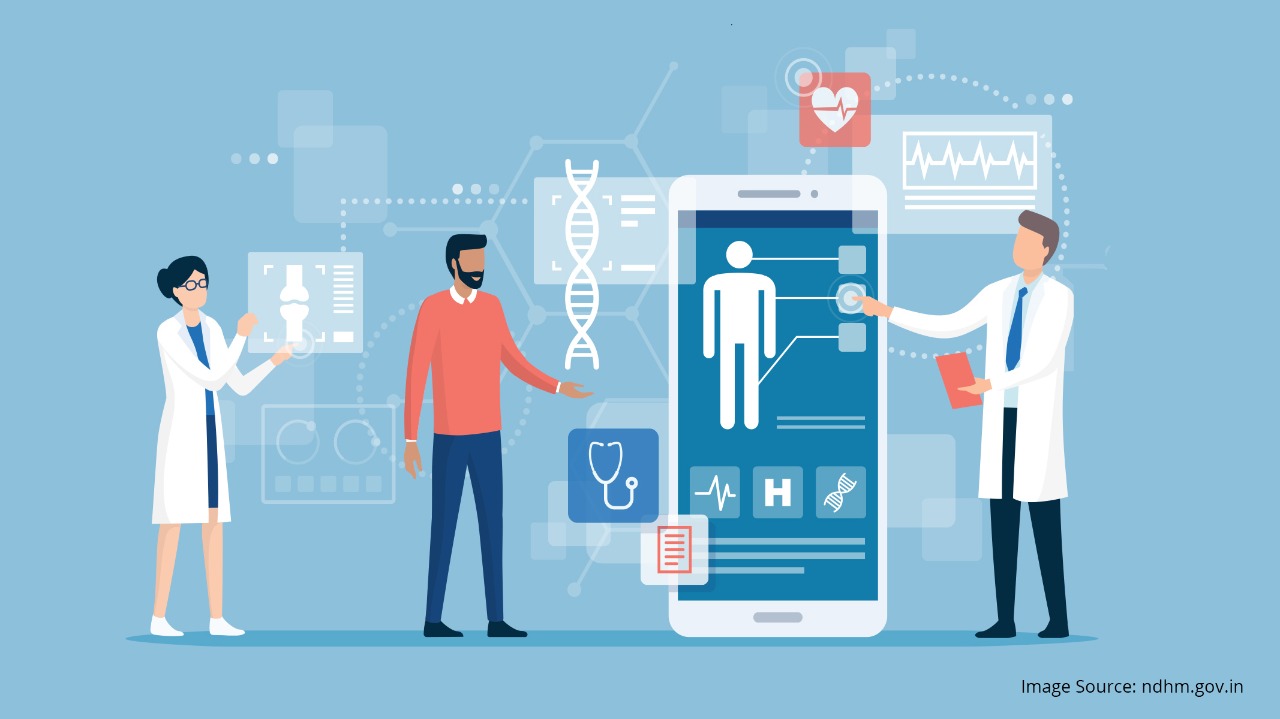 15
th
 August 2020 was a big day for India's healthcare providers. This was the day the Prime Minister of India announced the launch of the
National Digital Health Mission
. It will have a far-reaching implication as the humongous task begins of digitizing all medical records and making it centrally accessible.
Each individual will have a unique ID that could be linked to their Aadhaar identification and will feed into medical and biometric databases. The data will be stored at 3 levels – health facility, state or UT and central level. The anonymised data would be made available for research as well as statistical and policy matters.
India's healthcare systems must get digitalized but it will require collaboration at different levels both from the private and public sector. Technology providers will have a big role to play in this transition as patient records, pharmacy prescriptions, discharge summaries and insurance cover all will feed into a common database. But first, what is the NDHM all about?
The National Digital Health Blueprint (NDHB)
The important part of the NDH is that the onus is on health facilities to put in place their own technological solutions to convert all patient data into Electronic Medical Records. Not very different from the EMR transition that revolutionised healthcare in the United States.
The Core Building Blocks alone will be maintained centrally and all other building blocks will be developed at state and institution level. These systems will be developed independently but will all be interoperable so that information can flow seamlessly. This translates to the fact that entrepreneurs and insurance providers can develop autonomous value-added services on apps or portals as long as they conform to open standards i.e. developed on open source software.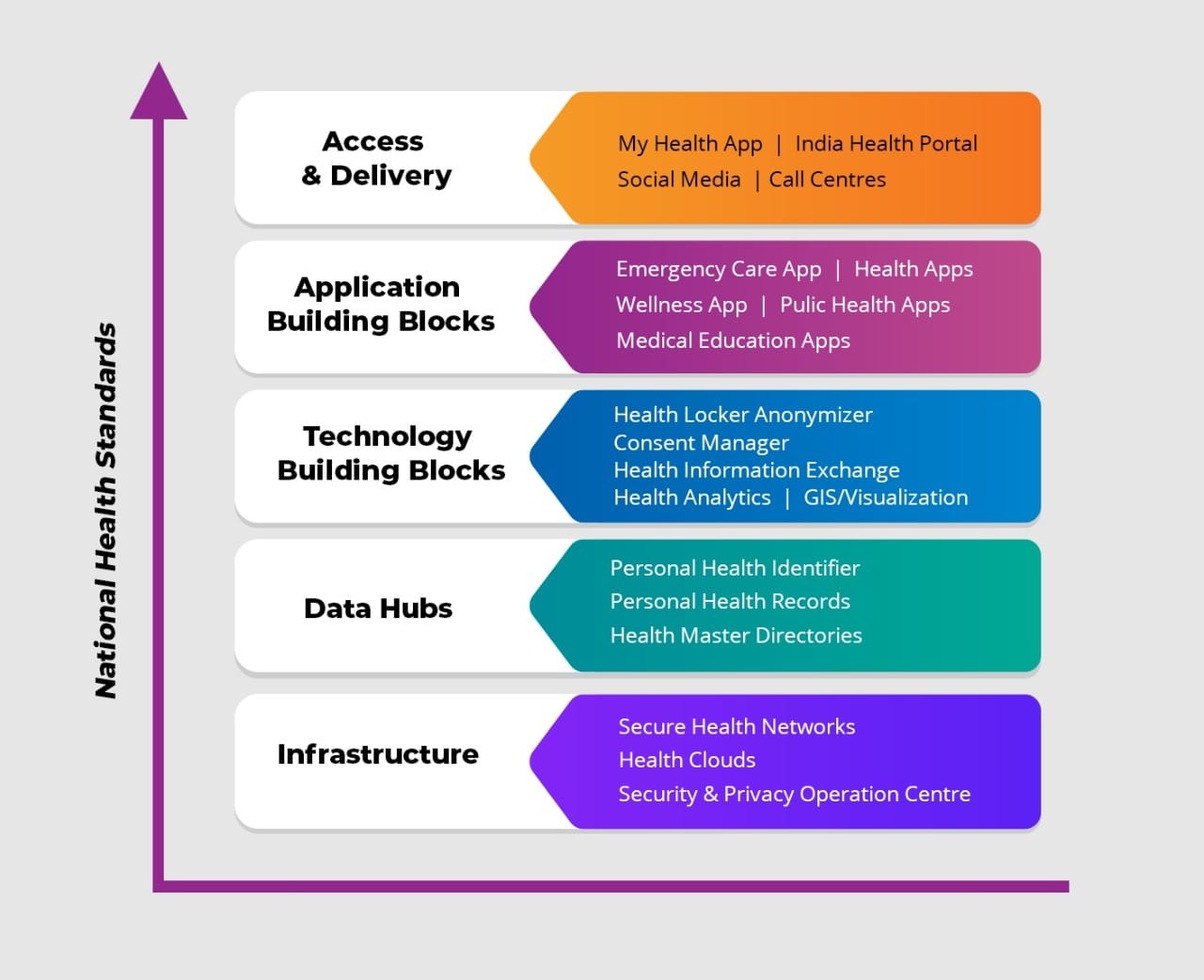 National Digital Health Blueprint(NDHB)
Impact of NDH on Private Healthcare Providers
Anil had been diagnosed with Type I diabetes almost 10 years back. Chronic health issues like diabetes need constant monitoring and the hospital in Chennai, where he was an outpatient, had voluntarily adopted electronic health record standards. Here is where the hitch comes in, Anil was transferred and needed to find a new healthcare provider in the city he was moving to. But his patient records could not make the move along with him as it was not portable. Hospitals cannot access data of another hospital because of the technological and policy hurdles.
Patients get digitally locked in to their first health care provider and to move they will have to take along incomplete records in the form of paper documents. This can be costly as the patient will have to go through costly diagnostic tests all over again.
India has a fragmented health care market consisting of single-doctor private clinics, stand-alone hospitals, corporate hospitals, public hospitals, primary health care centres and non-profits. None of them can digitally talk to each other. In fact, most of them still run on paper prescriptions and manual file keeping. Doctor clinics do not keep any records at all. There are no SAAS products (Software as a Service) that they could consider even if they wanted to. All this will now change.
Patients with a single health ID as set out in the NDHM will optimise health information systems and enable better decision-making and targeted intervention. However, this will need technology providers to partner with private health providers to enable interoperability through varied infrastructure services.
Migration to Electronic Medical Records
Many countries like the USA have already been through the learning curve when implementing electronic health records EHR. Therefore, associating with technology partners with this experience will help reduce any infrastructural errors and put in place future proof technologies.
Patient data security will be of highest priority and blockchain technology can be one way to ensure data is encrypted when saved and cannot be altered. Patient consent is a must to share their data with trusted authorities such as a physician or pharmacy. This requires that only data needed is made available. For example, testing laboratories will need only limited data while a physician may get access to complete health records. A research facility will get only anonymised data. Anonymisation means that if a patient is diagnosed with HIV, no unauthorised person should be able to infer this. This necessitates different levels of authorisation for accessing different levels of encrypted data that will be safe from hackers.
Key stages in EHR data migration
Conversion of paper records to electronic records
Data cleansing and verification
EHR database setup in the cloud
Mapping legacy data to new database fields
Data transfer to the new system
Data security assessment
Testing and verification of legacy data and new data inputs
New horizons will open up as migration to electronic health records become standardised. DigiDoctor will be the single updated repository of all doctors with their registration number, qualifications, specializations etc. This makes Telemedicine a new scope that NDHM will make possible with the probability of many independent apps being developed. The pandemic has already seen adoption of these apps providing online access to doctors for consultation.
At iTech India, we have an in-depth experience in the health sector and understand the unique challenges involved. We are the trusted technology partners for many American health care providers and can help you get the most out of your EHR solutions.